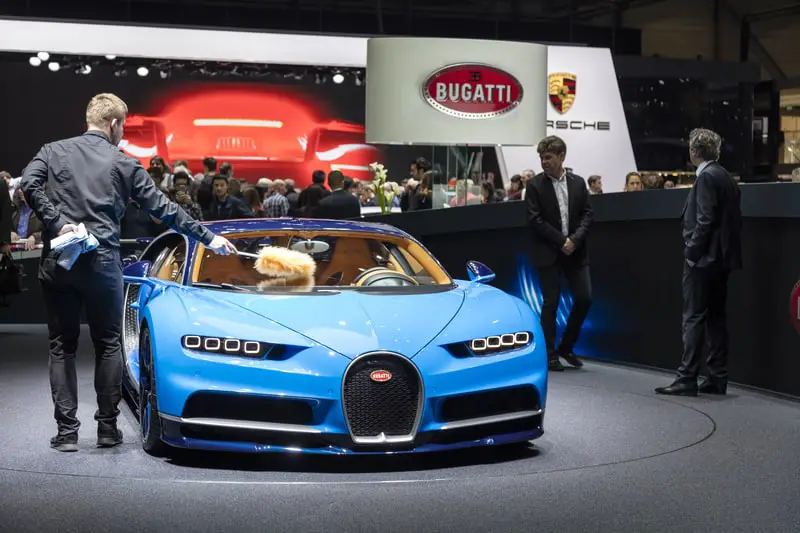 Everyone with some interest in cars, which applies to most people even if they have no desire to own one, will have wondered what driving a luxury vehicle is like.
How does it feel behind the wheel of a Rolls Royce, an Aston Martin, or a Bentley, cruise around the streets or put your foot down on the open road?
We may not be able to buy one, but is it possible to test drive a luxury car?
Most luxury car brands will allow test driving of their vehicles, but only under the strictest conditions. The dealer knows that a buyer is unlikely to pay hundreds of thousands of dollars for a car without having the opportunity to drive it. They certainly don't want to lose a sale.
It's an interesting exercise to research the attitude of the different luxury car brands to the question of test driving. While some dealers were very forthcoming in providing information, others were unwilling to comment in much detail regarding their policy.
We've done some digging and think you'll find the information of value.   
Which Luxury Car Brands Allow Test Driving?
We're talking about luxury car brands allowing test drives, so we won't be looking at secondhand dealers of those brands, who tend to be much more generous when handing over the keys.
Luxury Cars vs Exotic Cars
There is a difference between luxury and exotic cars, but that difference is not important for our purposes.
The term "exotic" applies mainly to high-performance supercars such as McLaren, Lamborghini, Ferrari, Bugatti, and Maserati, whereas "luxury" cars are more elegant, larger, and not as sport-oriented. Examples of luxury cars are Cadillac, Tesla, BMW, Audi, Bentley, Rolls Royce, and Mercedes Benz.
It's safe to assume that exotic car dealers will not allow a supercar test drive until the buyer has provided proof that the finance is in place. The value of the car is too high, and the skill required to handle the speed and power is too great to allow a member of the public to take the car on the road.
Even with the appointed dealers of luxury brands, policies may differ, but one principle applies to them all – no joyriding. We have a few examples of what luxury car brands do to cater to the requests to test drive their cars. Then we'll summarize the common elements of each policy.
Do Aston Martin Allow Test Driving?
After researching a few Aston Martin dealerships, we can confirm that they do allow clients to test drive their cars, but only on the following basis:
The client must have proof of identity and proof of residence
Financial status must be proved with current bank statements provided if the client intends to pay cash rather than finance the car.
If finance is required, a test drive will be permitted on approval of the client's application.
Details of the client's present car and whether it will be used as a trade-in.
Before the test drive, a deposit must be paid equal to the excess payable to the dealer's insurers in the event of an accident.
Once a buyer's intention is confirmed and a contract signed, Aston Martin is prepared to arrange an "experience" where the buyer is given driving instruction, on-track experience, and in-depth brand information.
Does Audi Allow Test Driving?
Audi is one of the few luxury car brands that don't have super strict requirements in order to test-drive their cars.
For those who live in the USA, participating Audi dealers provide an "Audi at your door" service, whereby they will bring the car to your home to allow you to test drive it. 
Do Bentley Allow Test Driving?
Bentley, the classic English luxury brand linked closely to Rolls Royce but actually owned by  Volkswagen, invites online applications to test drive their cars, so clearly, they do allow it.
They have two qualifications before the application is considered – the driver must be over 25 years of age and must hold a valid driving license.
Bentley asks you to select the model you want to test drive, so they can confirm availability. A Brand Advisor will then contact you to provide the required information.   
Banking information, financial status, and personal information must be verified before booking a test drive. You will be required to sign a damage waiver before you will be able to take a Bentley out of the showroom.
Do BMW Allow Test Driving?
BMW dealers have demonstration models covering a wide range of their cars, which are available in many cases for test driving over a 24-hour period.
The dealer will restrict this privilege to clients who have previously bought a car from them or those who have been carefully screened. In addition, finance must be approved up-front for the client, and a valid driver's license must be provided.
Not all models are available for testing – for example, the most expensive BMW, the i8 –  while in the case of other performance cars, such as the M4 and M5, there is a minimum age requirement of 25.
Do Mercedes Allow Test Driving?
As a luxury brand, Mercedes Benz is one of the most generous in test driving their cars, and 26 out of the 38 models are available for 24- and even 48-hour testing.
Their AMG range of high-performance cars is not included. Clients are screened beforehand to ensure they are financially qualified to purchase the model they wish to test drive. Details such as driver's license verification and proof of residence will also be required.
We have used these examples to give you some idea of how luxury car brands deal with the question of test drives and how they ensure that only genuinely interested buyers get the chance to drive their cars.
Do Any Luxury Car Brands Not Allow Test Driving?
In our research, speaking or contacting several dealers selling luxury brands, we found them very approachable in allowing test driving of their cars.
The only brand that we didn't get a response from was Rolls Royce, but it is safe to assume that their policy is similar to that of their sister company, Bentley, which we have mentioned above.  
General Rules Regarding Test Driving A Luxury Brand
While the dealers are aware of the need for serious buyers to familiarize themselves with the specific model of luxury car they want to own, they need to protect themselves and their cars from those who are simply out for a free ride.
The most commonly held rules include:
Proof of identity and a valid driver's license. To test drive some cars, particularly the more performance-oriented ones, the driver must be at least 25 years old.
Proof of financial ability, which in some cases requires formal approval of the deal from the financial institution before the car is taken for a test drive.
The car must be insured during the test drive, either by the dealer or the driver.
Not all cars in the range are necessarily available for testing – the most expensive are typically the high-performance models, and there are usually no demonstration models made available.
Conclusion
Test driving is made available by luxury car brands for one reason – to allow a serious buyer to decide whether or not to buy that specific model.
Dealers depend on sales, so they will do whatever it takes to get a buyer into a new car, but they will prevent joyriders from taking their prized (and expensive) cars for a test drive when they have no intention of buying.