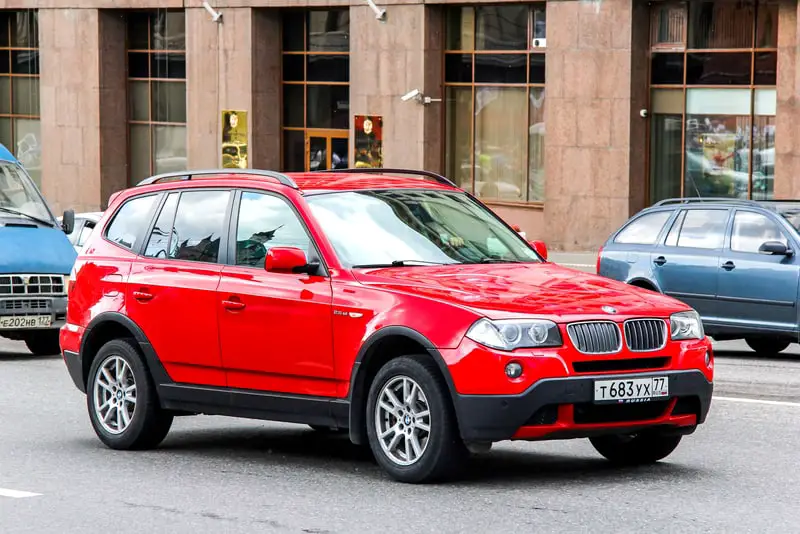 Whether you have a big family, enjoy going off-roading, or have a lot of baggage to take on your next trip, a big enough car can make or break your experience.
For this reason, as well as loving the BMW brand, knowing about the seven biggest BMW models allows you to buy the car that best suits your needs. Below we discuss these seven models and what makes them so big and grand.
Here are the 7 biggest, heaviest, and most practical BMW models:
1. BMW X3 SAV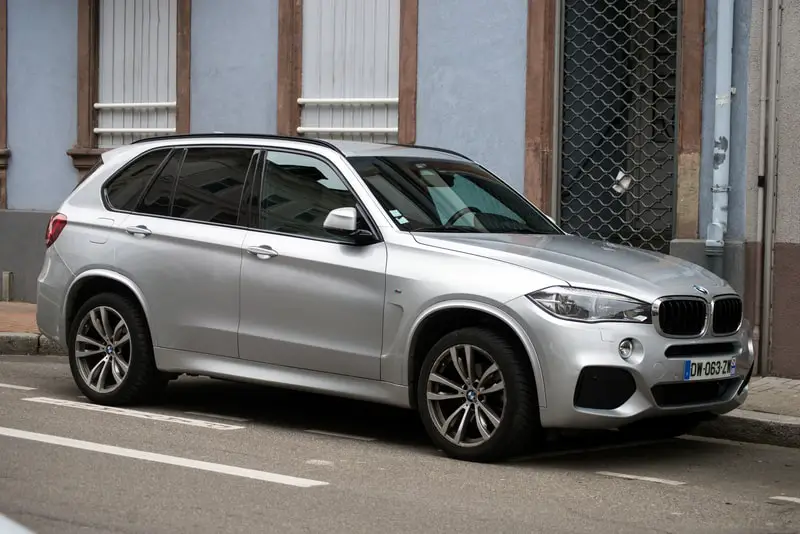 Weight: 4,149 lbs
Length: 186 inches
Capacity: 5 Passengers
Maximum Payload: 937 lbs
The BMW X3 is an SAV with an all-wheel drive system and TwinPower Turbo Engine. Though this BMW only has five seats, it is quite a large car with more than enough space, measuring around 15.5 feet in length, 6.2 feet in width, and 5.4 feet in height.
If you are interested in buying a BMW X3, you can choose from three different types with their added customizations; the Comfort, Technology, and Ultimate models.
You can also include several accessories and performance parts, giving you decent customization in the base car. In addition, you also have many color combinations to choose from for the interior and exterior.
There is also the option for a hybrid engine if you prefer.
2. BMW X4 Sports Activity Coupé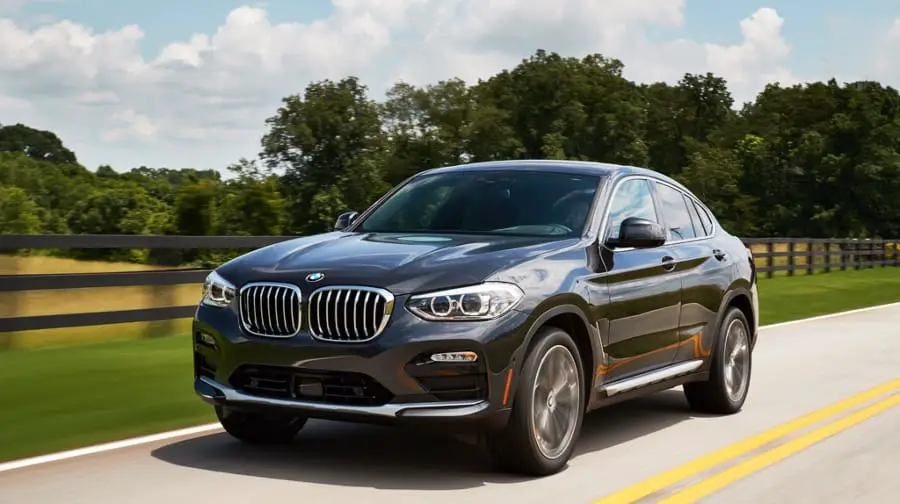 Weight: 4,178 lbs
Length: 185 inches
Capacity: 5 Passengers
Maximum Payload: 1,201 lbs
When looking at the BMW X4, you can see that there are similar options for customization as you would receive for most other BMWs, including the three base choices of Comfort, Technology, and Ultimate.
The BMW X4 also has a TwinPower Turbo engine but has the added benefit of being a bit wider, which should help the car's handling.
Though this car offers much of the same customization as other BMW models, since it is called a Sports Activity Coupé, it has "Sport Seats" in the front of the car, though the back seats are standard.
Though this car is quite large, measuring around 15.4 feet in length, 6.2 feet in width, and 5.2 feet in height, the four-wheel drive, along with the option of a six-cylinder engine, gives it more than enough power.
3. BMW iX Battery Electric Vehicle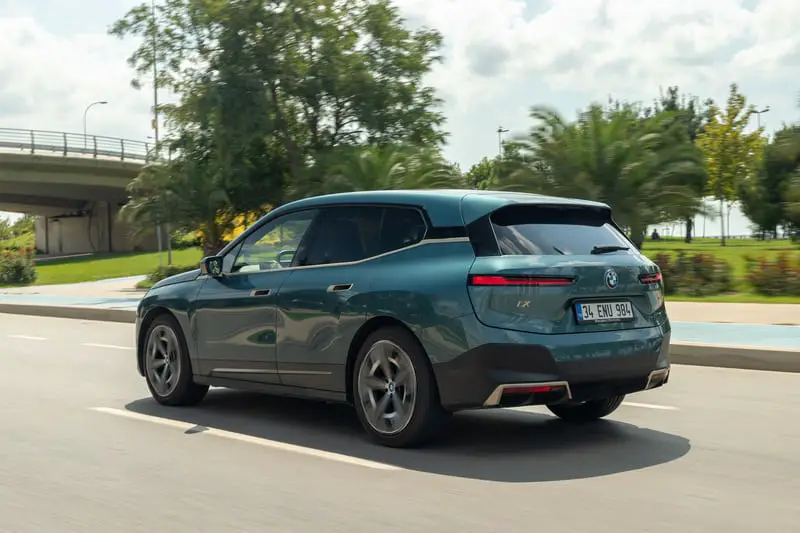 Weight: 5,659 lbs
Length: 195 inches
Capacity: 5 Passengers
Maximum Payload: 1,054 lbs
In addition to being one of the biggest BMW models, the BMW iX is also one of the best and most futuristic-looking models. It's the 3rd heaviest BMW model available in 2023.
The BMW iX is a fully electric car, which means that the three main model choices include the comfort and technology models in addition to the Ultimate model called the xDrive50, which has a 124-mile range difference, reaching up to 385 miles on a full charge.
Though the 16.25-foot length, 6.4-foot width, and 5.5-foot height may feel similar to other BMWs though slightly longer than the X3, the minimalistic and sleek interior design allows for more space than you might expect.
Another brilliant feature of this car is the enormous curved display behind the steering wheel that allows you to control the navigation system and other electric features.
4. BMW X5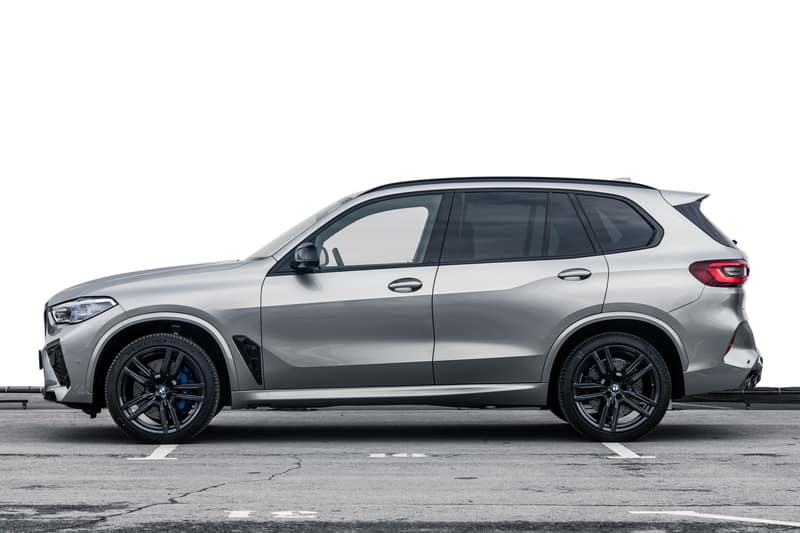 Weight: 4828 lbs
Length: 192 inches
Capacity: 5-7 Passengers
Maximum Payload: 974 lbs
Though there are other engine variants, the BMW X5 plug-in hybrid is likely the most impressive of the three options. With 389 horsepower and a 3.0 liter with an integrated electric motor, speed won't be an issue.
The hybrid functionality allows you to get the best of both a petrol and electric engine, enabling you to drive more efficiently in different terrains and conditions.
This impressive car by BMW measures around 16 feet in length, 6.5 feet in width, and 5.7 feet in height, making it close to the size of the BMW iX but without the potential issue of relying purely on battery power.
One of the essential features of the BMW X5 is the xOffroad package, which allows you to drive on several different terrains while allowing your car to make some adjustments to keep the trip smooth.
If the features above weren't impressive enough, the new BWM operating system and the two digital displays in the BMW X5 allow you to use driving and parking assistance.
The driving assistance has different modes, including one that drives for you, and the parking assistant can park your car once you choose the correct parking space and has some other helpful features.
5. BMW X6 SUV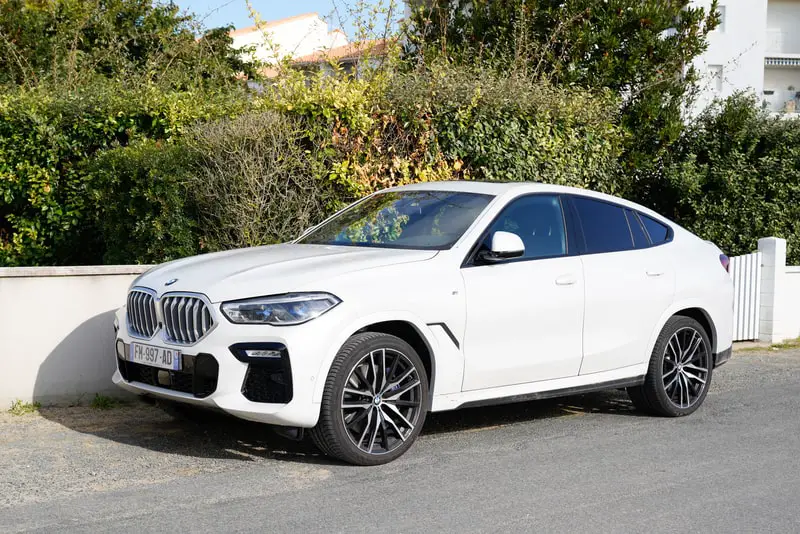 Weight: 4,855 lbs
Length: 192 inches
Capacity: 5 Passengers
Maximum Payload: 1,025 lbs
With its 6-cylinder engine and the body measuring around 16 feet in length, almost 7 feet in width, and around 5.5 feet in height, the BMW X6 SUV can reach a top speed of around 155 mp/h.
This BMW also has some different options for the base models, with names like Essence, Balance, and Signature, with the signature being the base model with the most prestige using the model M or performance parts.
The best model of the BMW X6 comes with adaptive M suspension, Sports front seats, the xOffroad package, and upgrades the already good 6-cylinder engine to an 8-cylinder for even more power.
The offroad capabilities make the X6 a pleasure to drive on most terrains as it adapts to the conditions, and the driving assistant is also in place to help if you're on a cruise.
In addition, you also have the "Welcome Light Carpet," which lights the floor in a soft light around the doors to help you see when you get in or out of the car.
However, another feature that makes this car remarkable is the digital key feature, which allows you to use your phone to unlock and start your car, and enables you to give access to others to drive the car by sending them a key too.
6. BMW iX3 Electric SUV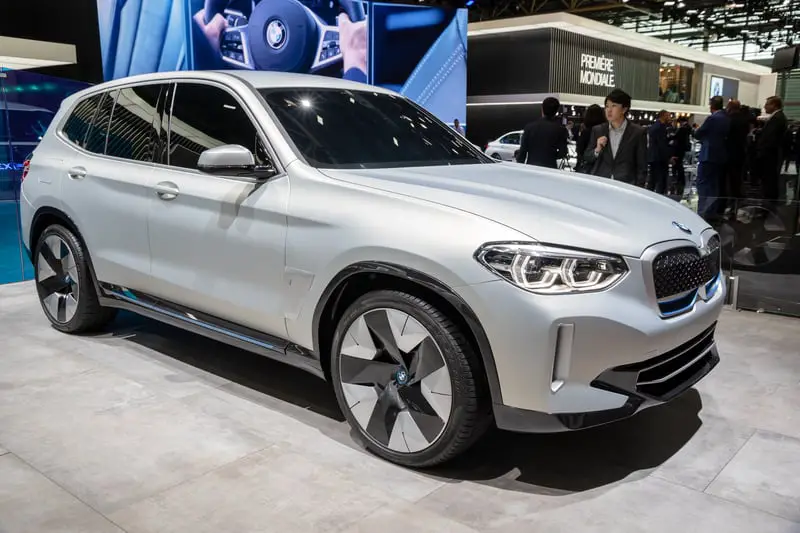 Weight: 4817 lbs
Length: 186 inches
Capacity: 5 Passengers
Maximum Payload: 1,190 lbs
The BMW iX3, known as the first completely electric BMW SUV, allows you the best features of the X3 with a ton of new digital features and the added benefit of not using traditional fuel.
With a similar length to the X4, measuring around 15.5 feet long, around 6.2 feet wide, and nearly 5.5 feet high, what the iX3 lacks in color options and other minor customizations, it makes up for in every other way.
The iX3 model comes with some of the best features of previously discussed models, including the digital key feature, the advanced navigation feature, the adaptive suspension, and even the front sports seats.
Again the BMW iX3 comes with two digital screens on the dash that allow you to use the navigation and driving assistance features.
However, if you were looking for a way to make your road trips even better, the surround sound speakers in this car will allow you to immerse yourself in your favorite music while you cruise.
In addition, if there is anything you don't understand about your car, the BMW smart voice assistant can help you control some electronic functions and learn more about the car.
7. BMW X7 SUV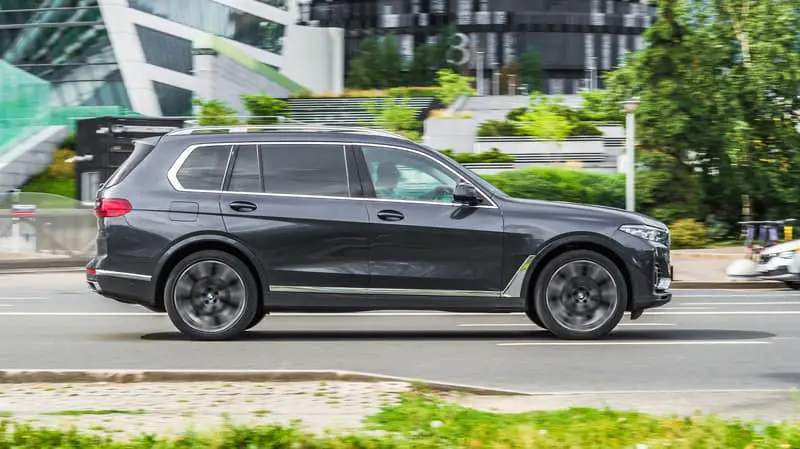 Weight: 5,115 lbs
Length: 204 inches
Capacity: 7 Passengers
Maximum Payload: 1,254 lbs
The BMW X7 is the largest of the BMW models here, measuring nearly 17 feet in length, 6 feet in height, and 6.5 feet in width. It is safe to say that if you are looking for a BMW with a lot of space or prefer a bigger model, this is probably the one for you.
In the X7, BMW decided to up their game and included the two digital displays and the iDrive Touch controller to help you operate their operating system.
Though the X7 also has driving and parking assistant features, the addition of gesture controls is impressive since the car can accept and reject calls based only on how you move your hands.
The BMW X7 also takes comfort and luxury to a new level by using the welcome light carpet, temperature-controlled cupholders, and even experience modes that allow you to make driving more than just moving from one place to another.
If you wish, there are also options for backseat entertainment screens, and the car comes with impressive surround sound.
Big cars are great for many reasons, however, they are usually less fuel efficient, you can learn more about the fuel economy of all the BMW cars in this post.
I listed the smallest BMW models in this post.