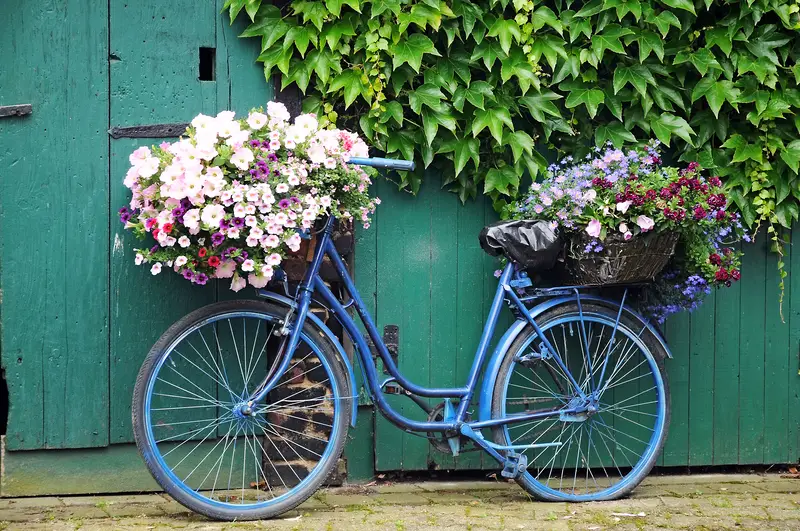 As you'll probably be familiar with if you have already read some of my previous pieces for VehicleHelp.com, there are plenty of different bikes on the market at the moment and they come in a wide range of colours.
Whether it be a mountain bike for carving up the trails, or a sleek road bike for gliding around the country roads, there really is a bike for everyone. 
Today though, we will be focussing on one of the most popular colors in the world, blue. As the color blue has long been used on bikes and has many great shades to choose from.
Here are the 7 best bikes available in blue.
1. Merida Big Seven 15 Mountain Bike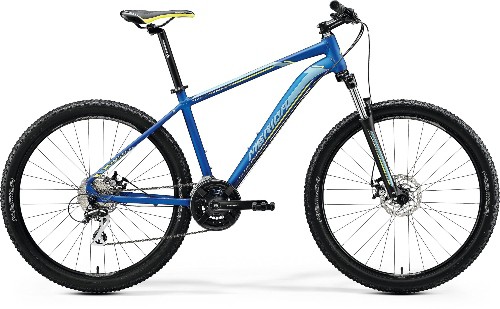 The first bike on our list is the Merida Big Seven 15 Mountain bike. This model serves as one of Merida's beginner level bikes and therefore doesn't have a scary price tag, with it marketing at around $500 in the current climate. 
The Big Seven 15 is a couple of years old now, so you may struggle to find it in your local bike store, your best bet is to either search for a second hand one or look online at what deals you can find.
With this being a beginner standard of bike, it does not have all the great features that you may expect from pricier models, but it is still a great bike. 
Featuring a TFS frame, with completely internalised cables the Big Seven 15 still packs a punch for its relatively small price. There are also 24 gears that the rider can select, the system of which is provided by Shimano. 
Pros
Price
Internalised Cables
Shimano Gear System
Cons
Potentially Outdated
Hard to Find
2. Triban RC 120 Disc Brake Road Bike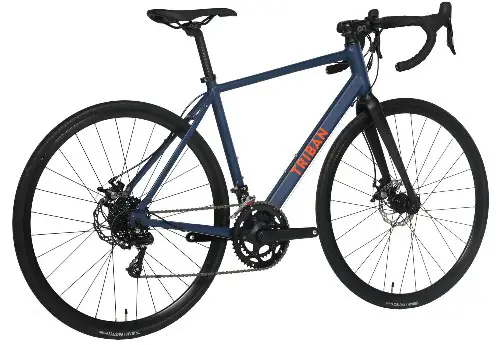 Next up, we are heading onto the road and to one of the best budget road bike that you can find in blue. The Triban RC 120 Disc Road bike serves as an entry level model into the world of road cycling, with this in mind the price comes in at around $500. 
With this being an entry level model, don't expect to see all the bells and whistles on it. You sort of get what you pay for when it comes to bikes, but that isn't to say you won't get a sturdy and reliable bike on a budget. 
The RC 120 is optimised for comfort over anything else, with the frame being specifically modelled for this purpose. The key areas of the bike are constructed from aluminium (frame) and carbon (fork) making the bike rigid everywhere it needs to be. 
Disc brakes are also fitted as standard, as is quickly becoming the norm for modern road bikes. 
Pros
Price
Versatility
Comfort
Cons
3. Trek Emonda SL 5 Disc Road Bike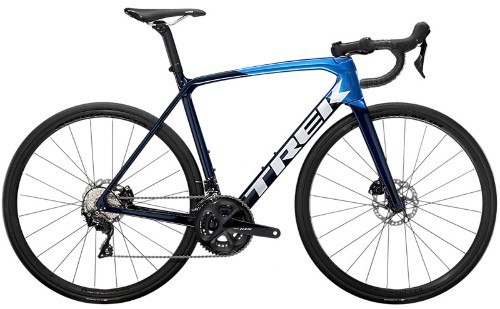 From a basic level road bike, to one of the most premium bikes available anywhere in the world, next up on our list is the brilliant Trek Emonda SL 5 Disc Road Bike.
Available in blue (as well as many other colors) the Emonda is used by the Trek – Segafredo men's and women's professional cycling teams in WorldTour level events throughout the season, it really is top of the class. 
In terms of price, the Emonda isn't cheap (as you would expect) with it coming in at around $2,500. In reality though, this price tag isn't as bad as it may seem, with some of its major competitors such as the Pinarello Dogma range selling for four times that amount in places. 
The features of the Emonda are wide ranging, with it being constructed from a fully carbon frame and fork. This gives it unparalleled rigidity and structure. 
Pros
Used by the Professionals,
High Quality Components,
Carbon Frame and Fork
Cons
4. Ridgeback MX24 Kids BMX Bike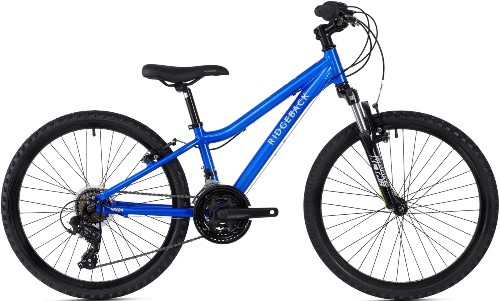 It isn't often that I discuss bike made specifically for children, but this amazing BMX is an exception to that rule.
The Ridgeback MX24 is fabulous for a number of reasons and comes available in a sharp blue colorway that is sure to dazzle your child's friends and family alike. 
The MX24 is on the expensive side for a child friendly BMX, with it retailing at around the $350 mark online, which is what many would pay for full sized BMX. Despite this high price point, there are plenty of great features on the MX24 that make up for this. 
Firstly, the bike has a rigid aluminium frame that is perfect for kids' bikes (it is rare for them to be made from Carbon Fibre). There is also a suspension fork with adequate spring for when the going get's a little tougher. 
The bike does have rim brakes, which is a negative but isn't something that is vital on bikes made for children. 
Pros
Rigid Frame
Suspension Fork
Stylish
Cons
5. Giant Escape 3 Disc Hybrid Bike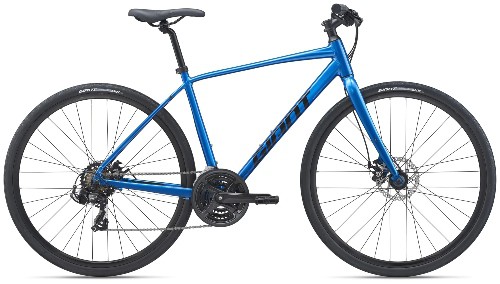 Next up is a fantastic hybrid bike that gives the rider the best of both worlds in terms of both the road and off-road elements of cycling.
There is often a confusion between hybrid bikes and electric bikes, with some believing that they are the same thing when in fact hybrid bikes simply combine elements of road and mountain bikes. 
With this clarified, the best blue hybrid bike out there is the Giant Escape 3 Disc. This bike, made by Taiwan based company Giant is packed full of great features that will be sure to bring you towards the land of the hybrid bike. 
The Escape 3 Disc, as the name would suggest features disc brakes as standard (as many would expect these days). It also has an aluminium frame that may not be ideal, but at just $600 the bike serves up good value for money in my opinion. 
In terms of storage, this bike is perfect for bike packing trips as it features stell mount racks that can endure the testing terrain of hybrid rides. 
Pros:
Price
Storage
Hybrid Ability
Cons:
6. Raleigh Motus Grand Tour Lowstep Electric Bike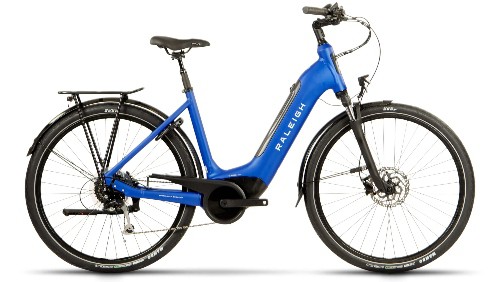 Here we are, since we mentioned electric bikes it would be wrong not to include one in this piece.
There are many types of electric bike, and each is good for different purposes, the idea behind low step E-bikes is for them to be used in urban areas for relatively short rides that require comfort over speed. 
The design of the Raleigh Motus Grand Tour may not be the most appealing in the world, but the bike serves a purpose and does it well.
The Motus features a 500WH Bosch motor that can give you the extra support you need when the road gets a little tough (up to 270% extra when compared to pedalling alone). 
Alongside this, the Motus has hydraulic disc brakes that will bring you a stop just as fast as you sped up, making the bike as safe as it is efficient. The range of the bike is said to be over 100 kilometres in a single charge. 
Pros
Power
Range
Safety Features
Cons
7. Canyon Aeroad CF SLX Road Bike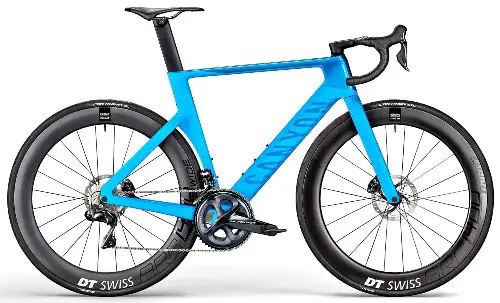 I thought I would leave the best until last today, and the best is one of the classiest bikes available in blue that is used by a professional cycling team.
If you have read my previous piece regarding the most popular bikes amongst pro cyclists, you may already be aware of my love for the Canyon Aeroad CF SLX, thanks in part to its amazing blue colorway. 
Ok, so strictly speaking the Movistar Team colorway is not commercially available as an entire bike, but you can buy the frame for the Aeroad separately and construct the bike yourself.
This is a rewarding experience for those who can do it, and it means you ca ride the same bike as the Movistar Team. 
The frame for the Aeroad will set you back over $3,000 by itself, so be prepared to have to fork out some hefty amounts of money in order to build this up to racing specification. The frame itself is of course made from carbon fibre and is optimised for aerodynamic performance. 
Pros
Aerodynamic
Classy Colorway
Used by the Professionals
Cons
Price
May Need to Build Bike from the Ground Up 
Apart from blue, there are many other awesome bike colors to choose from, you can learn more about the best bike colors in this post.