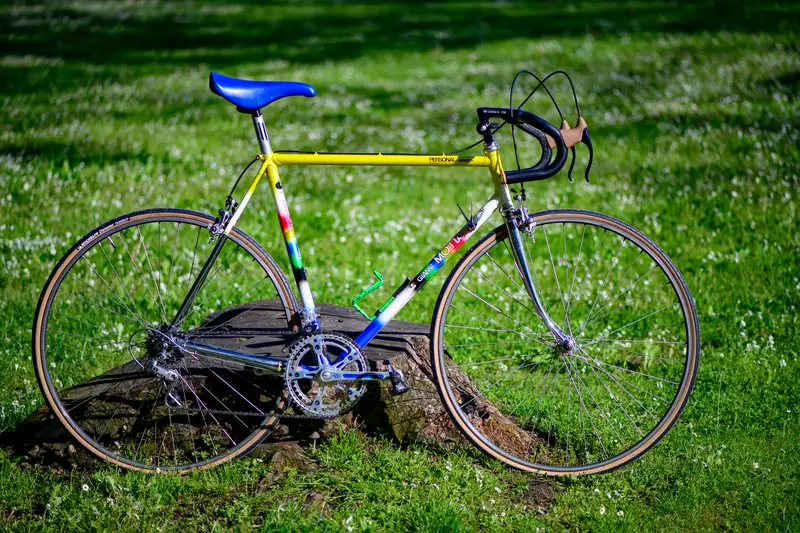 You may not be aware, but rainbow is actually a color scheme that has a long and storied history within the sport of cycling. Some of you may think that the rainbow represents other things, and it certainly does, but in cycling terms, the rainbow is intrinsically linked to the world championships. 
The reason for this is that world champions in any UCI-approved discipline is awarded the coveted rainbow jersey alongside their gold medal, the rider can then wear this jersey in all future events in said discipline until they are deposed as world champion. 
Whilst you may never be able to wear the rainbow bands, you can certainly ride a bike that is embellished in all the colors of the rainbow.
Today we will be taking a closer look at 4 of the best rainbow-colored bikes on the market right now. 
1. Cinelli Zydeco Apex Disc Gravel Bike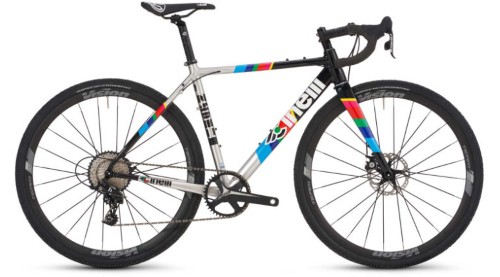 We start our list today with a gravel bike that is made by a more unknown company than I usually include in these pieces, but one that is quickly growing in stature and makes some top-quality bikes.
The Cinelli Zydeco Apex Disc is the brand's highest quality gravel bike and retails at a relatively pleasant $1,500 when compared to some its more popular competitors.
Whilst Cinelli may not be a brand that you are all that familiar with, they still include some of the best components in their bikes and the Zydeco is no exception to this. The bike features SRAM braking and gearing systems just like many other gravel bikes. 
Alongside this, the Zydeco is built out of a triple-butted alloy that Cinelli claim helps make the bike more versatile, whether this is true is up for debate as I personally prefer an aluminum or ideally a carbon fiber frame on gravel bikes. 
For those wanting to use the bike for bikepacking, the Zydeco also features excellent storage options with mounts for bags coming as standard. 
Pros
Price
Versatility
Storage
High-Quality Components
Cons
Lesser-Known Brand
Alloy Frame
2. Frog 53 Spotty Kids Bike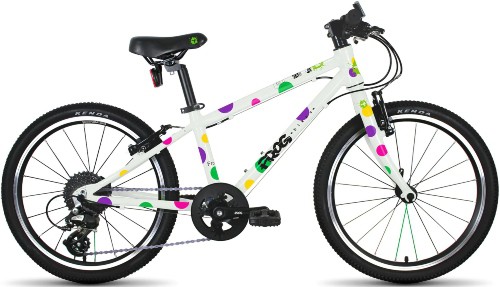 As bikes for children go, the Frog 53 Spotty is a more premium choice to go for when looking at a first bike with it coming in at around $350. This is of course a big expense for a bike that may not see that much use, especially if your child decides cycling isn't for them after riding the bike for a few days. 
This is a bike for if you want to really encourage or build upon a child's interest in the sport from a young age, and the Frog 53 is packed full of brilliant features, with it coming in a lovely spotty colorway. 
In terms of actual features, the Frog 53 is a super lightweight bike that shouldn't cause too much damage to your child if they were to fall or crash whilst riding the bike and for me this is an important thing when it comes to children's bikes. 
The bike is constructed from an aluminum alloy and has Tektro brakes fitted as standard along with a Shimano derailleur. 
Pros
High-Quality Components
Safety
Cons
3. Hyper Nitro Circus Jet Fuel BMX Bike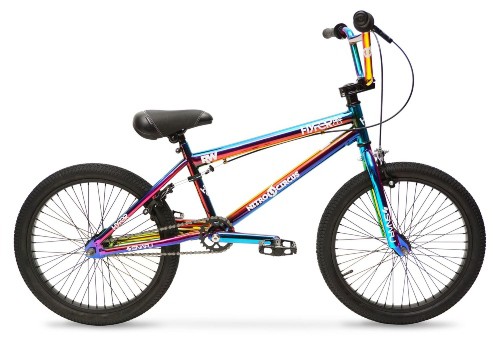 This is another great bike for children that comes in at a considerably lower price than the previous model in this piece.
The Hyper Nitro Circus Jet Fuel BMX (A mouthful of a name for sure) costs around $200 and is perhaps better value for money for children wanting to give cycling and more specifically BMX a try. 
In terms of the features that the Nitro Circus has, there are plenty of great ones. Firstly the bike is constructed out of a strong steel frame which is actually a great choice for BMX bikes as they need to be more robust than other bikes due to the kind of tricks that riders may perform whilst riding them. 
Alongside this, the Nitro Circus is finished in what the company call a 'Jet Fuel' colorway that gives the bike a dazzling style that will be sure to amaze everyone at school and in your estate. 
The main drawback to this bike is that it is mainly available in the UK and may be quite hard to have shipped to the US, if you do want to make this happen though, the best place to find the Nitro Circus at a bargain price is via British store Halfords' website. 
Pros
Cons
4. Cannondale Treadwell 3 Hybrid Bike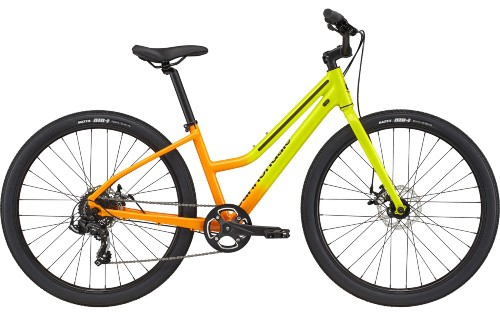 We finish today's list with a hybrid bike that combines the excellent disciplines of the road and mountain biking. Cannondale may not be my favorite manufacturer in the world, but they have constructed a fabulous hybrid bike in the Treadwell 3.
As far as the rainbow colorway goes, it is a more muted kind of effect that we see on this bike which makes it perfect for those that want a rainbow bike that doesn't shine too brightly. 
The Treadwell 3 is the latest of Cannondale's hybrid bike range that is designed for everyday use by almost any level of rider.
These kinds of bikes are ideal for those wanting to use them for commuting and exploring their local area, with comfort at the top of the priority lists for most manufacturers (the Treadwell 3 features an optimized frame geometry specifically for rider comfort). 
This isn't to say that other features are compromised on though, with the Treadwell 3 being constructed out of a strong alloy frame and stell fork that provide safety and durability to the bike.
Alongside these, the Treadwell 3 has a 7 speed Shimano gearset that allows the rider to decide which level they are comfortable riding at throughout their ride. 
Finally, the price of the bike is another big positive, with the Treadwell 3 currently retailing at around $650 which is great value for a hybrid bike of this quality. 
Pros:
Price
Comfort
Safety
Shimano Gears
Cons
I've always been a fan of rainbow-colored bikes, however, there are many other cool bike colors to choose from, I listed the best bike colors in this post.