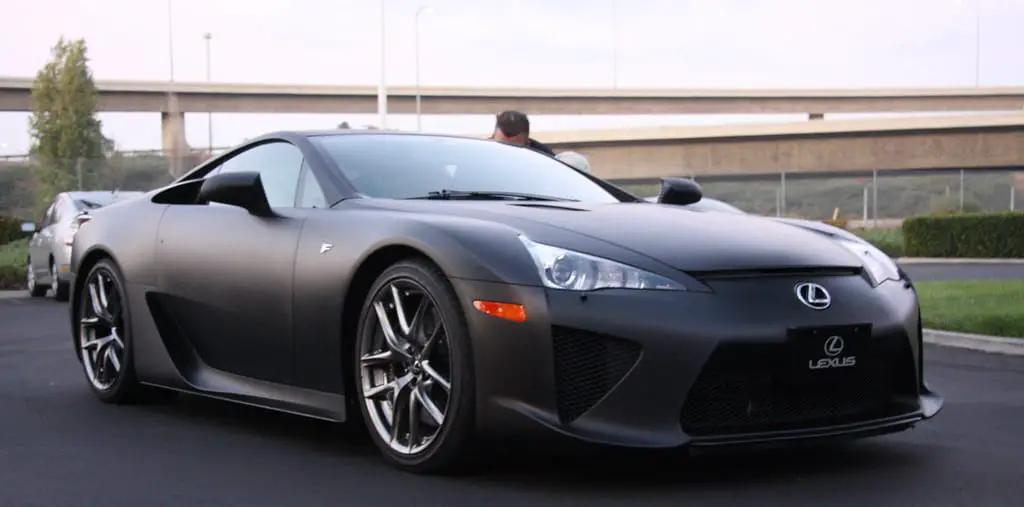 You might think Lexus only makes comfy, luxury cars, right? While it's true that the brand is known for its luxurious rides, they have more to offer under the hood.
Lexus has made everything from speedy sedans to supercars. But which is the most powerful?
Here are the 7 most powerful Lexus cars ever produced:
7. Lexus LS 460 – 386 Horsepower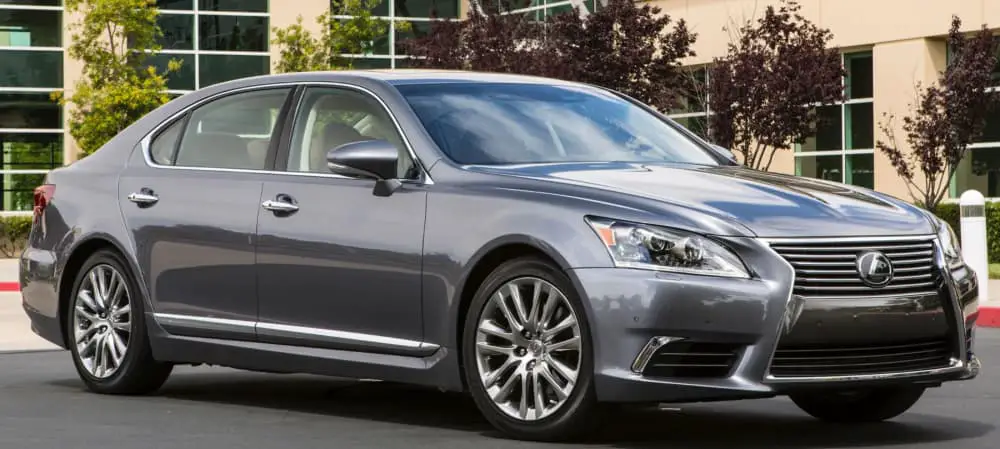 Horsepower: 386 hp
0-60 mph: 5.4 seconds
Top Speed: 130 mph
Engine: 4.6L V8
The Lexus LS 460 represents what Lexus is traditionally known for; luxury and refinement. Once you're behind the wheel, the LS 460 delivers a smooth and silent ride that truly sets it apart.
Its powerful V8 engine provides more than enough acceleration for highway driving and overtaking, while the well-tuned suspension and sound insulation wrap you in a serene driving experience.
Inside, the LS 460 feels like a high-end lounge. The materials are top-notch, the design is timeless, and the technology is intuitive. It's a car that pampers its passengers and creates an atmosphere of tranquil luxury.
6. Lexus IS F – 416 Horsepower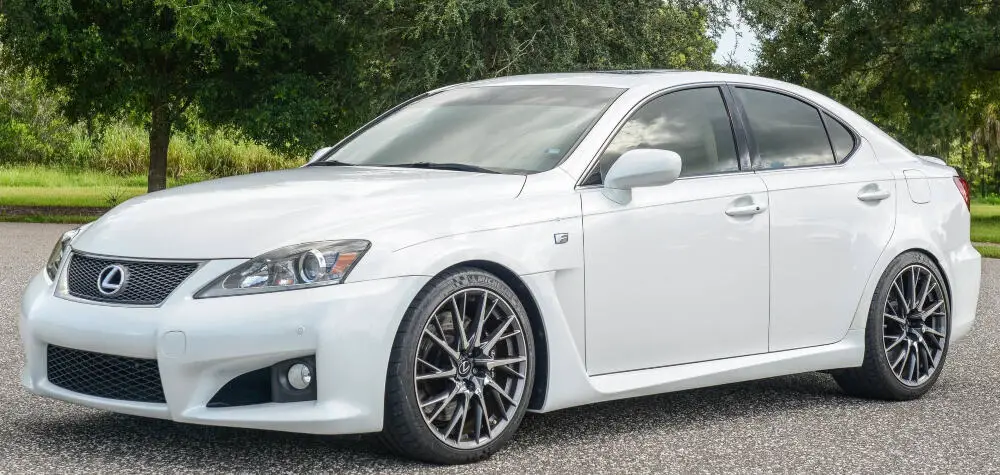 Horsepower: 416 hp
0-60 mph: 4.6 seconds
Top Speed: 170 mph
Engine: 5.0L V8
The Lexus IS F is a bit of a hidden gem in the sport sedan category. What's special about this ride is that it's not what you'd typically expect from Lexus, known for its luxury cruisers. This one's got a sporty side that's hard to miss.
Yet, despite its sporty nature, the IS F doesn't forget its roots. It's got that Lexus luxury inside, with comfortable seating and top-notch materials. Why choose between luxury and performance when you can have both?
5. Lexus LS 600h – 439 Horsepower
Horsepower: 439 hp
0-60 mph: 5.5 seconds
Top Speed: 130 mph
Engine: 5.0L V8 + Electric Motor (Hybrid)
The Lexus LS 600h, unlike its brethren we've mentioned before, is more about quiet authority than outright sportiness. This car is all about delivering a luxury experience. Yet, it doesn't shirk from providing ample power when you need it.
The LS 600h is a hybrid, combining a 5.0L V8 with an electric motor to deliver smooth, yet powerful acceleration. Despite its size, the LS 600h handles itself with grace, thanks to Lexus's attention to ride quality and control.
A standout choice for those who value comfort, refinement, and environmental consciousness without compromising on power and performance.
4. Lexus GS F – 467 Horsepower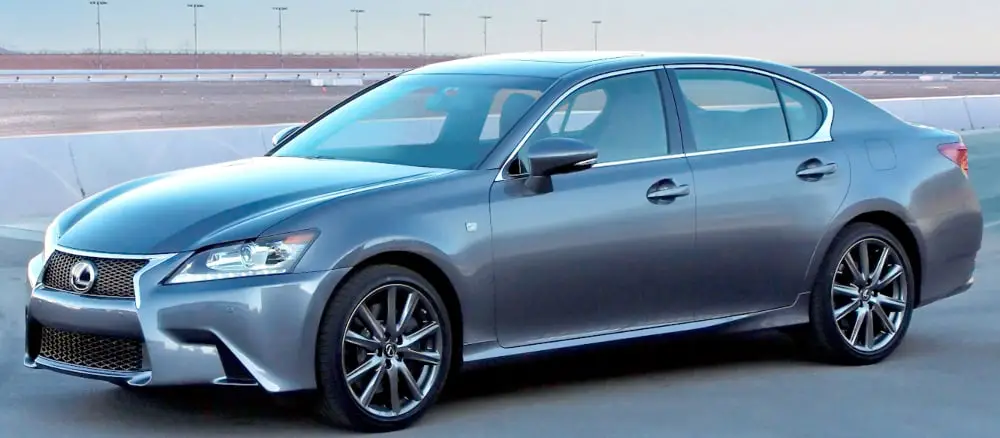 Horsepower: 467 hp
0-60 mph: 4.5 seconds
Top Speed: 168 mph
Engine: 5.0L V8
The Lexus GS F is a bit of a sleeper. At first glance, it might look like your average luxury sedan, but don't let that fool you. Under the hood, it got a powerful engine that gives it some real get-up-and-go.
The first time I got behind the wheel of a GS F, I was surprised. Power was obviously not an issue, but it also got control. It handles really well, whether you're on a city street or a twisty country road, and despite the power, it's still a Lexus at heart.
It's only fun to drive but also practical for everyday use. It's a unique blend of performance and luxury that's hard to find in today's market.
3. Lexus LC 500 – 471 Horsepower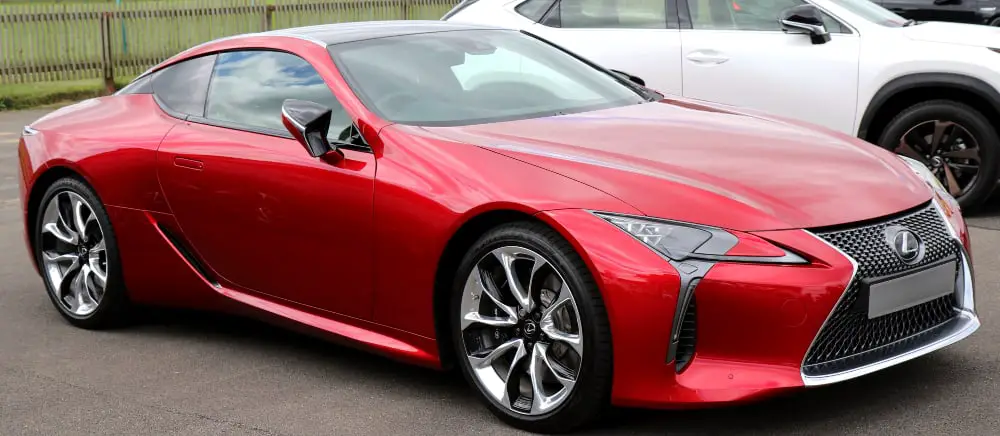 Horsepower: 471 hp
0-60 mph: 4.4 seconds
Top Speed: 168 mph
Engine: 5.0L V8
The Lexus LC 500 is hard to ignore when it comes to speed and power. It commands attention with its design, a mix of angles and curves that's quite unique. You start it up and the engine has a certain melody to it, courtesy of that 5.0L V8 under the hood.
Now, on the move, it's got plenty of gusto. But it doesn't just go fast in a straight line, it's got a knack for corners too, keeping things steady and under control. On the inside, it's pretty much what you'd expect from a Lexus: a well-thought-out interior with a balance of comfort and tech.
While it has its high points, like any car, it might not be everyone's cup of tea. It straddles the line between luxury and sportiness, and depending on your taste, it might lean a little too far one way or the other. But one thing's for sure, it's never a dull moment with the LC 500.
2. Lexus RC F – 472 Horsepower

Horsepower: 472 hp
0-60 mph: 4.2 seconds
Top Speed: 170 mph
Engine: 5.0L V8
The Lexus RC F represents a compelling blend of performance and luxury. With its aggressive styling, the RC F stands out in Lexus's lineup and on the road. It's an unambiguous statement of intent from a brand more associated with comfort than speed.
Driving the RC F is a fascinating experience. It's powered by a 5.0L V8 engine that serves up both exhilaration and sophistication. The handling is confident, bringing an engaging feel to both city streets and winding back roads.
The interior of the RC F keeps up the high standard, offering typical Lexus comfort with a host of advanced technology. The focus is on creating a driver-centric experience, making it feel like a true sports car that's also ideal for daily driving.
1. Lexus LFA – 552 Horsepower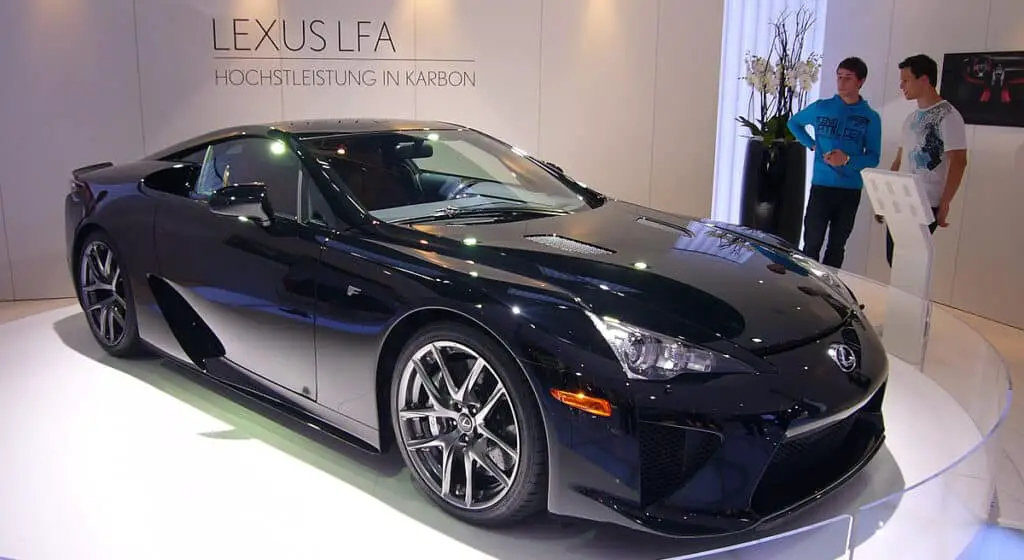 Horsepower: 552 hp
0-60 mph: 3.6 seconds
Top Speed: 202 mph
Engine: 4.8L V10
The most powerful Lexus ever made is the Lexus LFA. This car isn't just a game-changer, it's a world-shaker. I still remember the first time I saw one – my heart might've skipped a beat or two. It's not only powerful, but it's (if you ask me) one of the best-looking Lexus cars.
Introduced in 2010 and in production for just 2 years, the LFA was a departure for Lexus – a step into the world of supercars.
Under the hood of the LFA, you'll find a 4.8L V10 engine that was developed with Yamaha. And this isn't your average V10 – it revs so fast, they had to use a digital tachometer because an analog one couldn't keep up. Can you believe that?
Now, let's talk numbers. The LFA's engine produces 552 horsepower and 354 lb-ft of torque. With that kind of power, it rockets from 0-60 mph in just 3.6 seconds, with a top speed of 202 mph. You feel every bit of that power when you're behind the wheel – it's a rush that's hard to describe.
Sure, the LFA is no longer in production, but its legacy is far from forgotten. It's the car that showed the world that Lexus can do more than just luxury – it can do power, speed, and exhilaration, all wrapped up in a package that's nothing short of a masterpiece.