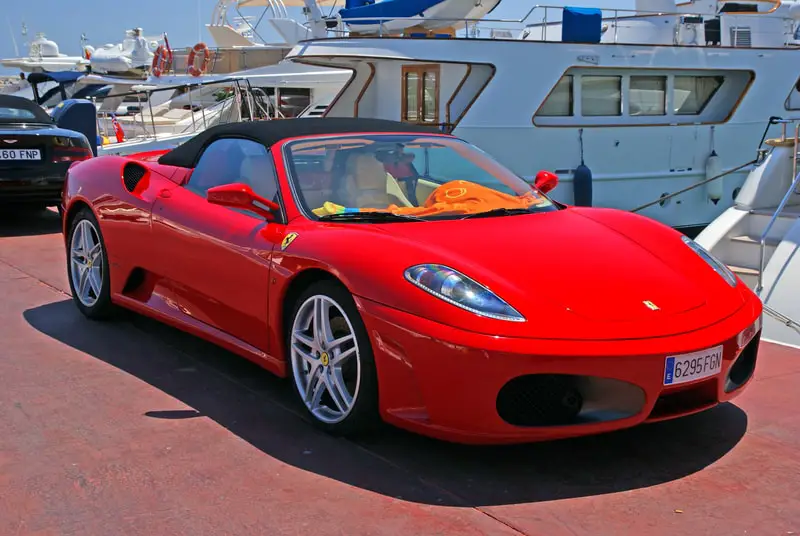 The Ferrari is perhaps the most famous of all the car racing brands. Ferrari has been around since car racing was first introduced to the world and is today considered to be the no.1 Italian car brand, and that country has competition, to say the least.
Enzo Ferrari and his successors have poured immense passion and money into the Ferrari brand to produce iconic cars. When most people think of cars like Ferraris, they think of their speed. But what about their weight?
Ferrari's generally weigh between 3000 and 4100 pounds. The materials used to build the car affect its weight. Ferrari uses aluminum, a lightweight yet sturdy metal, as its primary material for its road cars. Carbon fiber, steel, leather, and plastic also form part of a Ferrari.
Many words have been used to describe Ferraris. Regarding its drivability, Ferrari road cars have been described as fast, reliable, challenging to drive, feral, and thrilling.
In terms of their appearance, these Italian-made cars are known as elegant, separate from the ordinary, and of course, red. Yet, people do not often talk about a Ferrari's weight, despite it being a significant factor.
How Much Does The Average Ferrari Weigh?
Ferrari road cars have generally weighed between 3000 and 4,100 pounds. Of Ferrari's current models, the Ferrari F8 is the lightest, weighing in at 3086 pounds (dry).
A Ferrari's weight is determined by multiple factors, including the materials used to build the famous red cars.
Some Ferrari models use different materials from others which greatly affects weight. For instance, models that use aluminum for their bodies are generally Ferrari's lightest cars.
Ferrari Models Weight
Ferrari has produced many models since its birth in 1939. The first Ferrari, the Ferrari 125 S, only weighed 1433 pounds, which is less than half of what some of the most recent Ferrari models weigh.
Here is a table showcasing the weight of Ferrari's recent models:
| Model Name | Year | Weight |
| --- | --- | --- |
| 296 GTB | 2022 | 3241lb |
| 296 GTS | 2022 | 3395lb |
| Portofino M | 2017 | 3668lb |
| F8 Tributo | 2019 | 3164lb |
| F8 Spider | 2019 | 3086lb |
| 812 Superfast | 2017 | 3593lb |
| 812 GTS | 2019 | 4010lbb |
| 812 Competizione | 2021 | 3278lb |
| 812 Competizione A | 2021 | 3278lb |
| Roma | 2020 | 3461lb |
| SF90 Stradale | 2019 | 3527lb |
| SF90 Spider | 2019 | 3682lb |
| Enzo | 2002 | 3263lb |
| LaFerrari | 2013 | 3495lb |
Why Are Ferraris So Heavy?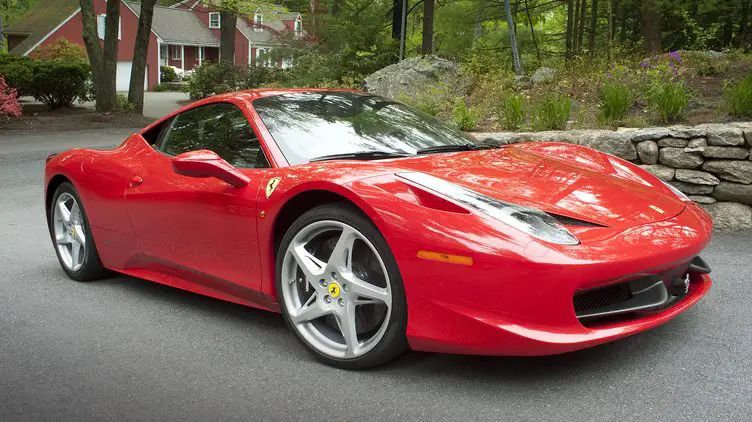 So, why are Ferraris and other luxury cars so heavy nowadays?
To deliver the highest performance while giving a luxury feel, Ferrari must use various materials to create a special car, including aluminum, carbon fiber, and leather of the highest quality for those car seats.
The Ferrari Engine Adds Weight To The Car
The engine is undeniably the most important component of the car. In the three months, it takes to put a Ferrari together, assembling the engine is the earliest and most critical stage.
Ferrari uses an aluminum alloy to build its engines. Specifically, the aluminum is melted and solidified into molds that form the engine parts, such as the cylinder block and heads, which are then welded or glued together.
Ferrari engines typically weigh between 200 and 500 pounds, based on whether only aluminum alloy is used or if steel is added.
Ferrari Still Uses Aluminum As The Primary Building Material
In addition to using aluminum alloy for the engine, Ferrari uses this material to make the car's frame. In a world increasingly becoming carbon fiber-oriented, Ferrari chooses not to go the same way as its competitors that choose carbon fiber for its lightness and strength.
Though the Italian brand does use carbon fiber, aluminum is still the primary building material. Ferrari uses carbon fiber material for the aerobridge, exterior trim elements, and side skirts.
Ferrari maintains that high-grade aluminum is still one of the best metals for building sports cars, as it is versatile.
Steel Is Now Less Common In Ferraris
Before carbon fiber and aluminum became popular in the car manufacturing industry, steel was used for making car engines and frames.
Though steel is still used by Ferrari and other brands today, this material is not as common in sports cars as it used to be.
Steel is low-cost and durable but heavier than aluminum and carbon fiber. Since weight affects a luxury sports car's performance on the road, luxury brands like Ferrari are now opting to use lighter materials for a car's shell, frame, and engine.
High-Grade Leather Is Used For Ferrari Interiors
In many Ferrari models, the seats are made of premium leather, Ferrari Nappa, produced using full-grain hides from cattle in cold climates. Other interior parts, like the steering wheel and gear stick, are also covered in this leather.
Other components inside the cabin, like the dashboard and console, are typically made from wood and high-quality plastics.
How Much Does The F1 Ferrari Car Weigh?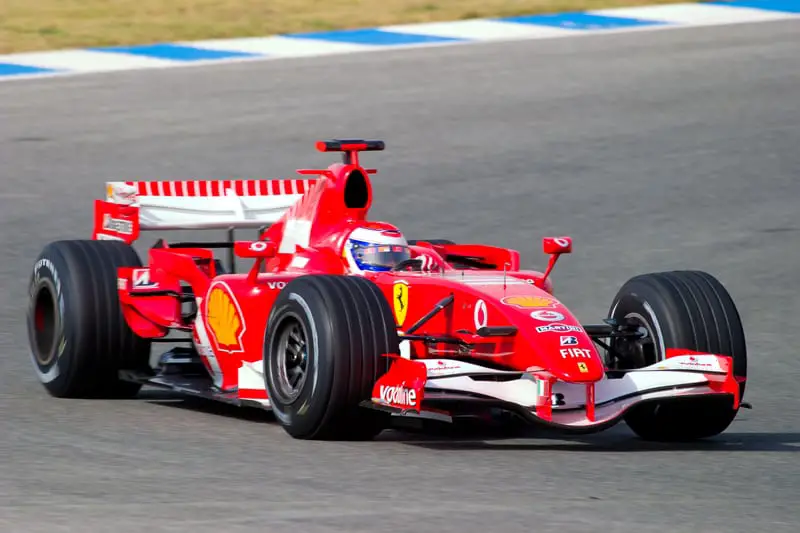 The new F1 Ferrari car F1-75 weights in at 1,766 lbs, which is only 7 lbs above the minimum weight limit of 1759 lbs.
Ferrari and F1 are synonymous, as Ferrari has been competing in F1 since the sport first began in 1950. Over many years of competition, Ferrari has produced iconic F1 cars, like the Ferrari 312T. F1 cars are very different in design from road cars, so their weights differ.
For the 2022 season, the F1-75 must respect the minimum weight limit of 1759 pounds. This weight limit includes the driver and tires but no fuel.
How Much Do Ferrari F1 Parts Weight?
The greatest contributor to the F1-75's weight is the engine, which weighs around 330 pounds (the limit set by the FIA). Not every part of the F1 car has a weight limit.
Here is a breakdown of how much Ferrari car parts weigh.
| F1 Car Part | Weight |
| --- | --- |
| Engine | Minimum 330lb |
| Front Wing | Around 22lb |
| Chassis | Undisclosed |
| Gearbox | Around 88lb |
| Steering wheel | Around 2.8lb |
| Halo | 15lb |
| Fuel | Maximum 242lb |
Ferrari F1 Cars Are Getting Heavier
F1 cars have been getting progressively heavier, to the point where the 2022 F1-75 is the heaviest F1 Ferrari car ever made.
The reason for this increase in weight comes from the added safety technology and features (like the halo) that have served to keep drivers safe during crashes.
Conclusion
Ferrari has produced many cars over the many decades of its existence. Ferrari cars produced in the last two decades typically weigh between 3000 and 4100 pounds.
Various materials, including aluminum, carbon fiber, leather, wood, and plastic, form part of a Ferrari.