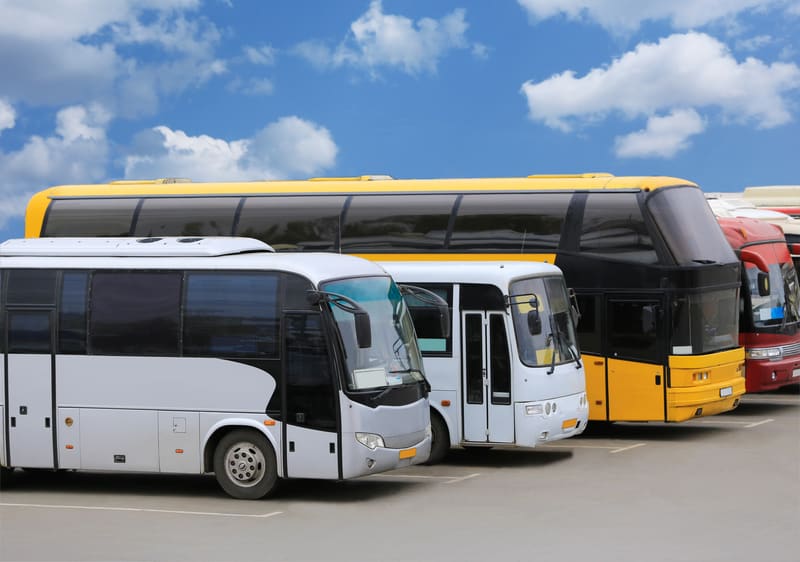 Buses are important transport vehicles that people can purchase for personal or business use, and if you are thinking of buying one, you might wonder how much does a bus cost to buy?
Many factors play a part when the cost of a bus is calculated, such as the engine type, amenities, make, and model.
The cost to buy a bus can vary between $40,000 for an old used school bus to $3,000,000 for a new state-of-the-art Marchi Mobile luxury bus. Most buses fall between these price ranges and vary in cost according to the type, model, mileage, amenities, overall functionality, and condition of the bus.
Many charter and intercity buses come equipped with extra features such as air doors, restrooms, and entertainment systems. A bus fitted with loads of amenities will increase the cost considerably, especially when a used basic model has been modified and revamped.
How Much Does A Bus Cost To Buy?
Buying a bus can range from $40,000 to $3,000,000. Factors that will affect the cost price of a bus are:
Model
Make
Mileage
Amenities
Functionality
Passenger Space
ADA Approved (Wheelchair Lift & Tiedowns)
Engin (Diesel, Gas, Electric)
Overall Condition
Here's the average cost of all the different types of buses:
| Type Of Bus | Cost Of Bus |
| --- | --- |
| School Bus | $200,000 – $400,000 |
| Intercity Bus | $350,000 |
| Transit Bus | $250,000 – $280,000 |
| Minibus | $38,000 – $42,000 |
| Articulated Bus | $375,000 |
| Trolley Replica Bus | $140,000 – $260,000 |
| Double-Decker Bus | $200,000 – $500,000 |
| RV Bus | $40,000 – $1,000,000 |
School Buses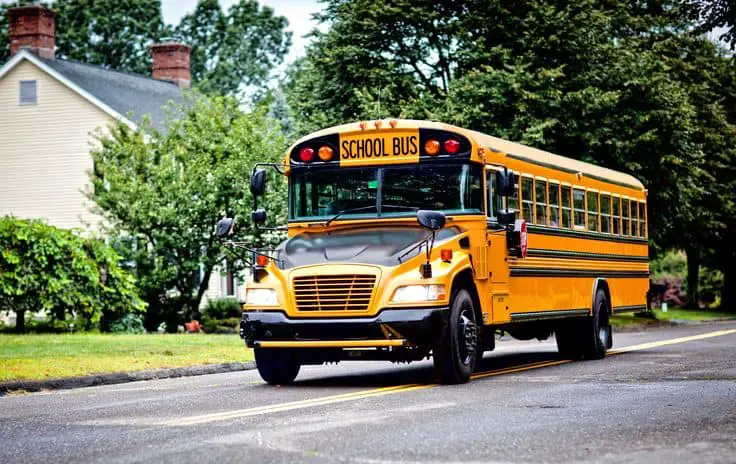 Diesel School Bus: $200,000 – $220,000
Electric School Bus: $300,000 – $400,000
A new diesel school bus (full-sized) will cost between $200,000 to $220,000, with a smaller version costing less. New Electric School Busses cost between $300,000 and $400,000, depending on the model and type. Grant assistance lowers the purchase price considerably.
Second-hand school buses, such as an 84-passenger Blue Bird All American Diesel Activity Bus, can set you back $25,000 for a 2003 model. The specs on such a bus typically include an electric door, PA system, heater system, and an audio system.
At Northwest Bus Sales Inc., the average price range for school buses is between $14,000 to $85,000 depending on the make, model, mileage, and number of passengers it can transport. 
Second-hand school buses, such as an 84-passenger Blue Bird All American Diesel Activity Bus, can set you back $25,000 for a 2003 model. The specs on such a bus typically include an electric door, PA system, heater system, and an audio system.
Looking for a newer used model? A 2013 International IC CE 300 Diesel Activity Bus with power mirrors, an air door, a PA system, lap belts, and an audio system can be picked up for $49,000. A 2017 IC CE Series Diesel School bus with a capacity for 77 passengers can cost up to $85,000.
Electric School Buses
Many school districts in the US are starting to switch from diesel-powered school buses and opting for electric models. Apart from a massive tax break ($100,000+) and sidestepping high diesel prices, an electric school bus range between $300,000 to $400,000.
American school bus manufacturer, Blue Bird, manufactures three types of electric school buses, with the Blue Bird All American RE Electric (Type D) model going for approximately $400,000.
This bus carries up to 84 passengers and is fitted with a Cummins PowerDrive 7000 and a 155-kWh battery pack. Buyers can use hundreds of thousands available in incentive amounts, which substantially reduces the purchase price.
Besides the fact that these electric buses are much more environmentally friendly, schools are set to save on fuel costs, as diesel costs are reported at 49 cents per mile against an average of 14 cents per mile with an electric model's energy costs.
Intercity Bus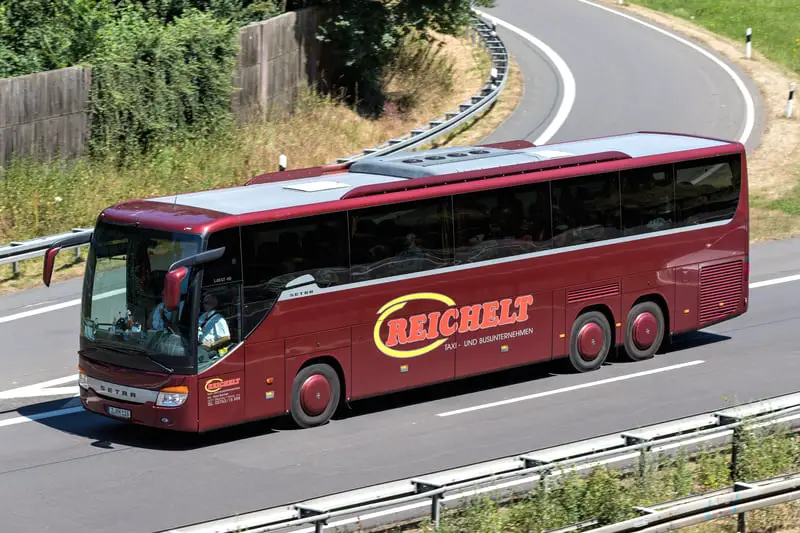 Intercity buses, also called motor and touring coaches, are the more luxurious bus type used to transport passengers between cities, on tours, or for international travel. People looking to buy an over-the-road coach or intercity bus can expect to pay in the region of $350,000 for a new model.
An intercity bus typically has one front door, restroom facilities, high-backed seats, and separate luggage compartments. These buses typically fit around 40 passengers and are used for high-speed, long-distance transportation.
If $350,000 is out of your price range, then an older model may fit your budget:
A 2012 MCI E4500 will set you back $160,000 with all the required amenities, such as underfloor luggage space, a video system, a restroom, overhead interior parcel racks, air conditioning, individual reading lights, and adjustable headrests.
A 2010 Van Hool C2045G trades for $80,000 and comes with features such as seating for 59 passengers, large luggage space, restroom, video system, high-back recliners, and power side view mirrors.
Greyhound intercity buses are the most renowned and the biggest provider of intercity bus transportation in the US, transporting 16 million passengers annually across the states.
Transit Bus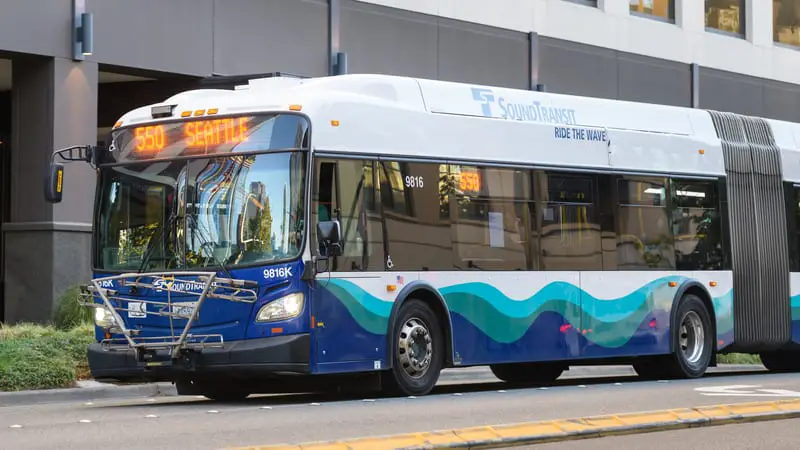 Average Price: $250,000 – $280,000
A 40-foot intercity bus that can hold 42 passengers with two wheelchair tie-downs costs $250,000 to $280,000.
A 35-foot transit bus holding 35 passengers can cost around $250,000 for certain models. A 30-foot transit bus holding 30 passengers will cost $205,000 on average.
Transit buses are typically used within a specific metro area, where it frequently stops on a fixed route system. You won't find luggage compartments, entertainment systems, or restrooms on these buses. Instead, you get low-back seating and front and center doors.
A transit bus made in 2000 with amenities such as an air conditioner, and an ADA ramp, with a 37-passenger capacity, can cost as little as $10,000. 
Minibus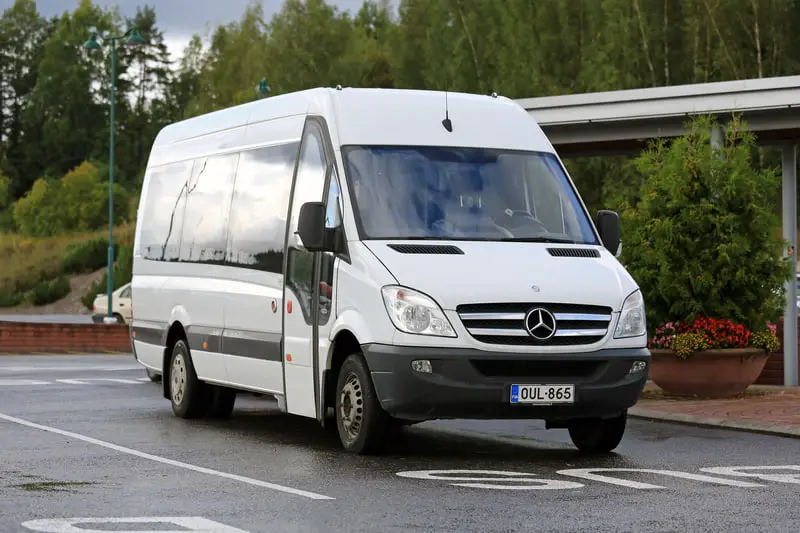 Average Price: $38,000 – $42,000
Minibusses, also called shuttle buses, range in price according to model, make, passenger capacity, and if the custom conversion is equipped to handle wheelchairs via a lift assembly and tiedown.
A minibus (body-on-chassis) in excellent condition can average between $38,000 to $42,000 when fitted with a wheelchair tiedown and lift.
These body-on-chassis minibusses feature specially manufactured bodies fitted on a Chevy or Ford truck chassis. The bodies are made by companies such as Champion, Supreme, Diamond, and Collins. Depending on the wheelbase, these minibusses can accommodate 12-28 passengers.
The guys at Get Any Bus have new minibusses that cost $50,000 and up while also selling used minibusses with a 5-year lifespan in the region of $25,000. A 2019 Starcraft Allstar model, fitted with a 6.2-liter V8 gas engine, can cost over $100,000.
Articulated Bus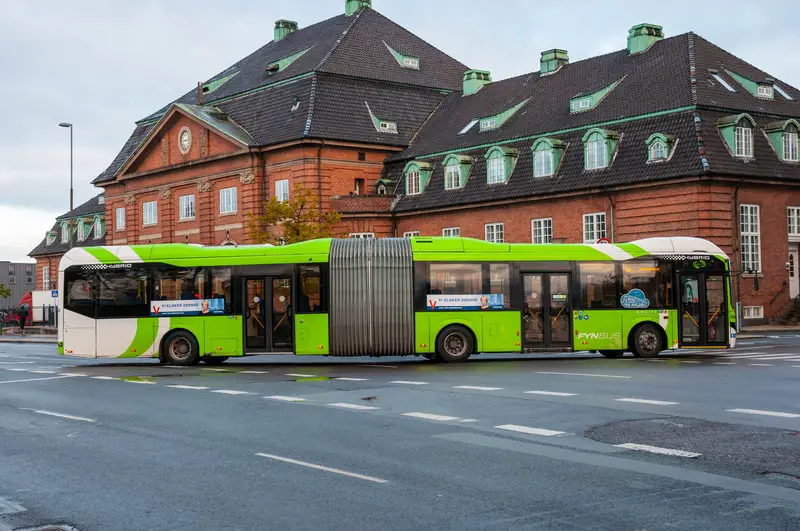 The average cost for an articulated bus is $375,000. An articulated bus features an accordion-like joint mechanism that connects the rear body to the main body. These buses can hold approximately 60 passengers and measure between 50 to 60 feet.
Used articulated buses can cost a potential buyer anywhere between $5,000 to $180,000 for Mercedes Benz models ranging from 2003 to 2016.
Trolley Replica Bus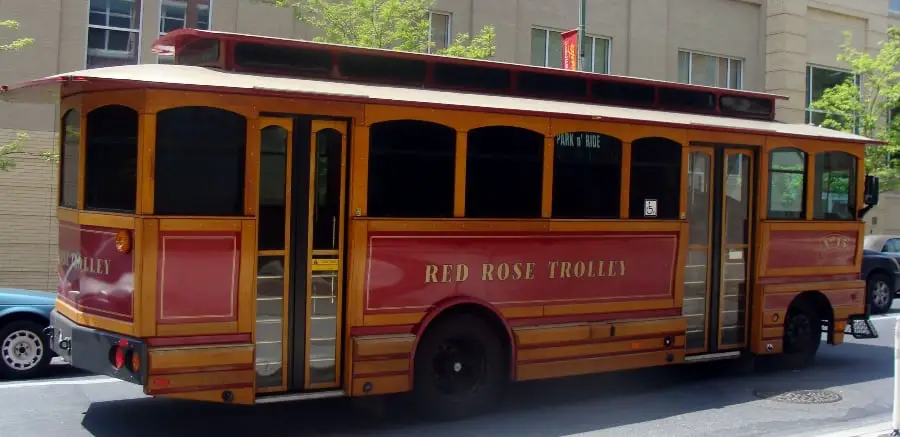 Price: $140,000 – $260,000
A "trolley replica bus" is a normal bus designed to aesthetically replicate a streetcar (tram) from the early 1900s.
The cost of these trolley replica buses varies from $140,000+ to $260,000 depending on the custom vintage finishes, such as mahogany, spiral brass, leather grab straps, and lantern-styled roofing.
These buses are typically made from a fully-welded steel cage with a standard or low-floor layout with either a spring or air suspension system. The cost is relevant to the quality of the materials used in its construction.
Double-Decker Bus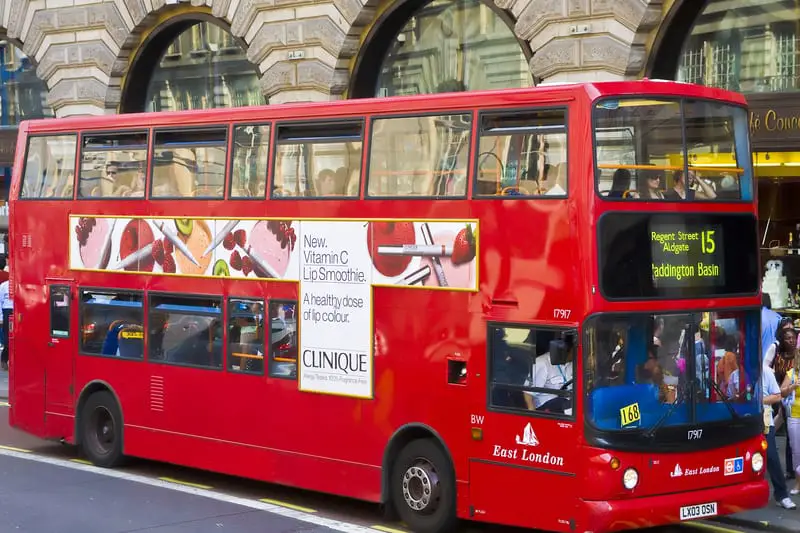 Price: $200,000 – $500,000
A double-decker bus is easily identifiable by its two levels of seating on top of each other. These tall double-decker buses have a typical height of close to 15 feet and fit 40 to 80 passengers.
The cost of a used double-decker bus will vary according to model, year, make, and overall condition. A new 2022 Higher Stallion Double Decker Bus cost a little over half a million US dollars, whereas a custom-built 2015 Gillig BRT Open Top Double Decker Bus can be purchased for under $200,000.
You can buy a quality double-decker bus for under $100,000; for some older 1980s models, the price drops below  $40,000.
RV Bus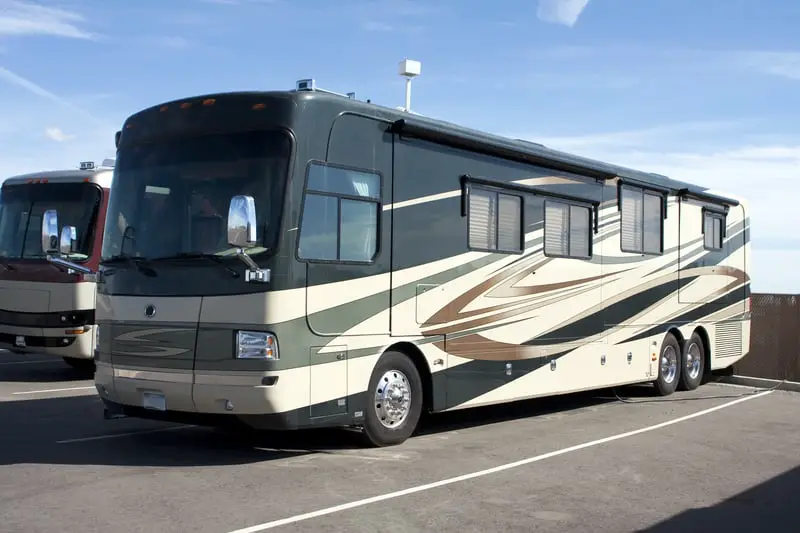 Price: $40,000 – $1,000,000
Brand-new RVs have a wide price range. Luxury RVs have a low and high spectrum that falls between $40,000 to $1 million.
Class A RVs are considered the most luxurious in their class and range between $50,000 to $1 million depending on the model, make, year, and what amenities are fitted. These models are typically between 29 to 45 feet in length.
Class B RVs are smaller in design (typically 18 to 24 feet), with many being modified vans. The price range for Class B RVs fluctuates between $40,000 to $200,000 depending on the type of vehicle, year, and model.
Class C RVs fall between class A and B in size (typically between 21 to 41 feet) and feature the luxury of a class A RV while being a little more maneuverable. A Class C RV costs range from $50,000 to $200,000, depending on the age, model, and make.
Being creative when it comes to saving money, people have figured out that buying a fully reconditioned used bus for $15,000 to $50,000 and converting the roughly 210 square feet into a living space costs less than half a million. A typical conversion from a used bus to an RV cost roughly $10,000, give or take.
How Much Does The Most Expensive Bus Cost To Buy?
The most expensive bus in the world will take $3,000,000 out of your pocket. The Marchi eleMMent Palazzo Superior is the most luxurious motorhome in the world, and amenities include:
Jet-inspired cockpit
King-size bed (made by the same manufacturer that provides the Royal family with beds)
Steinway & Lyngdorf audio system
Floor heating
Power generators
Fresh water tank
Extendable lounge sofas (13 feet)
Fully furnished kitchen
On-board media server
Sky Lounge
Panoramic glazing
Conclusion
Buying a bus can cost you as little as $1,000 to a cool $3 million. Besides the overall cost, the main consideration when buying a bus is what you will be using it for.
Many great bus deals are available in the US, and if you do some proper research, you will find a bus that fits your budget and needs.