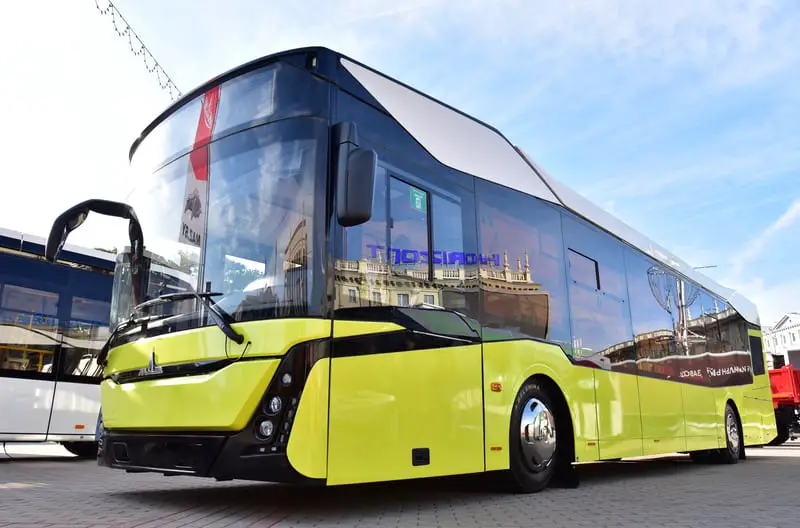 Buses are amongst the core transportation methods to move people around the country. They must be safe, fuel-efficient, and comfortable as they transport people, whether for schools, intercity, or tours. But, what engines do buses use?
Buses are predominantly powered by diesel engines as they offer safety, efficiency, durability, and reliability. Diesel engines provide a lower carbon footprint compared to gasoline engines. Popular bus engine manufacturers are Detroit Diesel, CAT, Cummins, and Volvo.
Read on to discover what engine types are used in buses, whether engine size matters, and popular bus engine manufacturers.
What Engine Is Commonly Used In Buses?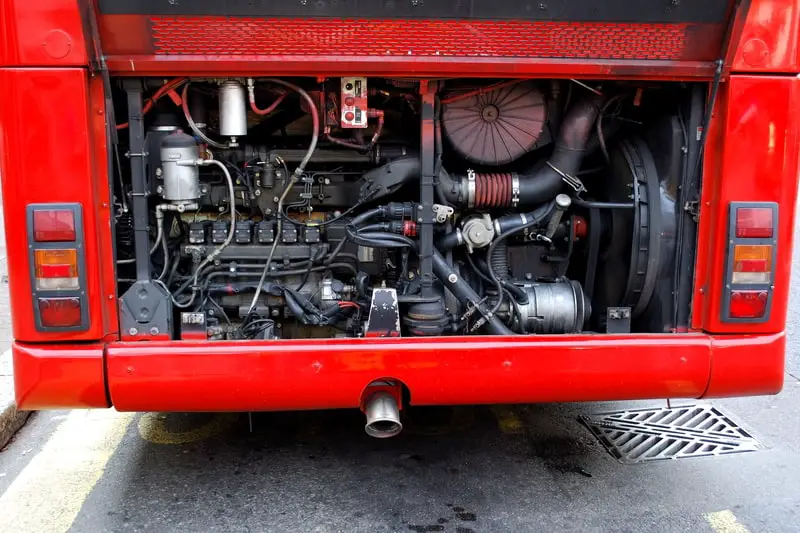 The most common engine type used in buses is diesel. This is true for intercity, public, and school buses, as it offers a wide range of benefits.
These benefits are safety, efficiency, durability, and reliability, to name a few. Diesel also aids many bus operators in achieving a lower carbon footprint, especially with so many advances in the diesel sector.
Diesel offers over 50% better fuel economy when compared to its gasoline counterparts. This is great, but diesel has more benefits. It has a higher compression ratio for a greater energy release resulting in a higher torque figure, making it perfect for heavy busses.
These are some reasons why much of American public transportation is diesel, including trucks, trains, passenger vehicles, and marine transport. 
The Primary Bus Engine Manufacturers
There are four engine manufacturers that have supplied engines to the US market over the years. Some companies have stopped producing engines, but they are still found in some buses.
Although many other engines are available, these are the most common bus engine manufacturers.
Detroit Diesel
Detroit Diesel is well known for supplying some of the best diesel engines in the transport sector and heavy equipment segments.
These engines have been loved for many years and are highly cherished amongst diesel enthusiasts. Many buses have Detroit Diesel engines installed, namely the Series 60.
The Detroit Diesel Series 60 was available in a 12.7 and 14-liter versions producing between 340 and 600 horsepower.
In the late 1990s and early 2000, this engine powered a variety of buses such as the:
MCI DL / D4500
MCI E and J models
Prevost H345
Cetra S417
Van Hool C2045.  
The Series 60 engine was replaced in 2011 with Detroit Diesel DD-13. The DD-13 is a 12.8-liter engine producing 470 horsepower.
Detroit Diesel announced in late 2019 that they plan to leave the bus engine segment by the end of 2021. These engines can easily be recognized by the grayish-blue paint engines.
Caterpillar
Caterpillar started producing engines in the 1930s for large construction earth-moving equipment. In the late 1980s to early 2000, Caterpillar began making engines for over-the-road vehicles such as semi-trucks and a variety of bus types.
Engines that were available during this time were the CAT C9, with a capacity of 8.8 liters with 330 horsepower. The CAT C9 was later upgraded to a 9.3 liter with 335 horsepower.
The CAT C10 and CAT C12 were offered by Caterpillar in 2004, the CAT C10 was a 10.3 liter with 350 horsepower, and the C12 was a 12 liter with 430 horsepower.
These engines were commonly found on the following buses:
MCI DL-3 series
MCI DL 4500
MCI E and J models
Van Hool C2045
Temsa TS35
In 2004 Caterpillar launched the new CAT C13 engine to comply with the new stricter emissions standards at the time. The updated version of the CAT C13 was launched in 2005 and is known as the CAT C13 Acert. This engine offered a new diesel particulate filter technology to reduce carbon emission even further than before and was installed in the MCI buses.
Unfortunately, the CAT C13 Acert was very unreliable as the new particulate filter would clog up, stranding many passengers. This led to a lawsuit against Caterpillar, and in 2008 they announced they would be leaving the over-the-road segment. Caterpillar engines are easily recognized by their iconic yellow-painted engines. 
Cummins
Cummins engines have a reputation for being powerful and reliable. The company started in 1919 in Columbus, Indiana, and entered the bus segment in the 1980s. Cummins engines were always available in the bus segment but were not as popular as the favored Detroit Diesel.
But, once Detroit diesel and Caterpillar left the bus segment, Cummins was only left with one other competitor.
In 1993 Cummins launched their M11 10.8-liter engine in two variants, the M11 280E with 280 horsepower and the M11 330E with 330 horsepower. Later versions of the M11 were available in 350 and 450 horsepower.
The Cummins M11 can be found in the following buses:
MCI DL 3-series 
MCI D4500-series
MCI E and J models
Between 2010 and 2020, Cummins produced their ISX12 11.9 Liter engine with 425 horsepower. This engine was replaced in 2021 with the X12 engine, which is available in three variants ranging from 410 to 455 horsepower.
The following buses were available with the X12 engine variants:
MCI DL 3-series 
MCI D4500-series
MCI E and J models
Temsa TS35
Van Hool C2045
Cummins engines are painted red and are easily distinguishable from other diesel engines.
Volvo
Volvo is a popular car, truck, and bus manufacturer from Sweden. They entered the US bus market in 2008 by manufacturing their own bus and engine with the Volvo 9700 bus. Volvo uses its D13 Marine engine with a capacity of 13 liters producing 435 horsepower.
Buses that are powered by the Volvo D13 are:
Prevost H345
Prevost H345 X
Volvo 9700
Volvo engines are recognizable by the military green engine paint, and from 2020 the engine color has been changed to a blue and silver combination.
What Size Engine Are In Buses?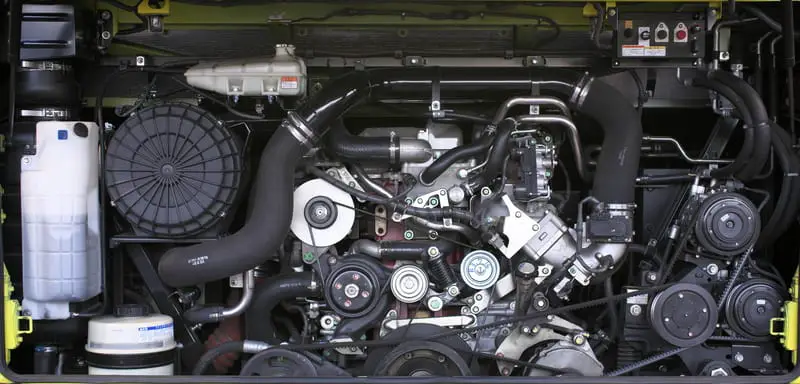 The engine size in a bus will depend on the bus's requirements and weight. Bus engines are predominantly diesel and can come in a variety of sizes, configurations, and layouts. Bus engine layouts can range from inline 6 and 8 to V6 and V10s found in some school buses.
The horsepower of a bus engine will vary depending on the engine capacity and can range from 250 to 500 horsepower with more focus on the engine torque numbers. The torque is needed to move the heavy bus from a standstill and in slow traffic conditions.
These figures can range from 520 to 1200 lb-ft and are based on the bus's requirements, load, and area of operation.
The engine capacity for a diesel bus engine can range from 3.5 to 15 liters depending on what is required in terms of horsepower, torque, and fuel consumption.
Conclusion
Buses are predominantly powered by diesel engines. These engines are used because they offer better safety, efficiency, durability, and reliability.
Four common engine manufacturers that can be found powering buses in the US are Detroit Diesel, Caterpillar, Cummins, and Volvo.