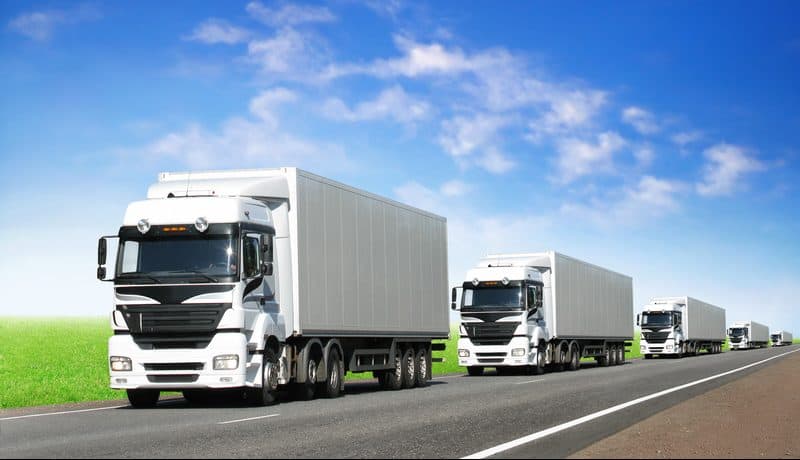 Although there has been a recent push to greener and more reliant methods of goods in transit, trucking remains a primary industry across the globe with intrinsic socio-economic links to daily life. So how many trucks are there in the world?
There are an estimated 278 million commercial vehicles in the world, whereby the vast majority of these commercial vehicles are trucks used for the transportation of goods. Furthermore, there are millions of privately owned trucks that contribute to an even larger number of trucks in the world.
To better understand why there are so many trucks in the world, we will look at the major trucking companies, the major trucking manufacturers, and the socio-economic role trucks play in major trucking countries.
How Many Trucks Are There Globally?
While it can be challenging to determine exactly how many trucks there are in the world, there are approximately 278 million commercial vehicles in use across twenty major trucking countries:
| Country | Commercial Vehicles |
| --- | --- |
| USA | 141.8 million |
| China | 27 million |
| Japan | 16.4 million |
| Mexico | 10.4 million |
| Indonesia | 9 million |
| Thailand | 7.3 million |
| Brazil | 7.2 million |
| Russia | 7.1 million |
| France | 6.6 million |
| India | 6.4 million |
| Spain | 5.1 million |
| Italy | 4.8 million |
| Turkey | 4.7 million |
| United Kingdom | 4.6 million |
| South Korea | 4.4 million |
| Australia | 3.6 million |
| Poland | 3.5 million |
| Germany | 3.3 million |
| Argentina | 3.2 million |
| South Africa | 3.2 million |
278 million sounds like a lot, but if you compare these numbers to the cars or bicycles in the world, it's not even close:
| Vehicle | Total Amount |
| --- | --- |
| Trucks (commercial vehicles) | 278,000,000 |
| Cars | 1,500,000,000 |
| Bicycles | 1,000,000,000 |
Keep In Mind: Trucks Only Shows Top 20 Countries
Who Are The World's Largest Truck Manufacturers?
Despite the limitations placed on the global trucking industry due to the global Covid-19 pandemic, along with policies to reduce global CO2 emissions, the trucking industry was able to bounce back from a two-year low in 2019 and 2020, with a recorded global production rate of 23.2 million units in 2021, (an estimated increase of 20 million units from the 2020 low of 3 million units!)
Housing three of the world's largest commercial vehicle countries (including the United States as the global leader,) it's unsurprising to learn that North America produced nearly half the world's commercial vehicles, with an estimated 10.9 million vehicles produced in 2021.
While not as productive, Asian and Oceanic countries recorded the heaviest trucks produced in 2021, with an estimated 3.3 million units produced.
Although America is home to six of the world's largest trucking companies, which helped contribute to an enormous expenditure of $239.4 billion on truck sales in 2021, European truck manufacturers recorded more revenue from global sales (which, paradoxically, included vehicle sales in America.)
German-based trucking companies were significant contributors to Europe's overall trucking revenue, with Daimler Truck generating an estimated $45.2 billion in sales in 2021.
Meanwhile, despite posting smaller revenues when compared to Daimler Truck, other European truck manufacturers like Volvo, Volkswagen, and Paccar recorded impressive revenues (mainly through strategic partnerships with non-European manufacturers like Navistar and Dongfeng.)
In conclusion, Germany would appear to be the leading exporter of trucks going into the 2020s, thus mirroring their success as the leading global truck exporter of the early 2010s, (with an export number exceeding second-place Mexico by an estimated 9 million units!) 
Which Country Has The Most Trucks?
Whether for commercial or personal use, the United States of America has the most trucks in the world by far, dwarfing the number of trucks in second place China with at least five times the number of registered trucks!
Although it is difficult to determine precisely why America has so many trucks compared to the rest of the world, there are socio-economic and geographic reasons that can help determine why this is the case.
The Socio-Economic Factors Of Trucking In America
The American Trucking Association estimates that approximately 72.5% of America's freight weight is delivered by tucks. Consequently, one of the largest countries in the world with a population in excess of 300 million people is reliant on trucks for their day-to-day operations.
Understandably, the connection between trucking logistics and the economy has a significant impact on every socio-economic aspect of daily and commercial life in America. The following statistics illustrate this socio-economic link:
Trucking accounted for $732.3 billion in gross freight revenues in 2020, accounting for over 80% of America's total freight revenue,
Commercial truck usage accounted for tax revenue in excess of $48.6 billion in federal and state-highway tax in 2019 (accounting for 14.4% of all registered vehicles)
Consumed 36.5 billion gallons of diesel fuel (with a federal fuel tax rate of 24.4c and a state fuel tax rate of 30.3c per gallon)
Consumed 9.1 billion gallons of gasoline (with a federal fuel tax rate of 18.4c and a state fuel tax rate of 28.5c per gallon)
The trucking industry accounts for 7. 65 million employees (excluding self-employed persons)
The Geographical Factors Of Trucking In America
As one of the biggest countries in the world and the biggest economy in the world, with a heavy reliance on the movement of goods, America's need for the continuous movement of goods requires overnight trucks to meet its logistical needs.
Although other logistical methods of transit exist (like planes, ships, and trains), the size of America, coupled with its early adoption of road networks, means that it is unable to meet these logistical requirements in the same way as smaller countries, (such as the use of ships in Singapore or trains in Japan.)
Furthermore, America's closely monitored borders with Mexico and Canada see a lot of goods being imported and exported via trucks:
In 2020, trucks transported 70.9% of the value of the surface trade between Canada and America,
In 2020, trucks transported 83.3% of the value of the surface trade between Mexico and America.
A consequence of these international trade networks is that both Canada and Mexico have advanced trucking companies, logistics networks, sales revenues, and manufacturing plants.
Conclusion
In conclusion, while the trucking industry has faced challenges in recent times due to the Covid-19 pandemic and the desire for reduced carbon emissions, it remains an integral part of most countries' logistics networks and socio-economic framework.
If you want to compare these numbers to other types of vehicles, I listed how many buses and bicycles there are in the world in these posts: