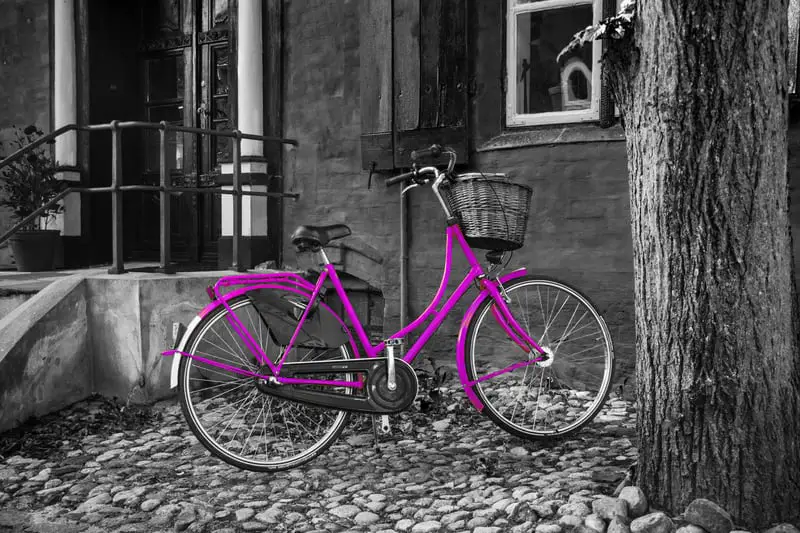 There are thousands of different bikes available around the world, with each having certain components that either make them stand out or drag them down in quality.
One of the major aspects that consumers take into account when choosing which bike to buy is color though, and you can have every color on the rainbow on your bike.
Today though, we will be taking a look at the best bikes available in purple. Let's get straight into it and see which bikes you will want to buy once you finish reading. 
Here are the 5 best bikes available in purple.
1. Cervelo Aspero Apex 1X Disc Gravel Bike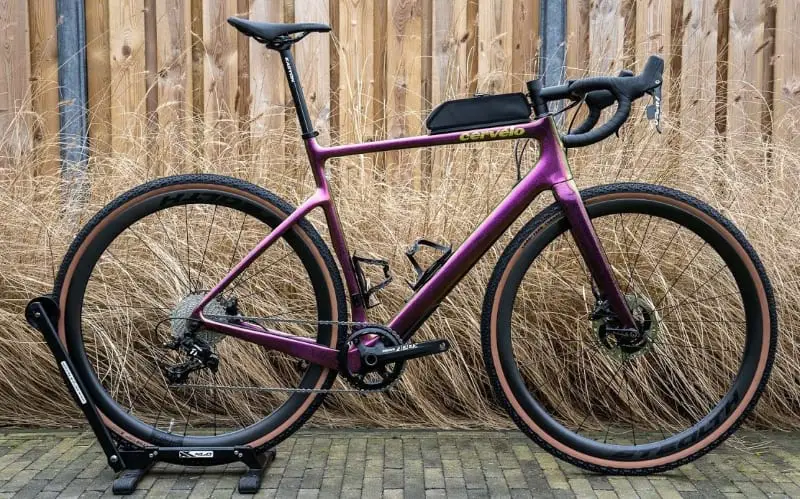 The first bike on our list is a gravel bike, this is a discipline that has experienced a meteoric rise in popularity over the past few years with thousands of cyclists flocking to their nearest bike store to purchase a gravel-specific bike. The best of these bikes available in purple is the Cervelo Aspero Apex 1X Disc Gravel bike (Aspero Apex). 
This bike is made by one of the finest manufacturers in the world, with Cervelo supplying the bikes of the 2022 Tour de France winning team Jumbo – Visma. There is no denying that Cervelo knows how to make a good bike then, but how do their gravel variants hold up?
Well, the Aspero Apex is one of the brand's flagship gravel bikes with it coming in at a hefty price tag of around $3,400. For this price though, you do get plenty of great features included.
The Aspero Apex is made from a fully carbon frame and fork, giving it superb rigidity and structural integrity which is vital on rough terrain. 
The bike also features SRAM gearing and braking systems as standard. 
Pros
Reputable brand
Carbon frame
Carbon fork
Cons
2. Trek Roscoe 6 Mountain Bike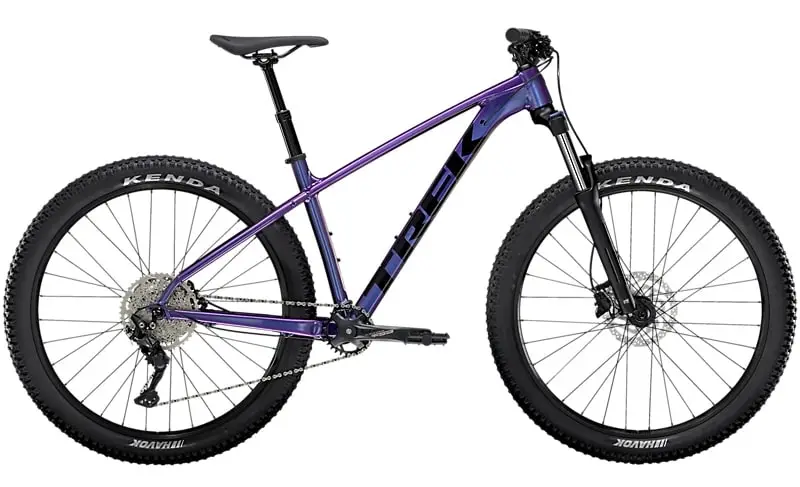 Next up it's a trip to the trails, and one of the best mountain bikes available in purple. US-based company Trek has long had a reputation for being one of the best mountain bike producers in the country and the latest model in the Roscoe range looks set to continue this trend. 
The Roscoe 6 is a brilliant intermediate-level mountain bike and is priced at around the $750 mark, which is a great price for a bike of this quality.
In terms of the features included for this price, the Roscoe 6 is built from an aluminum frame that may not be as good as carbon, but still gives a decent level of rigidity to the bike. 
Alongside this, the bike is fitted with Shimano gears and brakes as standard, meaning the Roscoe 6 will stand the test of time thanks to its top-quality components. All of the wiring in the bike is also internal, which is a nice addition to a mid-range bike. 
Pros
Price
Shimano Gears and Brakes
Internal Wiring
Cons
3. Carrera Hellcat Women's Mountain Bike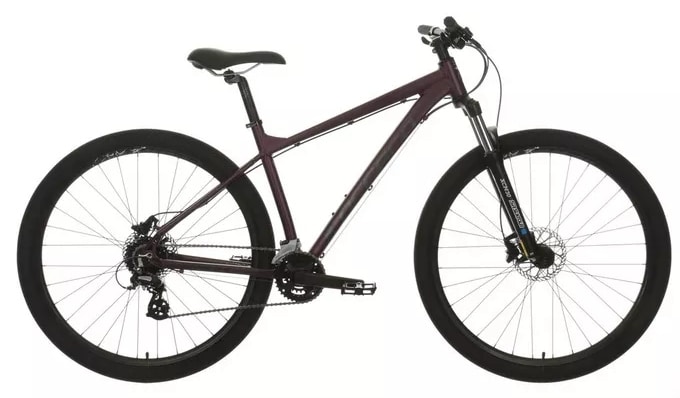 Purple is often considered a color that is associated with women, and whilst this is not strictly the case there are some brilliant bikes made specifically for women that come in purple.
The Carrera Hellcat is one of these models, with it being one of the best beginner-level mountain bikes for women. 
At just $400, the Hellcat has a modest price tag that may sway even the most adamant of cycling objectors to give the sport a go. The bike is fitted with a saddle made specially for women, with it having a wider surface area in order to provide more support than regular saddles can. 
The Hellcat is basic though and does not have many features to talk about. This being said, the bike does feature disc brakes that are now considered the norm for good bikes.
The price is the main selling point of this bike, and personally, I think it is good to have some great budget options on the market. 
Pros
Price
Built specifically for women
larger saddle 
Cons
Basic Components
Not designed for rigorous usage
4. Verde A/V BMX Bike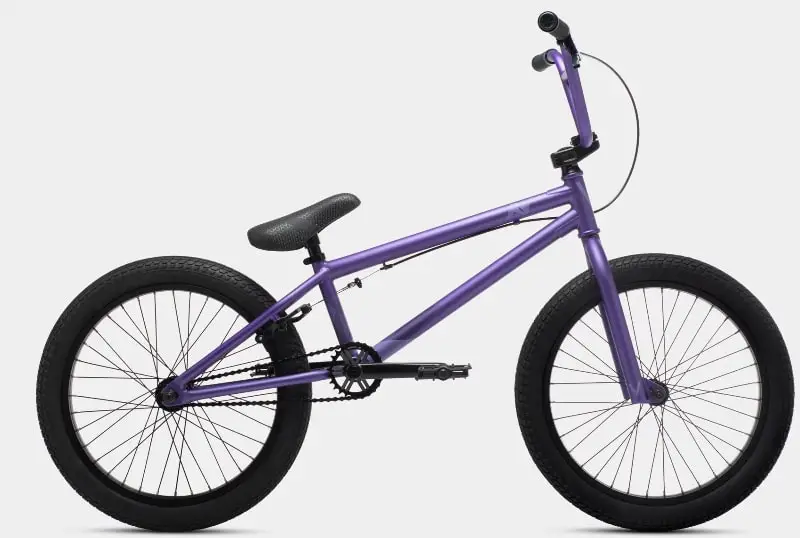 I may not be a massive fan of BMX, but I can recognize a good bike when I see one. For all of you BMX lovers out there, the Verde A/V is one of the best around that comes in purple.
Verde may not be a brand you are familiar with, and nor was I until recently, but they are marketed as simple and clean which is something that can be refreshing in a market flooded with overcomplicated models. 
The A/V is a pretty standard BMX bike in all honesty, and this makes it a good one. The bike is mainly suited to smaller people as it has just a 20-inch top tube, which would make it a tricky ride for taller riders. 
The price is also a good point, with the A/V coming in at just under $250 in some places. If you want to try out BMX for the first time, you really cannot go wrong with the Verde A/V.
Pros
Price
Simplicity
Suited for smaller riders
Cons
Not suitable for tall riders
5. Boardman HYB 8.6 Women's Hybrid Bike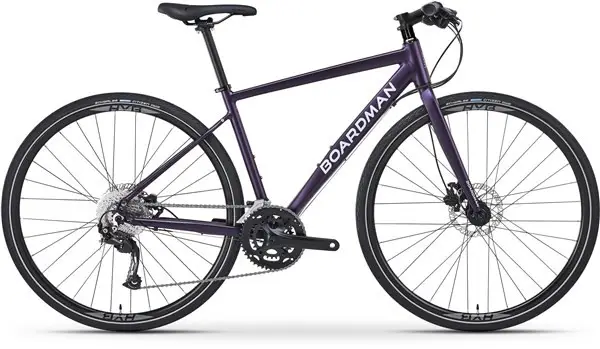 Finally, we go back to women's bikes and more specifically a hybrid bike that gives you the support you need whilst out on the road.
The Boardman HYB 8.6 is a fantastic example of a bike that has been tailored to the needs of women, with the geometry allowing riders to ride the bike in a more upright position than they would a regular road bike (without compromising on speed). 
The HYB 8.6 is an introductory level bike for those that don't plan on using it for much more than the daily commute and general rides with the family or yourself.
For this reason, the price tag is modest, you can find the HYB 8.6 for around $500 in some places. The main issue with this is that Boardman is a British-based company, so you could incur some rather large shipping fees if trying to get one into the US. 
In terms of features, the HYB 8.6 is made from an aluminum frame and alloy fork as well as Shimano gears and Tektro brakes. 
Pros
Price
Hybrid Bike for road and MTB pursuits
Reputable brand
Cons
Basic model
Shipping costs to the US
There we go then, the best bikes available in purple at the moment. Will you be going out and giving one a go?