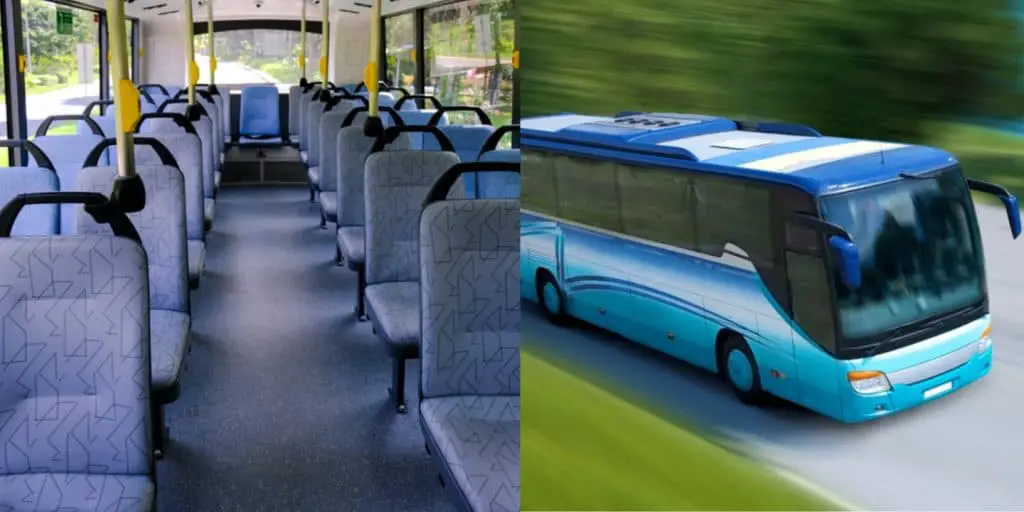 Generally, buses are vehicles intended to transport many people, preferably comfortably and for varying distances. Therefore, most buses are equipped with seats. How many seats does your average bus have?
A standard bus coach usually has around 50-odd seats installed, with the typical number of seats ranging from 36 to 60 depending on the bus's layout and purpose. The bus's size, seat layout, and intent only limit bus seating options, making this form of transport the most convenient and reliable.
The number of bus seats depends on who you are asking or, more specifically, what type of bus you are looking at, as there are a variety of buses. In addition, different size buses may have varying seats, and the purpose of the bus could also determine how many seats are installed on the vehicle.
What Is The Standard Number Of Seats On A Bus?
Considering a standard couch bus seats around 56 people, this is not always the number of seats on a bus. In addition, there are varying reasons for a bus to have fewer or more seats depending on its desired purpose.
Buses can be small, medium, and large, so this also plays a role in how many seats in a bus, ranging from a minibus seating as little as eight passengers to your standard motor couch seating an average of around 50 passengers.
There are many different types of buses, and the options are pretty endless in terms of seating. Finding a bus carrying up to 300 passengers may even be possible.
However, regarding safety and comfort over a long distance, it may be reasonable to expect a bus to carry a maximum of 60 passengers in a double-decker style with a trailer hitched for additional luggage storage.
How Many Seats Do Different Buses Have?
As expected, there are many different types of buses, and they all have their intended purposes and varying seat allocations. So let's have a look at a quick comparison of some different buses and how many seats they usually have.
| Type Of Bus | Purpose Of Use For Bus | Number Of Seats On The Bus |
| --- | --- | --- |
| Motorcoach | They are used for long-distance travel and luggage storage under the bus. | 54-56 passengers |
| Minicoach | Short distance or comfort long distance | 8 – 25 passengers |
| Trolley | They are used for A to B travel and set routes, depending on where the electric cables are. | 20 – 30 passengers |
| School bus | They are usually used for A to B travel and set routes to schools or universities. | 44 – 48 passengers |
| Medium coach | It can be a luxury long-distance or used as a shuttle bus. | 32 – 40 passengers |
| Minibus | It can be for shorter distances, A to B, set routes, or more comfortable, not much room for luggage. | 8 – 25 passengers |
| Shuttle bus | Usually a minibus or mini-coach for short-distance travel, A to B | 8 – 25 passengers |
| Double-decker bus | Usually, for busy transit commutes where many passengers need to be transported. | Around 70 passengers |
| Single-decker bus | They are used for set routes and with multiple doors for easy on and off access. | Approximately 30 – 40 passengers |
| Low floor bus | Travel for short distances as there is no room for luggage. | Around 49 passengers |
| Articulated bus | Bus connected with bendy pieces for easy navigation in smaller streets. Only for short distances, usually set routes. | Depending on the sections, if there is a minimum of 2 sections, up to 200 passengers. |
| Open top bus | They are usually used for tourism and parading. | Around 74 passengers |
What Factors Go Into How Many Seats A Bus Has?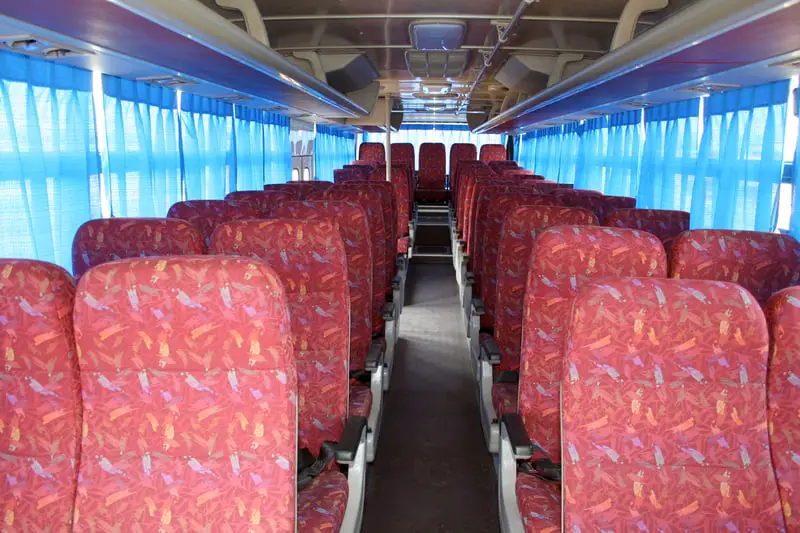 Several factors would determine how many seats there are on a bus. Of course, the country could be a factor, as different countries have different transit systems and standards.
Still, the usual factors of the size, purpose, and the area or distance of the bus would be the most significant deciding factors on how many seats a bus has.
How Does The Size Of The Bus Factor To The Number Of Seats?
The size and layout of the seats in the bus will determine how many passengers can be seated on the bus.
There is also the factor of how much room there is for luggage; for example, double-decker buses on a long-distance route may need a trailer to store the luggage.
What Is The Usual Layout For Seats On A Bus?
Usually, seats in transit coaches are laid out in four rows, allowing for adequate width per seat. There may be two seats with the aisle in the middle, or some cases, three seats with two on the other side of the aisle.
However, the layout can change according to the bus's purpose or level of luxury.
How Does The Purpose Of The Bus Factor To The Number Of Seats?
The purpose of the bus is the vital and deciding factor for how many seats are in the bus. You could have a standard 35-foot coach and have a varying number of seats depending on the desired purpose. There are luxury buses where the seating might be more spread, resulting in fewer seats.
The number of seats in the bus could differ depending on its use, from public transport, tourism, shuttle service, private charter, promotion, or even goods transport.
In the case of shorter-distance transportation, the bus may get away with more seats closer together or even the option for more standing.
Then there is the rare case, if the bus is used for goods transport, it may have no seats at all.
How Is The Area A Bus Used Factor The Number Of Seats?
If the bus is intended for shorter distances, it may have closer seats or more area for standing and less seating.
Buses designed for shorter distances can be trolley buses, shuttle buses, minivans, or even giant articulated buses.
Are There Buses With No Seats?
It is impossible to have a standing driver, so all buses at least have the driver's seat. However, most buses, even if they have majority standing space (for short transits to a different area), will still have the option for some seating.
Buses used for transit from one area of a place to another may have fewer seats, and buses used to transport goods do not need seats installed as they are not necessarily for transporting human passengers.
Conclusion
Busses can have between 36 and 60 seats, but the average number of seats on a bus is about 50 seats. The factors that influence seating needs are determined by the operation, use, and sometimes even the country.
Keep in mind that there are always exceptions, like the biggest bus in the world, the Autotram Extra Grand, which can comfortably seat 256 passengers.