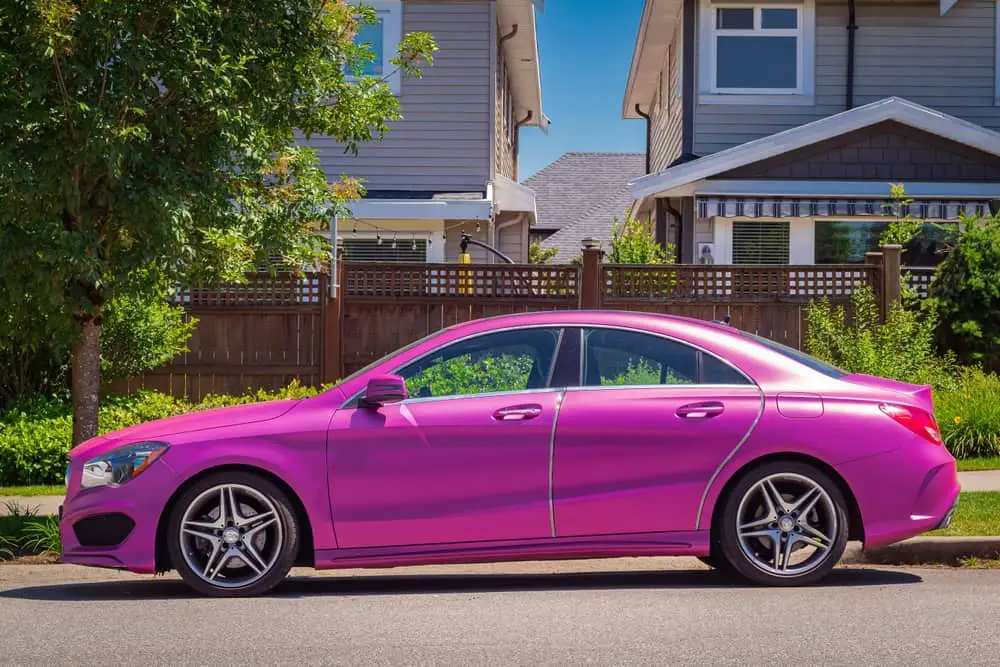 No color divides the motor fraternity as pink does. Love it or hate it, many auto manufacturers are not afraid to dip into the pink spray, especially when a client requests the hue.
Ferrari is one of the few manufacturers that has one rule when it comes to color: no pink Ferraris.
Depending on your taste in car color, here are the 7 best cars available in pink.
1. Porsche Taycan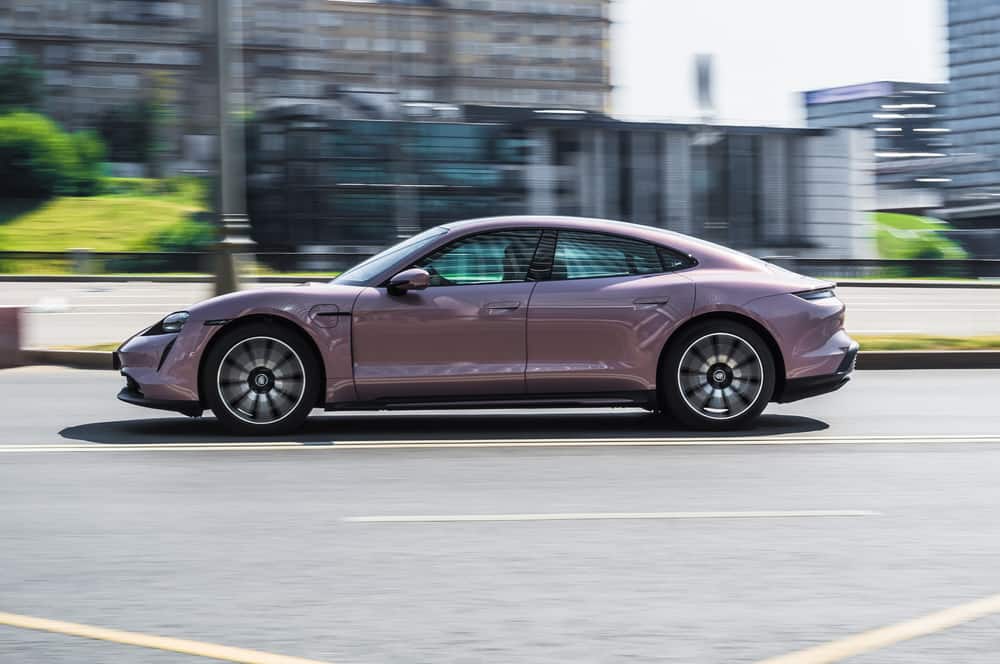 Color Name: Frozen Berry Metallic
The Porsche dealership in Palm Springs refers to the color as pink. In contrast, the official classification for the color option on a new Porche Taycan is Frozen Berry Metallic, if we must get technical.
The rose hue was designed by Porsche Color and Trim Style designers Barbara Sika and Daniela Milosevic. The pair took Porsche's Raspberry Red (1992 color) and developed the 'new' pink color for the Taycan range, which includes the Taycan Cross and Taycan Sport Turismo, and the 750 hp Turbo S.
The color is extremely popular and gives the Porsche an edgy look that steers away from making the vehicle look like a Barbie mobile, as some manufacturers inadvertently do when the color is too pink.
The color took about 4 years to perfect, and Barbara Sika said the following about the development process, "Color is a matter of taste, but I got all sorts of reactions, from total enthusiasm to absolute rejection. Such a strong reaction means that this is a very distinctive shade. And that's what we wanted to achieve with this tone."
Porsche offers clients more than 160 color options and the opportunity to create their own color through Porsche's Exclusive Manufaktur Program.
Best Alternative Colors:
Mamba Green Metallic
Coffee Beige Metallic
Frozen Blue Metallic
Cherry Metallic
2. Bugatti Veyron Sport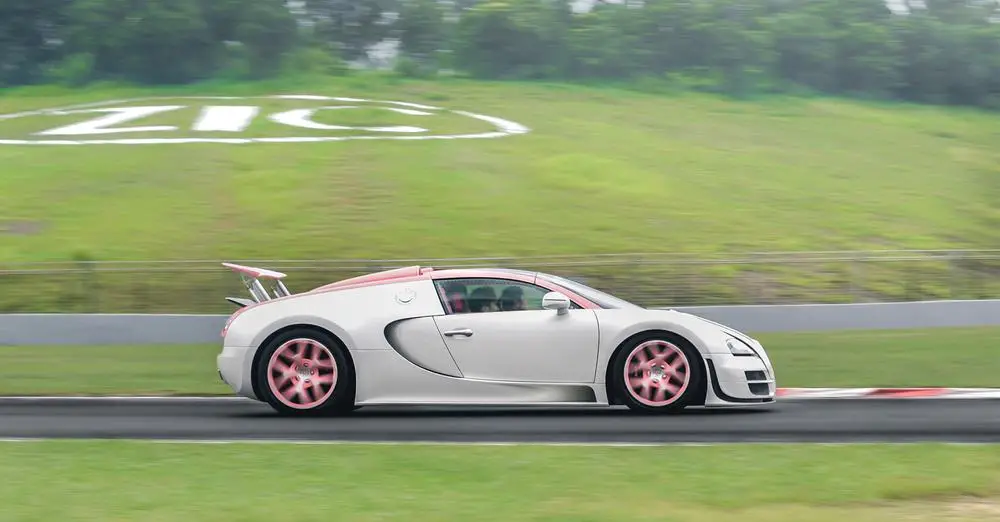 Bugatti's are rare, and with little over 1,000 Bugatti models produced since 1998, it's a collector's item as soon as it leaves the Bugatti factory.
What makes Bugatti supercars even more bespoke is that owners can modify and customize to their heart's content, which includes choosing from a massive variety of custom colors, wheels, and personalized interior designs and trims.
A doting husband ordered a Bugatti Chiron Sport for his wife in February last year and requested that Bugatti customize the color of the soon-to-be-wife's-car. The result was a pink Bugatti Chiron Sport that cost a cool $3.2 million.
The customization did not stop there. Bugatti referred to the pink car as 'Alice,' and all logos and embroidery feature the name, which may or may not be the name of the client's wife.
Client confidentiality prohibits them from pinpointing the lucky woman who drives around in a pink Bugatti Chiron Sport capable of kicking out 1480 hp.
Best Alternative Colors:
Bugatti Blue
Red
Black
Gold
3. Jeep Wrangler 2021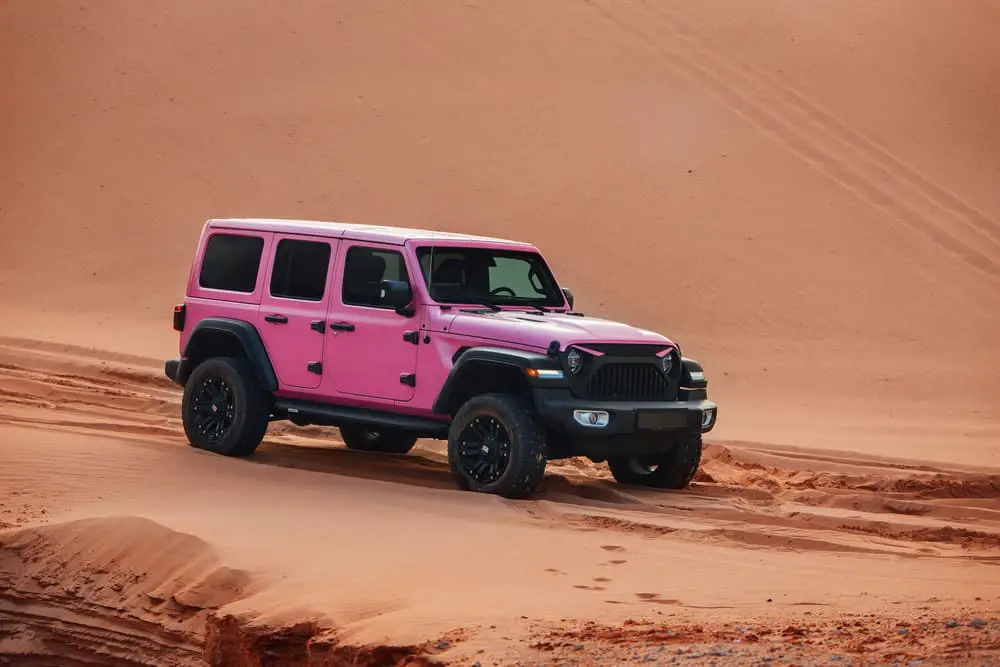 Color Name: Chromatic Magenta
Tuscadero Pink. It's the name of the color that Jeep made available on all its 2021 Jeep Wrangler models, including the Rubicon, Sport, Sahara, 392, and 4XE.
The manly and muscular Wrangler's pink transformation has been so successful that Jeep has extended the Tuscadero color option to be orderable through 2022 (almost 30,000 Tuscadero Pink Wranglers ordered since August 2021 may have played a role in the extension.)
Tuscadero Pink is a dashing and sparkling pink that makes a bold statement of playfulness, even on a serious 4×4 vehicle such as the iconic Jeep Wrangler. There's something about an off-road SUV smashing the great outdoors while dressed in pink.
Best Alternative Colors:
Hydro Blue
Snazzberry
Chief
Nacho
Black
4. Cadillac XT5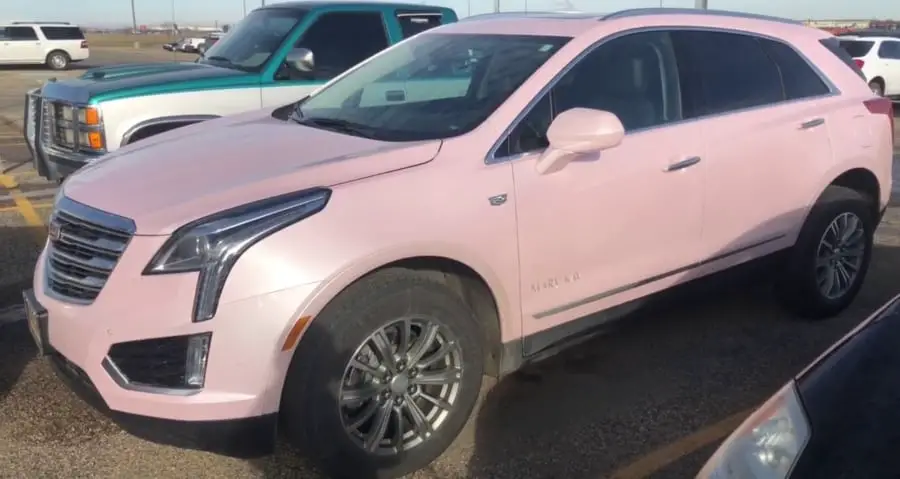 Color Name: Mary Kay Pink
One manufacturer that consistently produces pink vehicles is GM Motors. And the reason behind the pink consistency is a marketing company that sells cosmetics and skin care products called Mary Kay.
The company has an incentive program for consultants who reach Independent Sales Directors status. The use of a pink Cadillac XT5.
According to Mary Kay, over 1,000 pink Cadillacs are currently on US roads driven by the company's best performers.
Best Alternative Colors:
Opulent Blue Metallic
Rosewood Metallic
Argent Silver Metallic
5. 2010 Dodge Challenger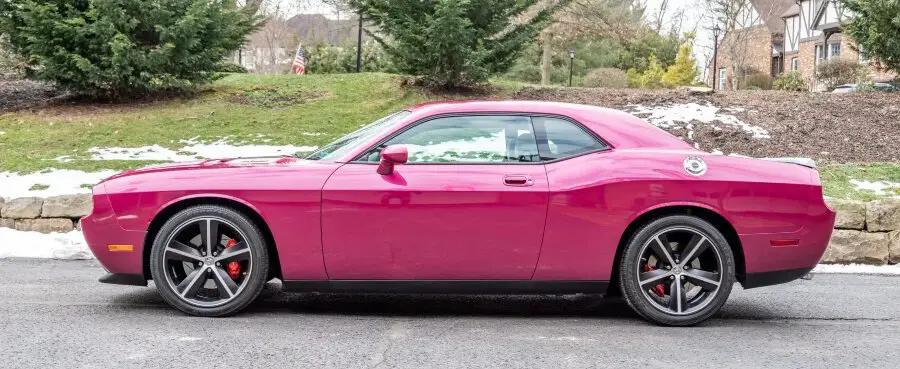 Dodge has never shied away from including a pink magenta in the brand's high-impact color series. In fact, in 1955, Dodge released the La Femme model, which was made exclusively for women. Fitted with a powerful Hemi engine, the model was pink and liberating simultaneously.
When 1969 rolled around, Dodge presented Panther Pink to the muscle car world. The dashing color should have been available for 1970 Dodge models but ended up on the bodies of later Dodge models, such as the 1971 Challenger.
To honor the 40th anniversary of the iconic Pink Panther Dodge mobiles of the 70s, Dodge returned to their pink roots and released the Furious Fuchsia limited-edition color in 2010 SRT8 and R/T Dodge Challengers.
Dodge only manufactured 2,000 Furious Fuchsia models, instantly giving them collector-item status. It showed the world that pink as a car's base color is not as bad as many motor enthusiasts make it out to be. Pink doesn't 'work' on all cars, but aesthetically it works on the 2010 Dodge Challenger.
Best Alternative Colors:
Black
Deep Water Blue
Inferno Red
Dark Titanium
6. Toyota Crown Athlete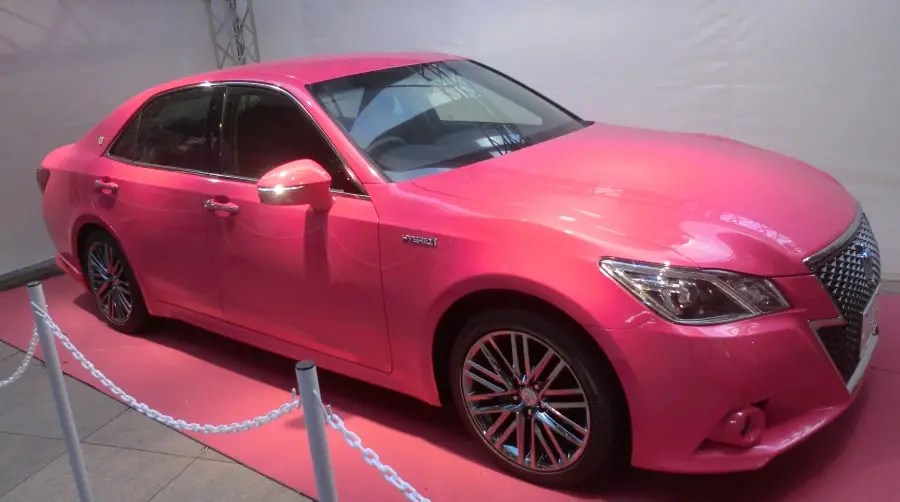 When sitting with a loyal but old client base, automakers must be proactive and inventive when luring the next generation of car buyers. Legendary Japanese carmaker, Toyota, went the pink route with one of their best-selling sedans, the sporty 2014 Toyota Crown Athlete.
To give you some perspective, the first Toyota model ever sold in the US was the Toyota Crown of 1958. After being available until 1972, the Crown left the shores of the States, where it continued its journey in Asian countries, becoming one of the best-selling sedans.
The 2014 Crown Athlete made a stand-out appearance in dashing pink, bright green, and blue. The younger generation approved, and the model remained one of Toyota's cash cows. Many people in the States have never heard of the Toyota Crown, which is about to change come 2023.
The 2023 Toyota Crown is making its long-awaited return to American shores, set to replace the Toyota Avalon and Avalon Hybrid.
Best Alternative Colors:
7. Fiat 500 Pink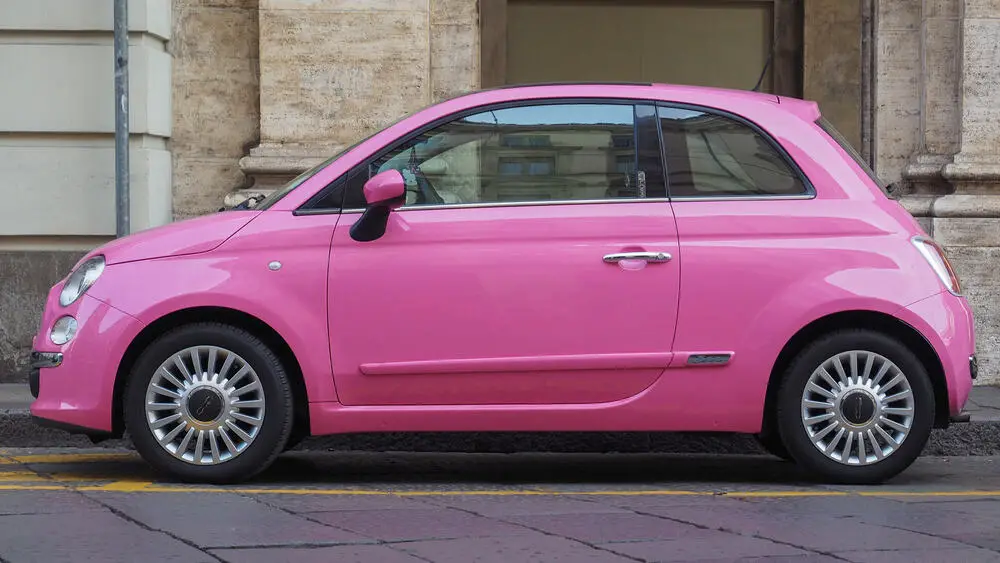 No pink car list would be complete or done justice without including the pinkest car. Inspired by the queen of pink, Barbie, the Fiat 500 Pink and the Fiat 500C Pink (convertible) took pink cars to another girlie level when they released these pink models in 2010.
The Fiat 500 Pink was made in honor of Barbie's 50th birthday. The convertible Fiat 500C Pink has the following Barbie-like features:
Special Pink Hue
Chrome Trim
Leather Steering Wheel
Special Pink Key Cover
Body Color Door Mirrors
Special Carpet Mats
16-Inch Alloy Wheels
Pink Interior Trim
Best Alternative Colors:
New Orleans Blue
Tech House Grey
Pasa Doble Red
If your favorite car isn't available in Pink, there's always the option to paint it, here's a guide on how to change the color of your car.