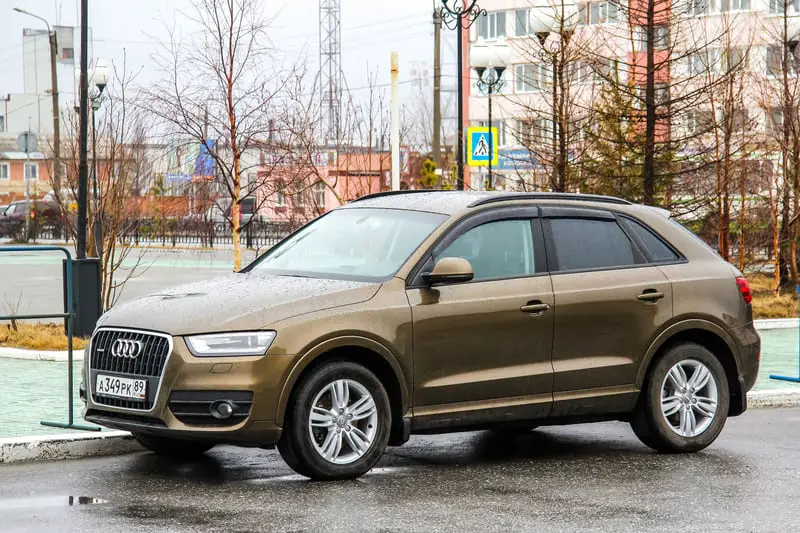 Isn't it strange that you start seeing them everywhere when you develop an interest in a particular car, such as brown cars, in this instance?
Unlike Hendry Fords Model T's, modern vehicles, including the most luxurious ones, are available in various colors, including stunning brown.
Here are the 7 best cars available in brown.
1. Ferrari Roma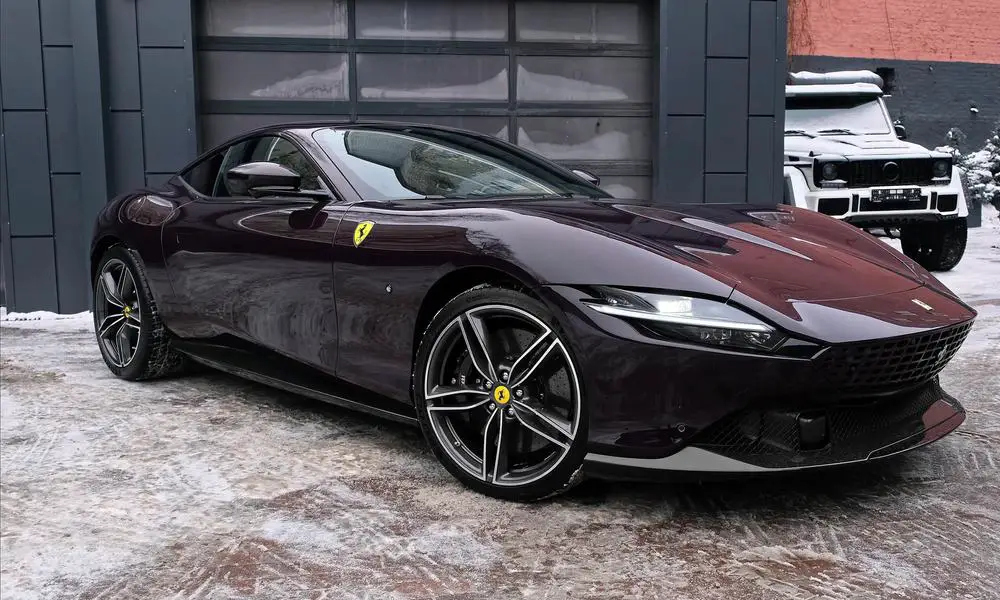 Color Name: Metallic Brown
Suppose you count yourself amongst the privileged few who find themselves at the desk of the Ferrari personalization designer. In that case, you may want to join the elite few Ferrari Roma owners that drive a tailor-made metallic brown Roma with an accompanying brown interior.
It's not one of the standard red, yellow or white Ferraris we've grown to love, but it has an elegant style all of its own. The brown Ferrari is a thing of beauty, sporting good looks and a reputation to envy in terms of performance and sports beautiful retro build lines.
The Roma is designed for longer journeys but don't for a second think it's a slouch. After all, Ferrari is all about performance. Offering a two-seater coupe' capable of a top speed of 199mph (320kph) and zero to 62mph (100km/h) in 3.4 seconds.
Under the hood is a V8, 3.9-liter engine capable of producing 456 kilowatts or 612 horsepower at 7500 rpm. The engine complements the dual-clutch eight-speed gearbox superbly, making for an incredibly confident drive.
Alternative Colors:
Rome Blue Tour De France
Grigio Ferro Grey
Blu Abu Dhabi
Bianco White
2. Mercedes-Benz AMG SL55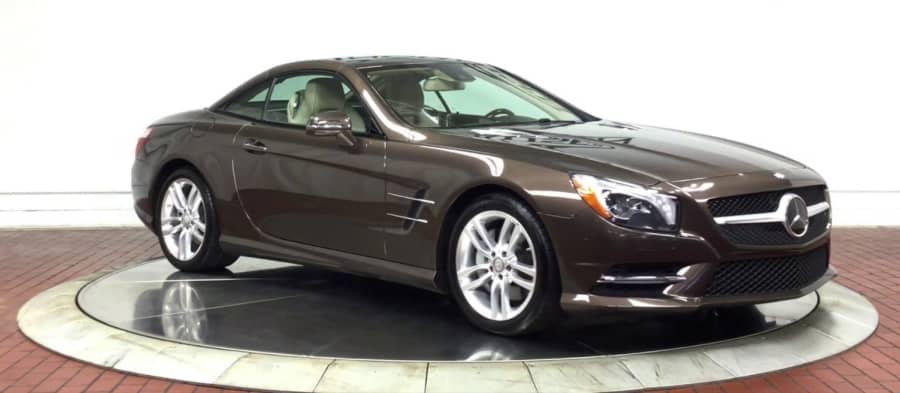 Color Name: Dolomite Metallic Brown
Mercedes Benz has used dolomite brown metallic paint since 2010 on various models, including the SL range of vehicles.
The convertible SL range has been around for seventy years, a testament to its loyal following. Brown accentuates the noble and flowing lines of this sporty two-seater open-top stunner.
Good looks don't go far without a matching performance. Powered by a hand-crafted 4-liter V8 bi-turbo engine producing 469 horsepower at 6500 rpm, it propels the SL from a standstill to 60 mph (96.56 km/h) in 3.8 seconds.
Twelve stock colors are available, with additional colors available on special orders.
Alternative Colors:
Magnetite Black Metallic
Tenorite Grey
Palladium Silver Metallic
Thulite Red
Black
3. Jaguar F-Pace (Tourmaline Brown)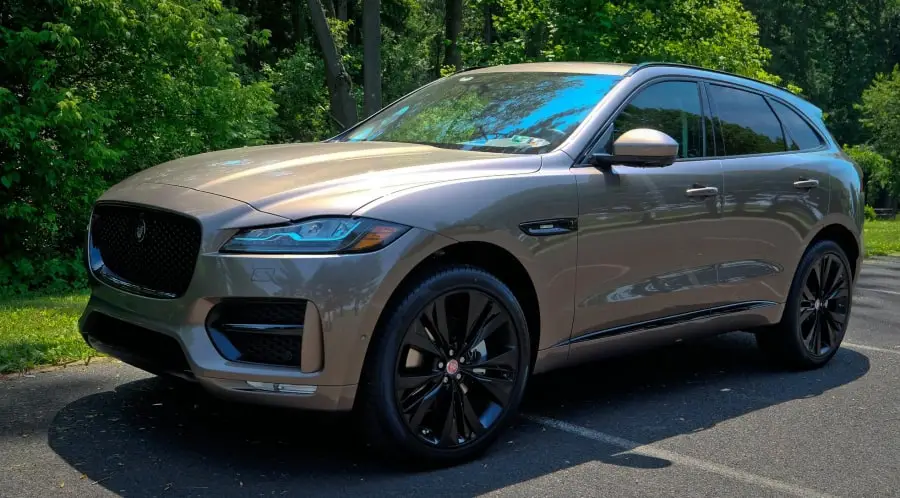 Color Name: Tourmaline Brown
Jaguar is a household name to most motoring enthusiasts. They are best known for their successes on the racetrack over many decades and for bringing lessons learned to the road-legal lineup of Jaguar vehicles.
The F-Pace is hardly a racing car being an SUV, but it does come in brown, one of the twenty-five color options available to prospective buyers. The color is officially referred to as tourmaline brown, which lends a touch of elegance to the family cruiser.
The F-Pace is part of the Jaguar SUV lineup, offering affordable, luxurious motoring. The 2-liter turbocharged engine produces 246 horsepower, which is powerful enough to propel this people carrier to 135mph (217km/h).   
Alternative Colors:
Firenze Red
Sanguinello Orange
Portofino Blue
Lonian Silver
British Racing Green
4. Nissan Armada Platinum 4WD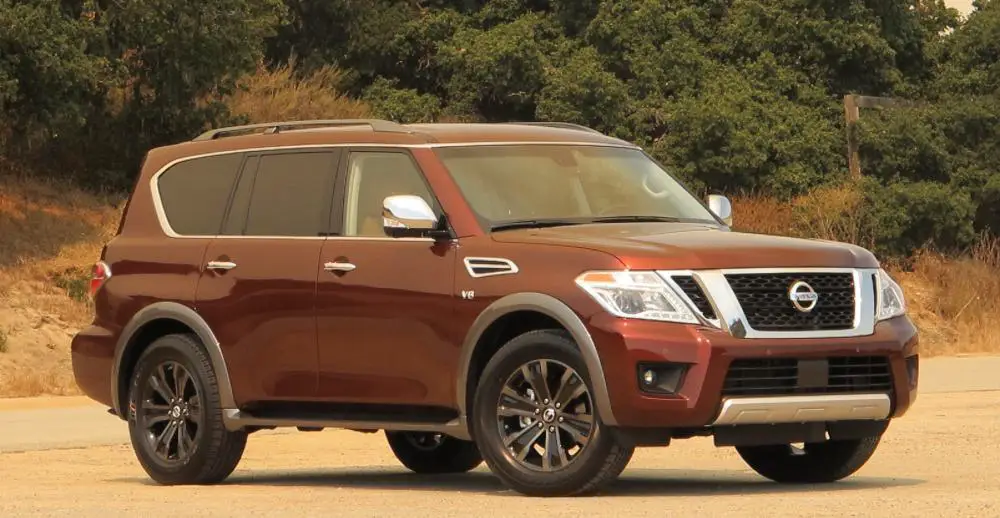 Color Name: Mocha Almond Pearl
The Nissan Armada is a beast of an SUV in terms of size and presence, which is accentuated by its brown Mocha Almond Pearl paint. The Armada may be just for you when you need lots of space to carry a large family or half the sports team.
The Nissan Armada range offers only six stock colors, one of which is the Mocha Almond Pearl.
Plush interiors sporting three rows of luxurious seats, a powerful engine, and excellent off-road ability make this a fantastic option for everyday commuting and outdoor recreation.
Sporting a 400 horsepower, seven-speed auto transmission and 5.6-liter V8 engine means it's powerful enough to haul heavy loads, go off-road with ease, and cruise effortlessly along a highway.
Alternative Colors:
Aspen White TriCoat
Brilliant Silver Metallic
Super Black
Hermosa Blue Pearl
5. Bentley Bentayga
You've got to love the Bentley Bentayga, offering not less than five brown exterior paint options. They're listed as Havana, Khamun, Brodgar, Bentayga bronze, and Arabica. In total, their exterior color chart offers eighty-six options.
Available in five models, the Bentayga bucks the norm by offering a hand-made SUV built and claims to provide the world's highest levels of luxury in true Bentley style while offering supercar-like performance.
The Bentayga is available in several engine options. The base model offers a 3-liter V6 engine producing 400 horsepower. Two Hybrid options called the Azure and S Hybrids deliver 455 horsepower.
Next is a twin-turbocharged 4-liter V8 delivering an impressive 542 horsepower at 6000 RPM, while the "Speed" model sports a 6-liter V12 producing 600 horsepower.
Alternative Colors:
Onyx
Silver Storm
Moroccan Blue
Magnolia
Orange Flame
6. Volvo XC90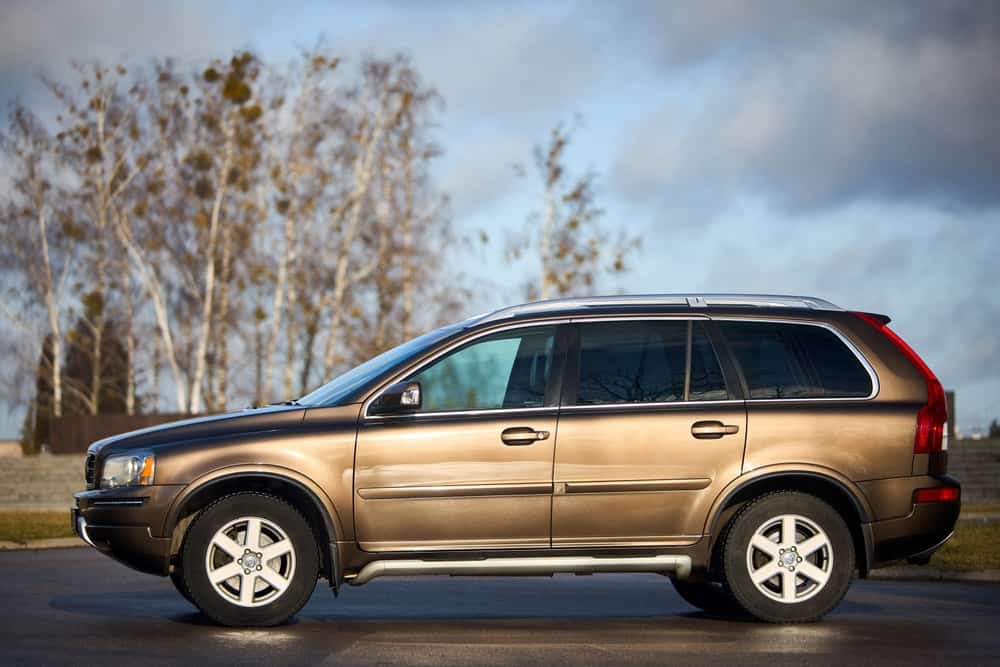 The Volvo XC90 is the big daddy of Volvo's SUV offering. Volvo is world-renowned for its high safety standards and luxurious vehicle interiors. Best of all is that it's available in Maple brown.
Eleven official colors are available for the XC90, with other options available on request. Maple brown enhances the bold body lines and adds to the elegance of the design.
The base engine size is a 2-liter gas-powered four-cylinder producing 250 horsepower at 5500 rpm. The eight-speed automatic transmission makes driving the XC90 simple, while the plush interior and many safety features ensure the safest ride possible.
Alternative Colors:
Bright Silver
Crystal White
Denim Blue
Onyx Black
Thunder Grey
7. Ford Bronco (Kodiak Brown)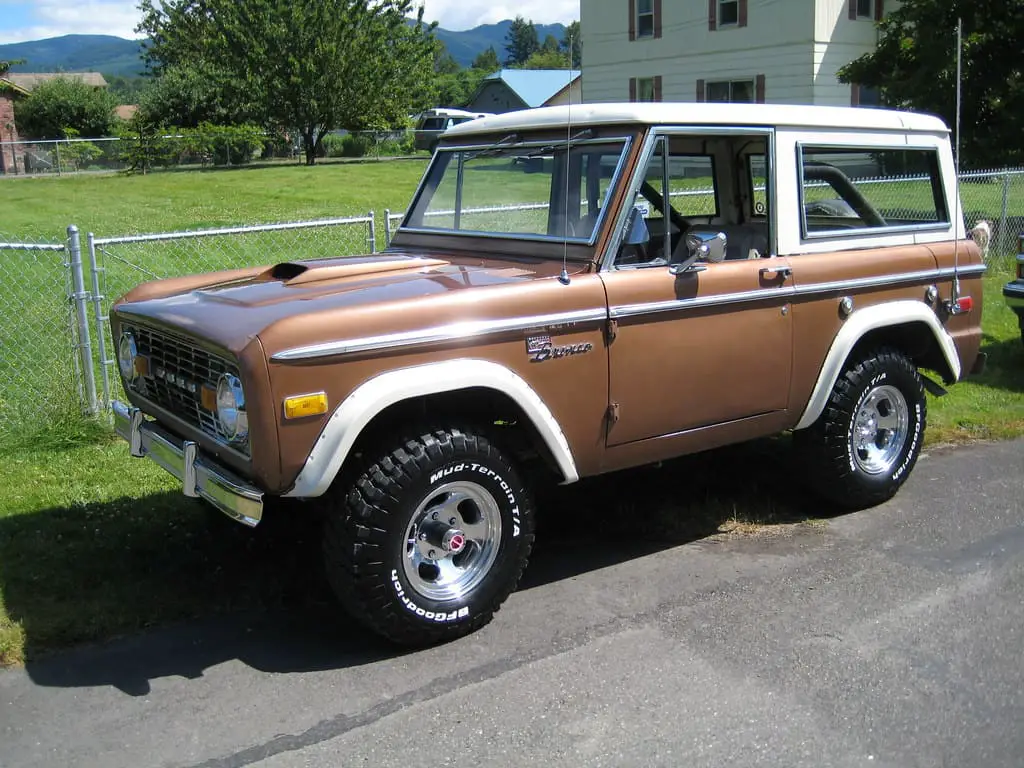 Ford put a smile on the faces of their loyal Bronko enthusiast. Having been discontinued in 1996, the Bronko was re-introduced in 2021, offering two and four-door models. Even better news is the inclusion of Kodiak Brown and Bronze Oak as an external color option. And they look fantastic.
The Bronco was first introduced in 1966 as direct competition to the Jeep Wrangler. Today the target market is the same and is again assembled in the Ford assembly plant in Michigan.
Broncos are available in various color options, including two-tone options that were so popular in the past.
The new Bronco is a mid-sized SUV offering four-wheel drive options. Engine options start at the 1.5-liter turbo diesel base model, a 2-liter turbo diesel, 2.3- liter, and 2.7-liter 330 horsepower V6.
Interior design and refinement are far from the generation 5 Broncos of the 90s. The Gen-6 Bronko offers all the mod cons you'd expect from a modern-day SUV.
Alternative Colors:
Shadow Black
Iconic Silver
Carbonized Grey
Racing Red
Oxford White
If your favorite car isn't available in Brown, there's always the option to paint it, here's a guide on how to change the color of your car.