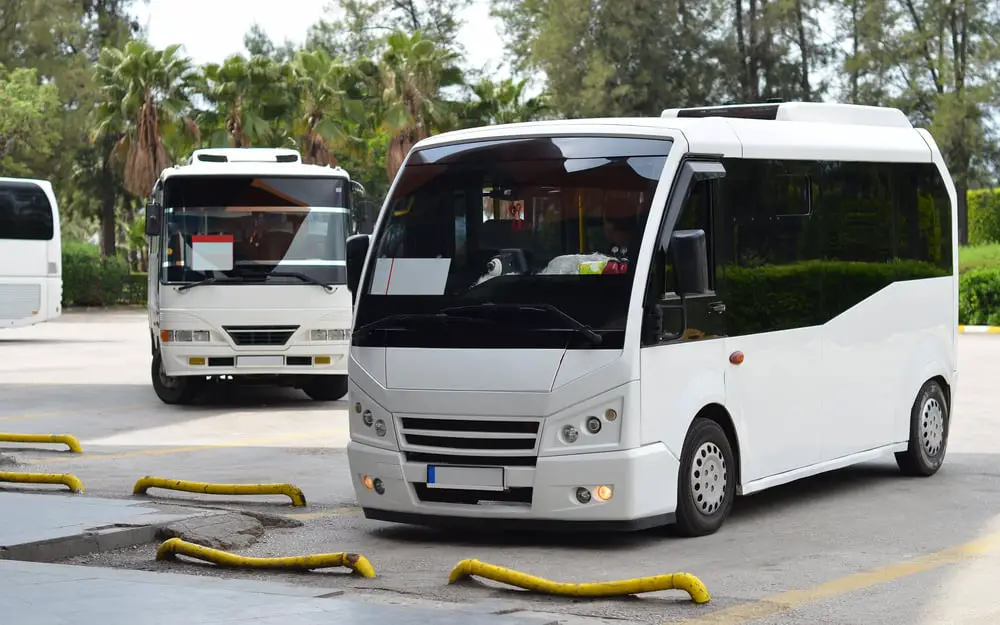 Buses, in general, tend to be large transporters of luggage and passengers, moving us across state lines and within urban city jungles.
Not all buses are designed big, and many specifically designed smaller buses are found on our roads.
Here are the 7 smallest buses in the world that are not privately converted but rather mass-produced:
1. Tecnobus Gulliver U520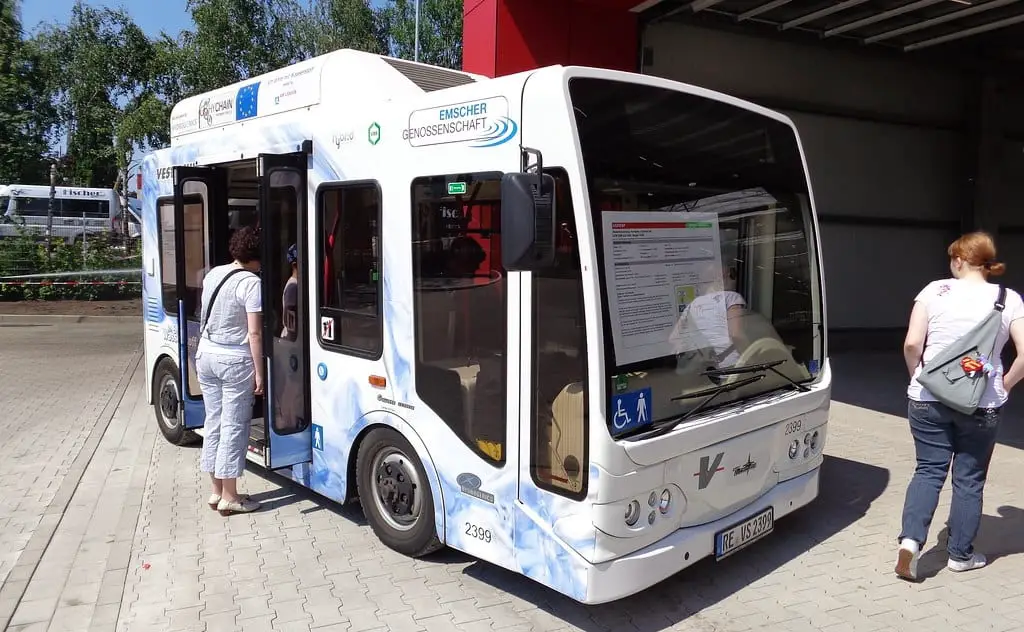 Seats: 10 seated, 10 standing
Measures: 17.45 ft long / 6.68 ft wide / 8.73 ft tall
With a name like Gulliver, which translates to "The great man mountain," you may think that the Tecnobus U520 is a beast of a bus. Don't let the name fool you; this Gulliver is only 17.45 ft long, 6.68 ft wide, and 8.73 ft tall when fitted with an aircon.
The Tecnobus Gulliver U520 is an Italian electric bus designed specifically for use in small city streets. Older models had a capacity for 10 seated and 10 standing passengers, whereas the new models fit 30 passengers "comfortably."
The updated Tecnobus Gulliver features state-of-the-art lithium-ion battery packs that allow for over 200 km of travel per charge. The pocket rocket has an integrated charger that loads quickly, removing the need for charging stations.
The Technobus Gulliver 1996 model features an interchangeable lead-acid battery pack typically used for short commutes between 40-60 km per battery pack.
These small buses can be found in many European cities, while you can also spot them in neighboring Canada, in Quebec City.
2. Toyota HiAce Ses'fikile
Seats: 16
Measures: 17.65 ft length / 6.18 ft wide / 7.50 ft height
If you have been to sunny South Africa, you would instantly recognize a Toyota HiAce Ses'fikile, the sound of their hooters, and how they are driven by drivers that have no regard for traffic rules or other cars on the road.
These minibus taxis account for over 65% of public transport, with over 90% of taxis in South Africa comprising these colorful Toyota minibusses.
With a length of only 17.65 ft, a width of 6.18 ft, and a height of 7.50 ft, the Toyota HiAce Ses'fikile is one of the smaller mass-produced minibusses in the world. The official seating capacity is listed as 16 passengers; however, that's not the average figure you will encounter while hailing a South African taxi.
The most recent serious case of overloading was when police pulled over a taxi carrying children in 2019 and, to their utter disbelief, watched as nearly 50 pupils climbed out of the 16-seater.
3. Type A School Buses
Seats: 10-16
Measures: 19.5 ft length / 7.17 ft wide / 8.42 ft height
The smallest school buses are called short buses and are classified under Type A, whereas bigger school buses fall under Type B and C. The smaller type A school buses have an average length of 20 to 25 ft and typically fit 10 to 16 passengers.
Usually, these school buses are constructed using a bus body with a cutaway front section and are ideal for transporting smaller groups of disabled or special needs students. These smaller school buses are typically fitted with wheelchair lifts and wheelchair tie-downs.
Popular school bus manufacturer, Blue-Bird Corporation, manufactures the very popular Micro Bird MB-II School Bus. The smallest model in the range, Micro Bird MB-II 400, measures 19.5 ft in length, 7.17 ft in width, and 8.42 ft in height.
Popular manufacturers of small school buses are:
4. Higer KLQ6608 Minibus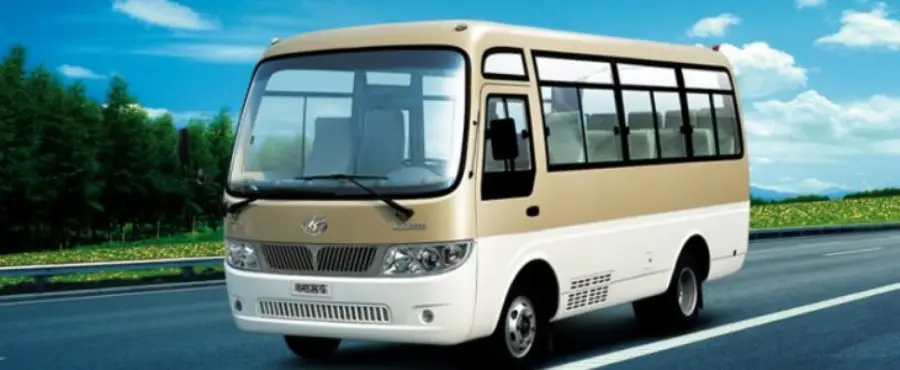 Seats: 18
Measures: 19.67 ft length / 7.45 ft wide / 9.68 ft height
Higer Bus Company Limited is a Chinese bus situated in Suzhou company situated in Suzhou, Jiangsu province, which exports its large, medium, and minibusses to more than 80 countries worldwide.
One of their smallest models, the Higer KLQ6608 Minibus, measures 19.67 ft in length, 7.45 ft in width, and 9.68 ft in height when an aircon is installed.
The minibus weighs 12,478 pounds and can accommodate 18 passengers and 1 driver. The small bus can manage a top speed of 65 mph and features a plasma air cleaner, rear parking sensor, and a cd player with 6 loudspeakers.
5. Nissan Civilian DX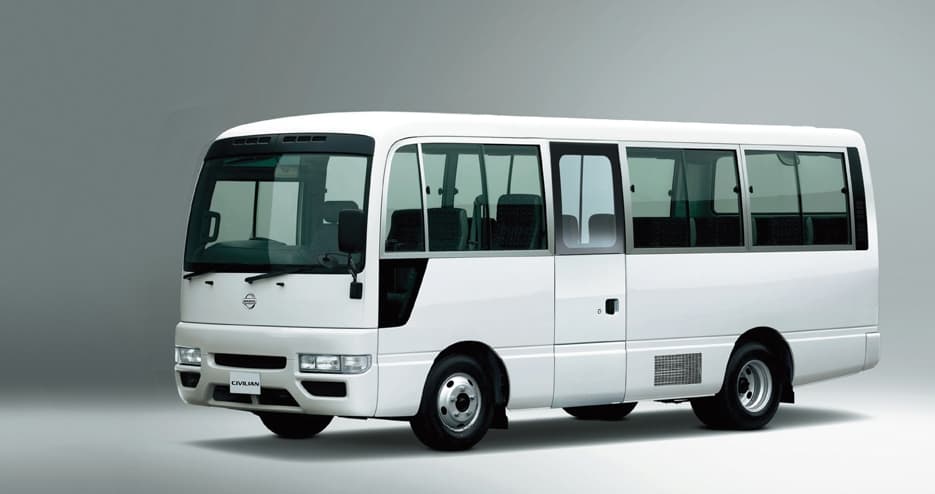 Seats: 19
Measures: 20.55 ft length / 6.80 ft wide / 8.59 ft height
The Nissan Civilian is a minibus that's been in existence since the early 1970s. This small bus is built by the powerhouse Japanese automobile manufacturer Nissan.
The  Nissan Civilian DX measures 20.55 ft in length, 6.80 ft in width, and 8.59 ft in height. The small Civilian DX can fit 19 people and puts out an estimated 177 horses. Consumers can choose from a variety of body colors to ensure that this small bus stands out from the crowd, such as:
Champagne Silver
Blueish Silver
Light Beige
Greyish Blue
White
The Nissan Civilian may be smaller than a conventional bus, but it does come fitted with aircon, heaters, an automatic folding door, a microphone, a luggage compartment, and power steering.
6. Hino Poncho Z EV Light-Duty Bus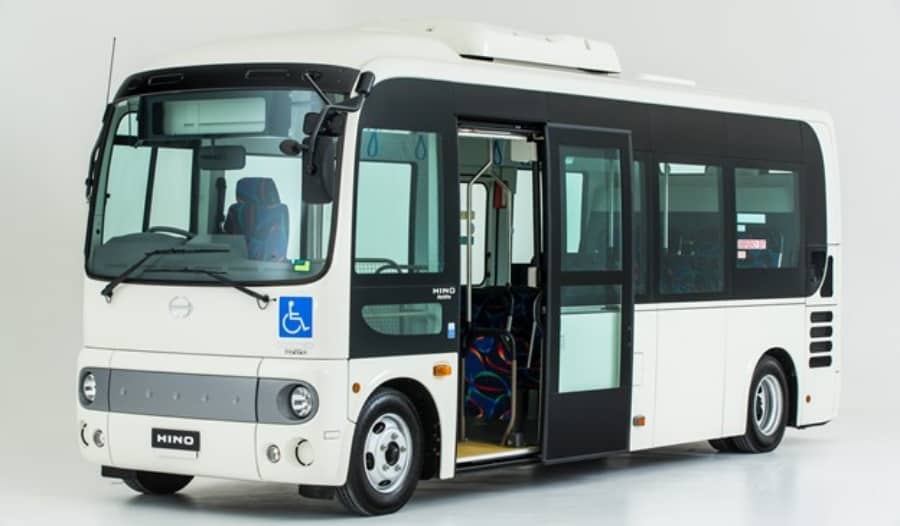 Seats: 30
Measures: 22.93 ft length / 6.82 ft wide / 10 ft height
The Hino Poncho Z EV Bus is the environmentally-friendly upgrade to the popular diesel light-duty non-step Japanese community bus, the Hino Poncho Diesel Bus, which made its debut in 2002. These small buses measure 22.93 ft in length, 6.82 ft in width, and approximately 10 ft in height.
The Hino Poncho's size allows for easy maneuverability in the narrow city and urban streets, featuring a large full-flat area and non-step low floor, making it easily assessable for passengers of all ages.
Passengers in wheelchairs, and moms and dads pushing baby strollers, can access the small bus without any hassles.
Passenger capacity on these small Hino Poncho buses varies depending on the seat layout, but it's listed as 30 by the manufacturer.
7. Toyota Coaster 2022 Diesel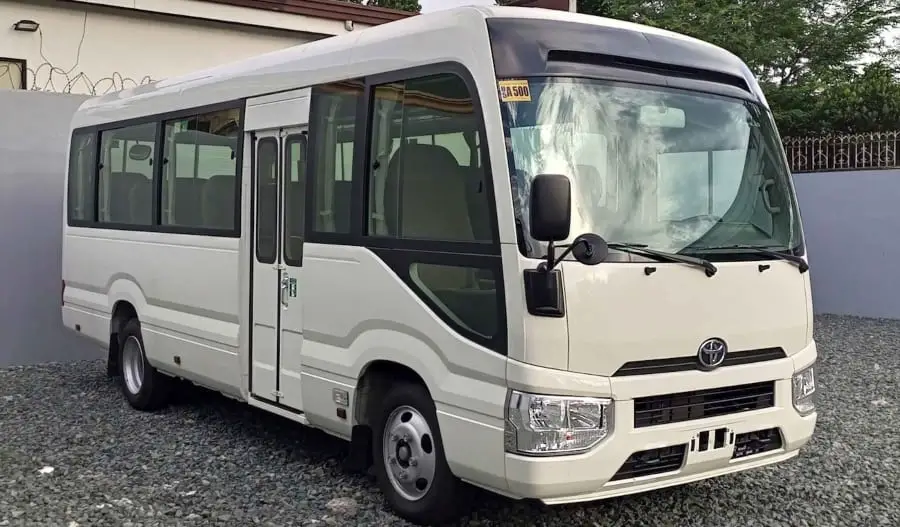 Seats: 22
Measures: 22.93 ft length / 6.82 wide / 8.65 ft height
The Toyota Coaster Diesel is a small bus produced by legendary Japanese automaker Toyota with a length of 22.93 ft, a width of 6.82 ft, and a height of 8.65 ft. The small Coaster is fitted with a 4.2L, 6-cylinder diesel engine and kicks out 129 hp.
Passenger capacity is limited to 22 and 1 driver. These small buses are fitted with a gliding type center door, dusk-sensing headlights, hill start assist, and a multimedia system fitted with a 6.1-inch touch screen.
The Coaster features Toyota Safety Sense which includes the following active safety features:
Road Sign Assist
Dynamic Radar Cruise Control
Pre-Collision System
Proactive Driving Assist
Lane Tracing Assist
Lane Departure Alert
Automatic High Beams
The Toyota Coaster 2022 Diesel packs a big punch for a small bus regarding safety features and quality design components.