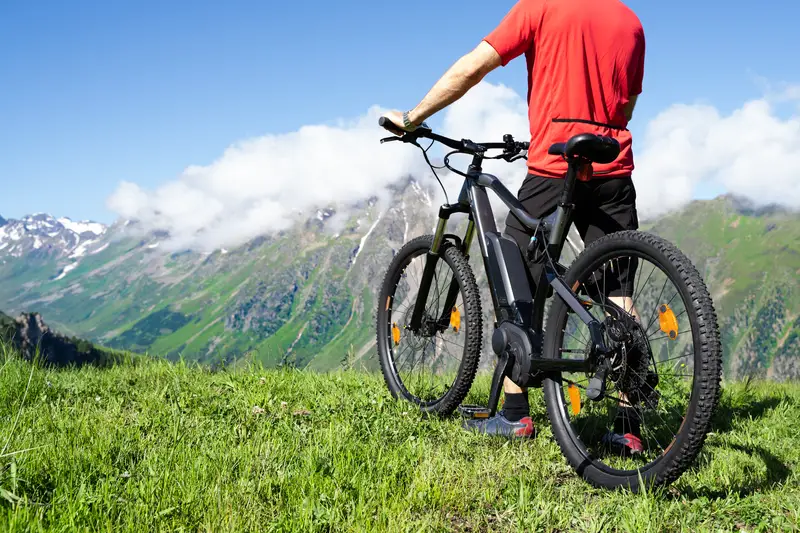 There are many great colors to choose from when it comes to bikes, but for the majority of all cyclists, black is their no.1 choice.
It may be the most common and arguably basic of all colors available, but when it is done right, a black bike is hard to beat.
Today, I'll be covering the best bikes available in black. Let's get straight into it!
1. Specialized Sirrus 1.0 Hybrid Bike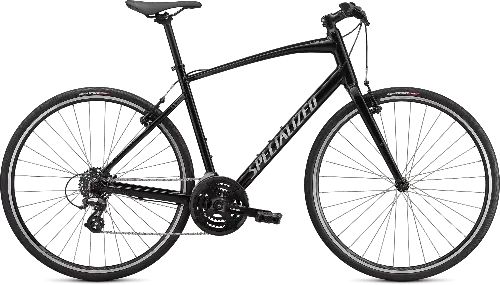 The Specialized Sirrus is the first bike on our list and what a superb black bike it is. This is a hybrid bike, and I always feel like I need to reiterate the point I have made before regarding the difference between hybrid and electric bikes.
Hybrid bikes are simply regular push bikes that have been designed for use on the road and the trails, whereas electric bikes are fitted with a motor for extra support (the term can be confusing considering that hybrid cars are electronically powered). 
The Specialized brand is a US founded company that have invested heavily in their hybrid range in recent years, with them wanting to expand their reach into day-to-day bikes as well as high-end road bikes. 
The Sirrus has a range of great features such as puncture protective tyres that in theory should help reduce the risk of puncturing on your daily commute.
Alongside this, the Sirrus is made from a lightweight alloy frame that may not be the best there is, but for the price of the bike a carbon frame would never be expected. 
That takes us to the wonder of the price tag, I believe this may be the best value Specialized hybrid bike on the market, coming in at around $450 you get a brilliant bike that is packed with features for a relatively low price. 
Pros
Price
Puncture Protective Tyres
Cons
2. Pure Flux One Electric Hybrid Bike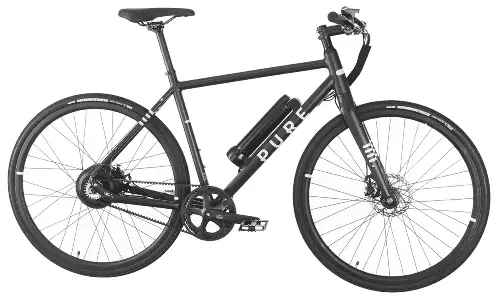 If you live in an urban area it is highly likely you will have come across Pure bikes at some point, the relatively new company have shot into the limelight in recent years thanks to their range of E-Scooters that have taken cities around the world by storm.
Pure also make E-Bikes though, and the Flux One is a very good model indeed. 
The Flux One costs a little under $1000 which makes it more of a mid-range level E-Bike than a bargain basement option, but you do get some great features with it. The bike has a 40Km range on one full charge, which is perfect for commuters and food delivery riders alike. 
The battery is very easy to remove, making the bike rideable as a regular push bike on the days that you don't need the electric assist.
Perhaps the most impressive feature on the Flux One is the Carbon Drivetrain that requires no oil to move smoothly, this saves on clean-up and money in the long-term. 
Pros
Range
Carbon Drivetrain
Easy to Remove Battery
Cons
3. Giant Propel Advanced Road Bike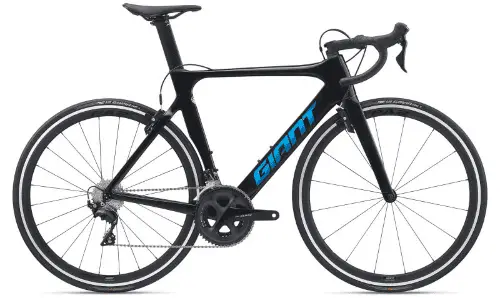 Moving onto road bikes next, the Giant Propel Advanced may not be the flagship model for the Taiwanese brand but it still represents an excellent black bike.
The bike was released nearly two years ago now though, which can make it somewhat difficult to find on the high street. The best bet for finding a brand new Propel Advanced is via Giant directly. 
In terms of the color, this may be the most visually appealing bike on this list. The Propel Advanced features a black frame and fork with the Giant logo emblazoned across the frame in deep blue, just stunning. 
The features of the bike are numerous too, with it being constructed from a fully carbon frame that ensures the bike is lightweight and aerodynamic.
This makes the bike a great choice for those wanting to take up racing for the first time, the price tag of around $2,000 is not minute but is solid for an intermediate level road bike. 
Pros
Carbon Frame
Design
Price
Cons
4. Merida Reacto 400 Lampre Shimano Road Bike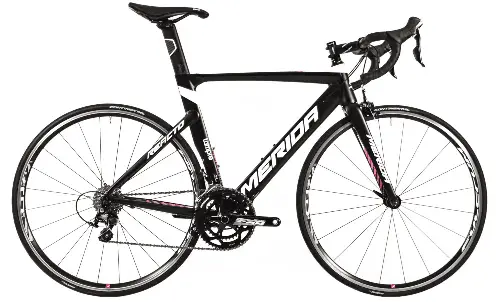 From one relatively old bike to one that can be considered ancient in the fast-moving world of bike development, yet the Merida Reacto 400 Lampre Shimano road bike still makes it onto our list.
The Reacto is another mid-range road bike that comes in at around $1000 a time and is another good option for those wanting to take cycling more seriously in the near future. 
With the bike dating from 2017 it may be difficult to buy new in the modern day, but it is still quite easy to find online. Whilst this bike can be considered old nowadays it still has some features that wouldn't be out of place on a more modern bike. 
For example, the Reacto is fitted with a Shimon Groupset that is renowned for its reliability and efficiency, making the bike long lasting and fast.
The frame of the bike may be constructed out of aluminium, but the fork is carbon fibre, which provides a perfectly acceptable level of rigidity. 
Pros
Price
Shimano Gears
Reliable
Cons
Outdated
Hard to Find
Aluminium Frame 
5. Carrera Zelos Road Bike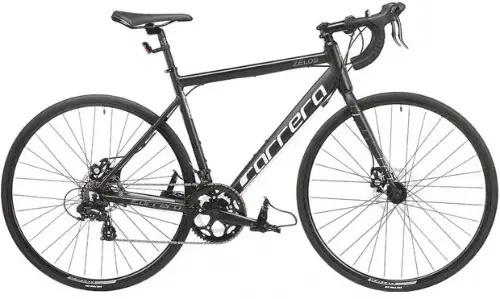 Staying on the road, we have the Carrera Zelos Rod Bike up next and what a great budget bike this is.
Retailing at around $350 the Zelos is one of the best options out there for somebody wanting to get into road cycling for the first time, or simply isn't about the thrills of higher market models. 
Whilst the bike is great value for money, you really get what you pay for with road bikes and therefore the features of the Zelos are not a wide ranging as some of its competitors.
With this in mind, the Zelos is constructed from an alloy frame that is solid if not spectacular for a road bike of this price. 
Some of the more exciting features of the bike include a memory foam saddle that should help prevent saddle sores and generally improve rider comfort in longer rides.
The bike also features disc brakes that are very much the standard for modern road bikes, rim brakes are slowly becoming a thing of the past even on budget models. 
The Zelos is no thrills, but for me this can be a good thing in some regards and is certainly not enough to stop me from riding it.
Pros
Price
Comfort
Availability
Cons
Alloy Frame
Lack of Gear Options
6. Mango Bikes OG 2X8 Speed Bike 
If you have read some of my previous pieces, you may be aware that I have recently discovered Mango Bikes, and what a great company they are!
The brand market themselves as being a simple choice when it comes to buying a bike (a theme of simplicity is forming). 
Mango produce a wide variety of bikes, but the best of their black options is definitely the OG 2X8 Speed bike, this is so called because of the gear systems that are fitted on the bike.
Like I have mentioned, there aren't tonnes of features to shout about on the OG 2X8, however everything on the bike works and will last, making it a great choice for fans of simplicity. 
The bike does have a lovely, embroidered saddle that Mango fit all of their bikes with as standard, this is designed to improve comfort.
You can also choose from a number of different handlebar options (for a price) that allows you to tailor the bike to your needs, you can choose from drop, cruiser, or riser handlebars. 
Pros
Cons
Very Few Features
Unknown Brand
Price 
7. GT eGrade Current Gravel Electric Bike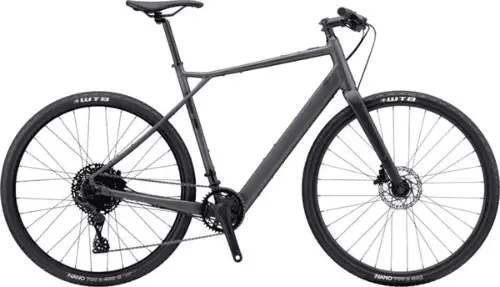 The final bike on today's list is a combination of electric and gravel, giving those who want to take on the sterrato another option if they need a little extra support on tougher sections.
The GT eGrade Current Gravel Electric bike is on the more premium end of the spectrum when it comes to gravel bikes, with it costing nearly $2,250 to purchase. 
In terms of the features on the eGrade Current, the bike is fitted with a ten-speed Shimano gear system that gives you a plethora of options when on any kind of terrain. The brakes are also made by Shimano and are guaranteed to be reliable whenever they are needed. 
The motor on the eGrade Current is powerful and can produce up to 250KwH of energy when required which is sure to power you over even the toughest of hills. 
Pros
Power
Shimano Gears and Brakes
Cons
While black bikes are pretty stylish, there are many other colors to choose from, I listed the best bike colors in this post.