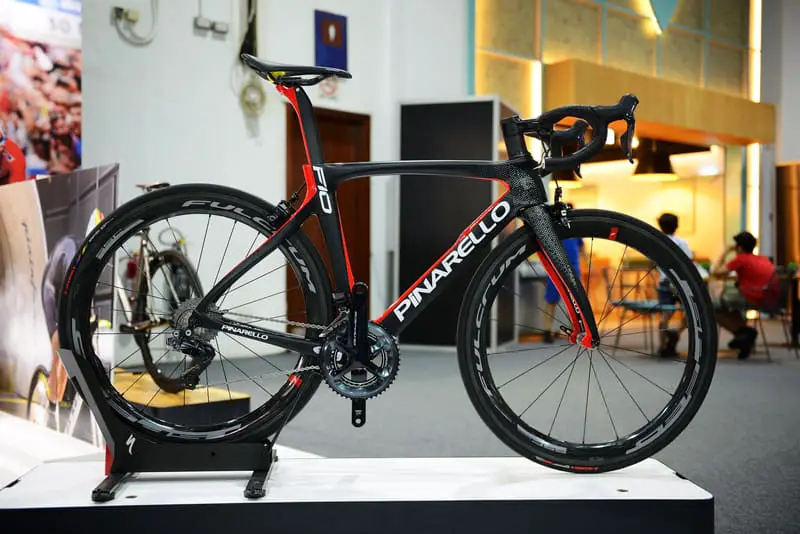 Welcome back to another in our series of why certain bike brands are so expensive, so far we have looked at a number of the best bike manufacturers in the world including Trek, Specialized, and Diamondback but today we take another step up the cost ladder. 
Pinarello bikes are considered by some to be the best of the best, with them producing bikes for a wide range of athletes that have won countless Grand Tour titles whilst on a Pinarello bike.
With this in mind, Pinarello bikes can get rather pricey for us regular folk, so let's find out what the 7 reasons why Pinarello bikes are so expensive are!
1. Used By The Best Cyclists In The World
As touched upon in my introduction to this piece, Pinarello bikes have long been considered to be one of the foremost bike brands when it comes to road racing.
Their long connection to the sport has bred plenty of success down the years, most notably at the Tour de France thanks to the exploits of the legendary Team Sky. 
The British outfit has used Pinarello bikes throughout its existence and has taken the brand to new levels of triumph.
Four different riders have won the Tour de France whilst onboard the flagship Dogma model (Bradley Wiggins, Chris Froome, Geraint Thomas, and Egan Bernal) as well as other wins at the other two Grand Tours. 
This all matters because it becomes a marketing tool for Pinarello to use as consumers always want to own the same bikes as their heroes.
Bikes that are successful are simply more desirable for fans, and as such, brands can charge more for them on the premise that they are only for true winners. 
2. Branding Costs
This is a point intrinsically linked to the previous one, however, is perhaps a more wide-ranging point regarding how branding can cause prices to rise.
Like any product that is well respected in an industry, a company can become aware of how well-liked they are and use this as a way to increase its prices. 
Whilst this may not be to everyone's taste, it is common practice in the business world and bike brands are no exception to this.
Branding essentially acts as a way of swaying a consumer's decision-making, as when presented with an expensive brand that they trust versus a slightly cheaper yet unknown item they are more likely to go with the brand they know despite the cost. 
Branding is pretty much a way of using phycology to make people buy a product at whatever price a company decides to charge. 
3. The History of the Brand
Another thing that can use as a marketing tool by Pinarello is the history of the brand and how it came to be.
The story of Pinarello began back in the early 1950's with failed professional Giovani Pinarello opening a bike shop in Treviso, Italy after being relieved from his racing contract with 100,000 Lire in his pocket. 
What followed was a relatively rapid rise up the ranks in terms of who wanted to use the frames that Pinarello had made in his bike shop and by the 1990's the brand was where it is today, winning Tour de France and Olympic Medals by the bucket load. 
As with many products, you can almost always add a few extra dollars to anything with a 'historic' backstory.
Whether you actually care about the story is irrelevant, but it does mean that you will pay more for a bike that has such a strong heritage in the sport.  
4. Quality Craftmanship 
Moving onto the actual production of Pinarello bikes, they are perhaps the most precisely made bikes in the professional peloton.
Many of the key components are handmade, and if you have read some of my other pieces, you'll already be aware that this can be expensive in terms of wages for the company and will obviously drive prices upwards. 
Skilled labor is also something that doesn't come as standard in the cycling industry, with many big brands turning to machinery to construct their bikes. Whilst these machines are efficient, they do not have the same level of craftsmanship that a skilled frame builder does. 
5. They Hold Their Value
Unlike many vehicles, certain bikes can actually hold their value despite having been used for a long time. There is one main reason for this, and it links back to the first point I made in this piece.
When a bike is used by a legend of the sport, it gains a story of its own that can often transcend the name of the brand emblazoned across the frame. 
Collectors and the media alike begin to herald the bike in a way that turns it into a classic, which can cause the price of it to actually increase even if it has been used.
Whilst the models actually used in these iconic races are the most expensive, those that have been produced in the same color and specification can also hold their value well. 
If you think you might have a classic Pinarello in your garage, drag it out and see how much it could be worth. 
6. Shipping Costs
Like any well-known bike brand, shipping costs can be the extra sting in the tail for those buying already expensive models. Pinarello does not deliver directly from their website, which goes some way to showing how premium a brand they really are. 
Instead, you need to buy the bike from one of their official sellers. Most of these sellers are not actually Pinarello stores (though there is one in London), and therefore can charge their own prices depending on where you buy the bike from. 
With this in mind, it is hard to judge how expensive shipping costs may be for Pinarello bikes, but it is safe to say that it won't be cheap as stores will want to protect these expensive assets at all costs during the shipping process. 
7. Inflation 
Whilst I don't like having to mention this last point in almost all of these articles, it is possibly the most relevant point of all. Inflation is impacting almost everything at the moment, and Pinarello bikes cannot escape it. 
By now I'm sure you know how inflation impacts the price of items, and with the rate of inflation in the US hitting unheard-of levels in recent weeks (8.2%) it is going to become even more of a problem in the near future. 
Given that inflation is an external factor, there is very little that brands can do to combat its impacts except to raise the prices of their goods or services. 
Learn more about why bikes are so expensive in this post.