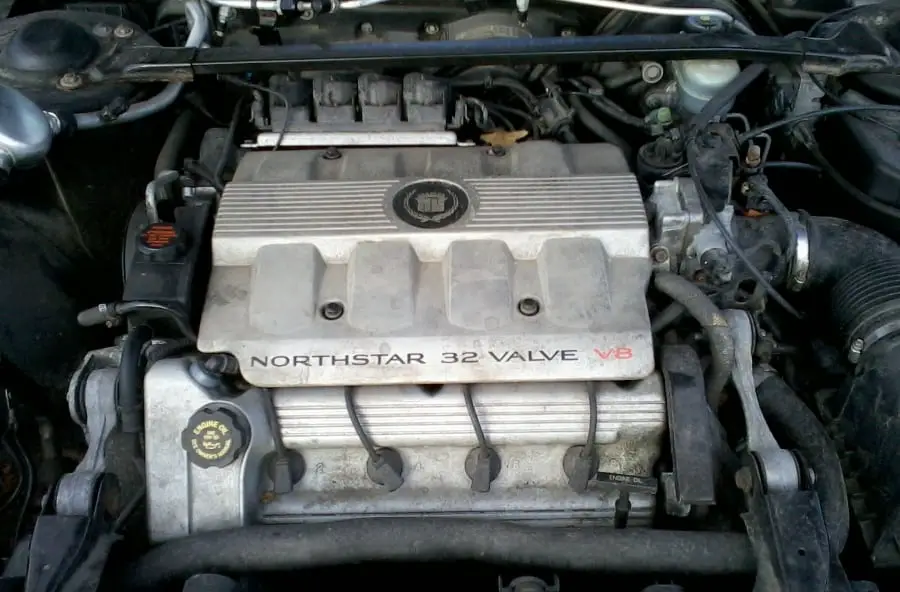 When shopping for a used car, one of the most important things to consider is the engine. Knowing which Northstar engine years to avoid can save you from costly repairs and headaches down the road.
The years 1993, 1994, 1997, 1999, 2002, 2004, and 2006 are the Northstar engine years to avoid. You may experience engine failures, oil leaks, faulty head gaskets, and warming glow plugs when driving a car with these engine years.
In this article, I'll explain why you should avoid these seven Northstar engine years. Let's dive in!
1. 1993 Northstar Engine
The first Northstar engine year to avoid is the inaugural year. In 1993, Northstar engines were new. They were manufactured to compete against big names like Mercedes. However, their shortcomings became apparent later.
The first Northstar engine was the L37. General Motors manufactured it for car models like the Cadillac Allanté and Cadillac Eldorado ETC. The L37 displaces 4.6 liters and has a compression ratio of about 10:1. Also, it has a 32-valve dual overhead cam with an all-aluminum body.
However, the first Northstar engines weren't short of problems. The most prominent issue is oil leaks around the valve caps. In 1993 Northstar engines, oil pressure disappeared entirely. This problem arises from the engine's problematic pressure relief valve, which entraps debris.
Also, the engine can overheat and cause cracks in the valve covers. The formation of these cracks is usually accompanied by the release of pressure out of the engine. Oil can also leak through the cracks. The wider the crevices, the more the oil leakage. So you can imagine the cost of oil refills alone.
Reasons To Avoid
The engine can overheat and crack valve covers, causing oil spillage.
The original L37's pressure relief valve is problematic.
The engine's oil pressure can deplete entirely.
2. 1994 Northstar Engine
Another Northstar engine year you should steer clear of is 1994. This year features the LD8 Northstar iterations. These engines had a higher oil consumption rate than necessary. The high oil consumption is caused by burning faster in the combustion chamber.
The LD8 came after the L37 version. It had less power at 275 horsepower but provided more torque at 300 pound-feet (407 joules). GM used these engines in Cadillac engines like the Allanté, Eldorado (ETC & ESC), and Seville (STS & SLS). While you can enjoy these classic cars, you must prepare for high engine oil expenses.
It isn't unusual to find such engines consuming about a quart of oil per 500 to 1000 miles (1 liter per 800 to 1609 kilometers). The engine's design is to blame for consuming copious amounts of oil. Also, the piston ring design contributed to the issue.
Carbon buildup is a common problem for the LD8's piston rings. The carbon builds up in the ring grooves, preventing the piston rings from wiping the seal and cylinder walls. The result damages the crankcase.
As the oil bypasses the pistons into the engine's combustion chamber, the blow-by reduces the oxygen in the chamber, leading to the engine's poor performance. As a result, there was extreme oil combustion in the 1994 Northstar engines.
Reasons To Avoid
They consume oil excessively
They have an impractical piston ring design
3. 1997 Northstar Engine
The 1997 Northstar engine is one of those years that should be avoided due to frequent engine failures. This engine is likely to overheat and stall.
In addition to its poor performance, the 1997 Northstar engine is known for its frequent oil leaks. Of course, with oil leaks comes costly repair bills that could be easily avoided. This makes the engine a liability for any vehicle owner. Oil leaks can devalue the car significantly.
The risk of an oil leak is too great to ignore. Yet, there's something more to worry about. Unfortunately, the 1997 Northstar engine is prone to timing belt problems. This is a major safety hazard for drivers.
If the timing belt snaps, it can cause a huge disruption in the engine's operation. This could lead to serious damage to the engine and a hefty repair bill. To avoid these issues and keep your car running smoothly, you'll be forced to get your timing belt regularly serviced to ensure it's properly working. This means additional maintenance costs.
When talking about cost, you don't want to overlook the spark plugs issues that this engine throws. The spark plugs can cause the engine to misfire and reduce efficiency. A misfiring engine affects the car's performance, increasing fuel and oil consumption and emissions.
Considering all these issues, staying away from the 1997 Northstar engine is wise. If possible, find a more reliable and cost-effective engine option.
Reasons to Avoid
Performance and reliability issues
Head gasket failures
Expensive to service and maintain
Oil sludging issues
Inconsistent gas mileage
A tendency to overheat
Some parts of the engine are difficult to find 
4. 1999 Northstar Engine
Avoid Northstar engines made in 1999. Like the inaugural ones, these engines also have oil spillage issues. Leaking oil from the rear main seal is an issue among vehicles with a 1999 Northstar engine.
Most engines have the rear main seal pressed into the block, but Northstar engines before the year 2000 didn't have this feature. As a consequence, they're more prone to wear down over time. Oil leaks become a likely issue as well.
The problem worsens when you don't drive your car for a long time. The seals may dry out and break, compounding the spillage issue. Leaking rear crankshaft seals can make the 1999 Northstar engine lose oil quickly.
The repair costs for this problem are high. You can pay up to $1,800 to buy spare seals and have a professional replace them. That is why you should avoid 1999 Northstar engines.
Reasons To Avoid
The rear main seal leaks oil at an alarming rate.
It is expensive to replace the leaking seals.
5. 2002 Northstar Engine
While there were improvements in its design, 2002 Northstar engines were prone to suffering from carbon buildup issues. General Motors were diligent enough to solve carbon buildup issues that resulted from the piston rings in pre-2000 Northstar engines.
However, a different carbon problem appeared within the cylinders in the early 2000s. Carbon deposits, especially on the engine's cylinder walls, are a thorny issue that can devalue an engine's reputation.
Carbon deposits heat up more than the cylinder walls, leading to engine knock and spontaneous fuel combustion. The cylinders produce heat when an ignition heats the engine's combustion chambers. This causes them to ignite the engine oil, regardless of whichever oil you use.
When this happens, your engine block rattles and shakes as you accelerate. Besides, carbon buildup can cause the engine to consume copious fuel amounts.
When carbon deposits heat up excessively, the Engine Control Unit (ECU) can do either of the following:
 Enter limp mode
Retard the car's ignition
You would want carbon buildup in cylinders to be manageable. This is because they can cause serious damage to your car down the line. For instance, it can lead to the engine's poor performance and damaged head gaskets.
Steer clear from the 2002 Northstar engine years if you do not want to experience this setback.
Reasons To Avoid
 They have a carbon buildup issue.
They have a high fuel combustion rate.
The engine block shakes when you accelerate hard.
6. 2004 Northstar Engine
Another Northstar engine year to avoid is 2004. The engines that GM manufactured in 2004 have frequent head washer failures.
Overheating is a big issue for Northstar's LH2 engine. The engine consumes too much oil, which encourages carbon accumulation.
Carbon buildup can cause the engine's temperature to rise. This incident could end with the head gasket blowing out, which is the major problem with Northstar engines. 
Reason To Avoid
 They are prone to frequent head washer failures.
7. 2006 Northstar Engine
Last on the list is the Northstar engines that debuted in 2006. Avoid engines from this year lest you encounter issues with warming glow plugs. 
Excessive rotation of glow plugs is a common problem with the Northstar LC3 engine, and it can lead to costly damage. The glow plugs are vulnerable and can melt, damage, or crack. 
Another concern with this engine is that the affirmative lubricating oil duct can leak. Most of the LC3's active crankcase filtration systems are susceptible to oil spillage. Oil covers the engine's turbine rotors and builds up in its compressor. 
Also, the silicone adhesive at the bottom of the engine can deplete, creating a hole that blows out eventually.
So if you are thinking about a reliable Northstar engine, consider removing the LC3 from your list.
Reasons To Avoid
They have problems with warming glow plugs.
The filtration systems are prone to oil leaks.
Final Thoughts
When looking to buy a vehicle with a Northstar engine, there are certain years that you should avoid. These engines are known for reliability issues such as:
Faulty head gaskets for 1997, 2002, and 2004 Northstar engines
Oil leaks for 1993, 1997, and 1999 Northstar engines
Excessive oil consumption for the 1994 Northstar engine
Carbon buildup for 1994, 2002, and 2004 Northstar engines
Warming glow plugs for the 2006 Northstar engine
Knowing which Northstar engine years are prone to failure can help you steer clear of unnecessary maintenance costs.