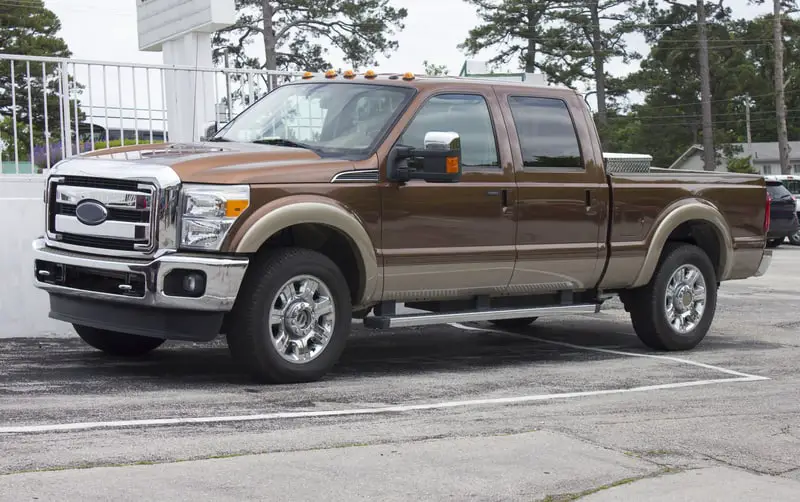 The 6.0 Powerstroke engine is known for both its successes and failures. So, if you're considering buying a truck with this engine, it's essential to research which 6.0 Powerstroke trucks are the best or worst before making your decision.
The best two years for the 6.0 Powerstroke in the Ford F-250 are 2006 and 2007. These models have proven more reliable than their predecessors, with fewer mechanical issues and a longer lifespan. On the other hand, the 2004 and 2003 models tend to suffer from more problems.
This article will discuss the specifications of each 6.0 Powerstroke year and help you figure out which one is right for you. I'll start by discussing the best years of the 6.0 Powerstroke before moving on to the worst years to look out for.
The Best Powerstroke 6.0 Years
1. 2007 Ford F-250
If you're looking to upgrade your 6.0 Powerstroke, the 2007 Ford F-250 model is an excellent place to start. Performance is a significant factor to look at when operating a 6.0 Powerstroke. When towing or hauling, you want a vehicle that can handle the load without any problems.
The Ford F-250 2007 model is more than capable of handling whatever you need to get going. This truck has a maximum conventional tow and haul capacity of:
Towing Capacity: 12,500 pounds (5,670 kilograms)
Max Payload Capacity: 3,200 pounds (1,451 kilograms)
It also features low-rpm torque and a Gross Combined Weight Rating (GCWR) of 15,000 pounds (6,803 kilograms). So, what does this mean?
The 2007 Ford F-250 can handle even the toughest of jobs. It's perfect if you're looking for a sturdy and reliable truck for towing. In short, the powerful engine and durable frame mean the 2007 model is built to last.
In addition, the rear-wheel drive system boosts your vehicle's traction and stability no matter the road or conditions you're driving in. This truck will get you going whether you're hauling a heavy load or navigating off-road terrain.
With the F-250 2007 model, you'll experience a more comfortable ride. The truck offers a sitting allowance for up to three passengers. With its spacious interior, you'll be able to take on any task in comfort and style.
Plus, the 6.0 Powerstroke is designed to be compatible with a wide range of aftermarket parts. You can easily customize it to your needs.
Whether you want to increase your power or decrease fuel consumption, the 6.0 Powerstroke model 2007 is a great choice.
Reasons To Consider
Better fuel economy
Good for heavy use
High tow capacity
V8 diesel rated at 325 horsepower and 570 pounds-feet (773 newton meters)
2. 2006 Ford F-250
I'm equally impressed with the 2006 Ford F-250. It has 325 horsepower and 570 pounds-feet (773 newton meters) of torque. These specifications make it capable of hauling heavy loads and towing large trailers.
Not only is the engine powerful and efficient, but the truck is also built tough. It can tow up to 15,000 pounds (6804 kilograms). With this truck, as long as you're aware of what you're doing, you can correct most issues yourself, saving you a lot more on mechanical repairs.
Besides, this truck is super-fast. In terms of speed, it's way ahead of its competitors. This surpasses my expectations!
If you're spending a lot of time on the road, you need a vehicle that performs its work well. In addition, the vehicle should be comfortable to ride in.
A truck that's too small or doesn't have enough legroom can make even the shortest trip feel like a marathon. And if you make long trips, you need a truck that can cover all those miles. A comfortable truck will make long trips feel a lot shorter.
The good news is that the 2006 Ford F-250 model offers the comfort you need for such trips. In addition, its seats support any journey you might be looking forward to.
Reasons To Consider
Can handle big loads
Features power-adjustable pedals
Smooth acceleration
Better interior space
Improved exterior styling
The Worst Powerstroke 6.0 Years
1. 2003 Ford F-250
The year 2003 is one of the worst 6.0 Powerstroke years for the Ford F-250. But take note, it used to be one of the most popular 6.0 Powerstroke trucks on the market for years.
The 2003 Ford F-250 was the first F-250 6.0 Powerstroke series to be introduced and was ranked for several specifications.
I'll start by touching on the engine transmission.
Talk of diesel power, and you'll soon be thinking of torque. This truck can achieve up to 560 pounds-feet (760 newton meters) of torque, which isn't bad. If all you want is an engine that torques below the idle speed, the 2003 Ford F-250 could be your ideal truck.
I assume you want something that can take up a highway speed race without limitations. The throttle response for this truck is impressive. I find it very responsive, making driving this truck a lot of fun.
The 2003 Ford F-250 is a great truck to drive. However, there is more to it than meets the eye. Although it was a popular truck, it equally received public uproar for several reasons. 
If you look closer, you'll notice that the 2003 Ford F-250 was plagued with issues. From engine problems to transmission issues and an irritating growling noise, you wouldn't need much to want to get rid of the 2003 version of the Ford F- 250 series.
Several faults with the engine led to reliability problems, such as:
The fuel injectors were known to fail.
The turbochargers were also prone to failure.
Many owners have reported their trucks breaking down shortly after purchase. I understand that repairs can be very costly. In addition, there are heavy scheduled maintenance costs to owning a vehicle like this.
Many 2003 Ford F-250 trucks ended up in the shop for repairs. Likewise, many owners couldn't resist selling their trucks early because of reliability issues.
This implies a frustrating ownership experience for many. That's why the truck's rating took a hit.
Reasons To Avoid
It's an old model
Not fuel efficient
Engine problems
Reliability issues
Difficult to find spare parts for it
A limited rear bench seat
Thankfully, Ford has addressed many of these issues in subsequent model years. So, if you're considering an F-250 from this era, do your research first.
4. 2004 Ford F-250
The 2004 Ford F-250 model is a better version of the 2003 model. The 6.0 Powerstroke 2004-year model has improved:
Payload capacity. With the 2004 Ford F-250, you can haul more gear and supplies with ease. Whether you're heading on a camping trip or transporting equipment for work, this truck has the power and space to do the job.
More horsepower. The 2004 Ford F-250 features a more powerful engine than the previous model. This ensures more horsepower and torque. This makes it an excellent choice if you need a powerful and capable truck.
Regarding diesel power, the 2004 Ford 6.0 Powerstroke is hard to beat. If you're driving at a high altitude, you'll definitely love the power this truck produces. However, this doesn't entirely rule out the possibility of engine breakdowns.
You'll likely encounter diesel breakdowns. It's absurd that these flaws will require you to spend a few extra thousand dollars to fix them.
Unfortunately, who wants to cater to the unexpected cost of rebuilding an engine? You want to avoid spending on:
New head gaskets
Rebuilding the turbo
Replacing the oil cooler, and more.
The 2003 Ford F-250 model has had several performance issues. Fortunately, the 2004 model addressed many of those issues. However, this does not mean that the 2004 model was completely fault-free. On the contrary, it equally had its problems.
The 2004 Ford F-250 is known for head gasket failure issues. (I have a whole post discussing common performance issues of the 6.0 Powerstroke. Be sure to check it out!) 
If you don't fix these issues, you could end up with a busted engine due to the accidental mixing of oil and coolant. This can be a significant problem if you own this model, as it can lead to engine errors and costly repairs.
Also, you don't want to encounter frequent episodes of oil leaks. These can also lead to engine damage if left unresolved.
So, if you're looking for a high performing 6.0 Powerstroke truck, steer clear of the 2004 model. It has issues that can be expensive to fix. In addition, they'll require you to service the trucking service for extended periods.
Reasons To Avoid
Poor mileage
Notorious 6-speed automatic transmission
Vague steering
Noisy drivetrains
Unreliable
Poor entry and exit
Final Thoughts
Looking at the facts, it's clear that the 6.0 Powerstroke has its ups and downs. However, the Ford F-250 2006 and 2007 model trucks stand out as the best 6.0 Powerstroke years.
On the other hand, I cannot wholly rubbish the Ford F-250 2003 and 2004 models. Admittedly, these models have a significant share of faults. Yet still, they serve their users.
However, it's important to remember that every Ford F-250 truck with a 6.0L Powerstroke is different. Therefore, individual experiences will vary. Also, there will always be exceptions to the rule.