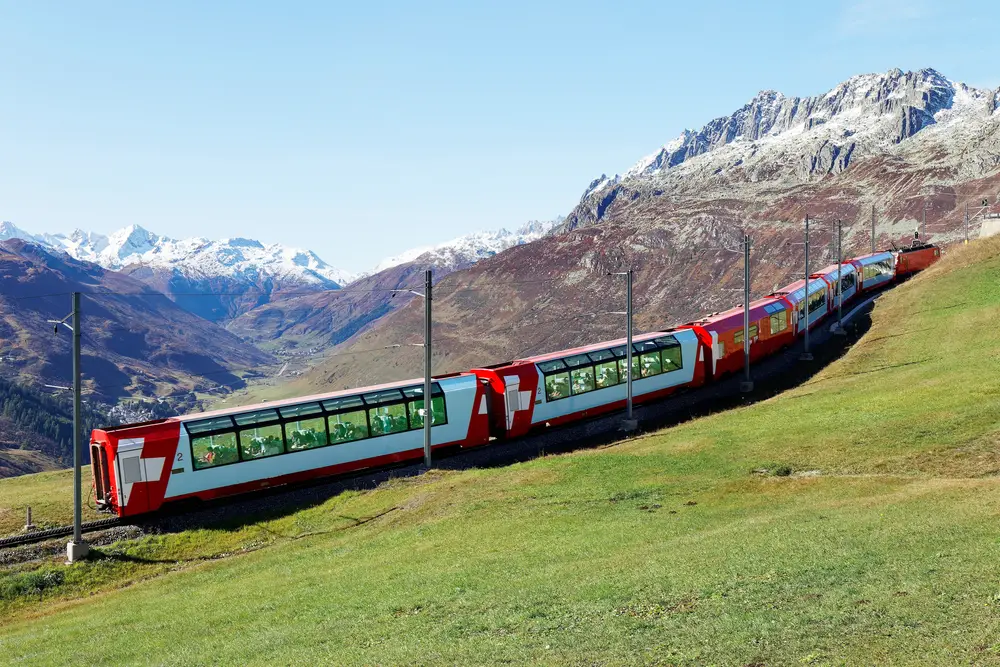 The longest trains in the world are typically created and used to transport vast amounts of coal, iron ore, and other raw materials, as it's the most cost-effective way of cargo transport.
Long trains can move huge quantities, and railway companies have built the longest trains for decades to obtain valuable transport data for future train designs.
Here are the 8 longest trains in the world.
1. BHP Iron Ore – 4.57 miles (7,35 km)
Embed from Getty Images
The longest train in the history of the world was a massive iron ore train, the BHP Iron Ore, which had a length that stretched 4.57 miles (7,353 m). The train transported iron ore between Yandi mine and Port Hedland in the Pilbara region of Western Australia on BHP's private railway called Mount Newman.
The train set a Guinness World Record in 2001 as the longest and heaviest freight train, weighing an incredible 99,734 tons, consisting of 682 wagons, easily carrying 82,000 tons of iron ore across the 171-mile route. A total of 8 General Electric AC6000CW diesel locomotives were needed to get the BHP Iron Ore moving to its destination.
To help give you an idea of how long the BHP Iron Ore was, we only need to look at the Empire State Building, which has a length of 1,454 ft. The BHP Iron Ore could fit about 16 and a half Empire State Buildings.
Today, a typical BHP Iron Ore train consists of 4 diesel-electric locomotives pulling 270 cars and 38,000 tons of iron ore.
Here's a video that shows how incredibly long this train is:
---
2. Ore Export Line (OREX) – 4.5 miles (7.28 km)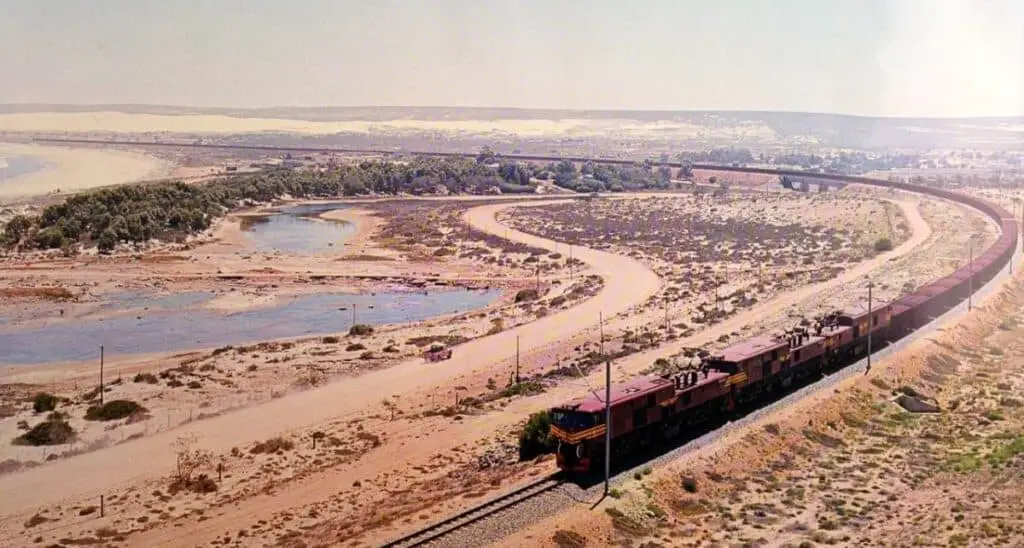 The year was 1989, and South Africa was about to unleash the longest and heaviest train in the world.
SATS (South African Transport Services) dubbed the train "The Monster." Many referred to it as Ore Export Line (OREX) and proudly displayed "World Record Train" banners on the 4.5-mile (7,281 m) manganese train.
The 660 ore trucks were pulled by 7 Diesel engines and 9 electric locomotives and traveled a distance of 535 miles (861 km) between Sishen (Northern Cape) and Saldanha (Western Cape). It took 7 years of meticulous planning to assemble "The Monster" to get a shot at a place in the Guinness World Records.
As luck would have it, a fully-loaded ore truck jumped the rails on the morning of the record attempt. Only through the joined effort of railway workers and mining personnel who rebuilt the damaged railway lines in record time could "The Monster" eventually move on the day set out for the record.
"The Monster" crawled at a very "fast" 9 mph to eventually break the record. The train generated enough power to light up a small city and required a breaking distance of 1.8 miles to come to a full stop in the case of any derailments.
Here's a video that shows how long this train really is:
---
3. Norfolk & Western Railway Coal Train – 4.06 miles (6,53 km)
On November 15, 1967, the record for the longest train in North America was set when a Norfolk & Western Railway Coal Train made its way from Iaeger in West Virginia to Portsmouth in Ohio in a journey that stretched 159 miles (256 km).
The record-setting train consisted of a caboose, 500 cars, and 6 diesel-electric locomotives (EDM SD45). The train measured a massive 4.06-miles (6,530 m) weighing 48,170 tons. The 3600 hp diesel locomotives were placed in the front and the middle of the snaking train.
Norfolk & Western Railway purposefully built the train long to test specific lengths, weights, and radio control reliability to distributed locomotives.
The train functioned well with a few minor hiccups and gave railway authorities invaluable data concerning the overall capacity capabilities of freight trains in North America.
Here's a video that shows how long this train really is:
---
4. Ekibastuz Coal Train – 4 miles (6.5 km)
The Soviet Union claimed the longest freight train in the world on February 20, 1986. The massive 4-mile (6,500 m) coal train was fitted with 439 wagons, with several diesel locomotives spread out in the train chain, and made its trip on February 20, 1986.
The train operated between Ekibastuz and Krasnogorsk (close to Moscow) in the Ural Mountains and belonged to the Kazakh Railway. The cargo train had an important role in delivering coal to power plants in the area.
The train tipped the scales at 43,400 tons when the wagons were loaded with coal. To this day, it remains one of the longest trains in history.
---
5. Union Pacific Freight Train – 3.417 miles (5.5 km)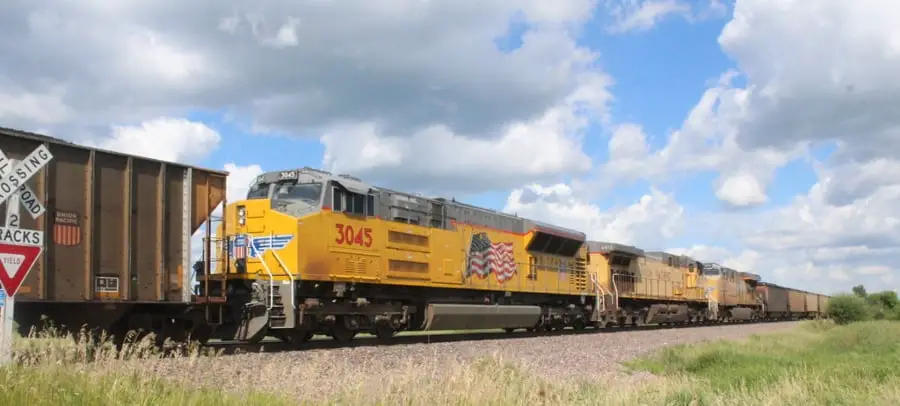 The next spot on the list of longest trains in the world is the Union Pacific Freight Train which the LA Times labeled "monster train" when it made its way from Texas to Los Angeles in January 2010. The freight train measured a massive 3.417-miles (5,500 m) and was fitted with 295 rail cars.
A total of 9 locomotives were employed to power the massive train to its destination, and train authorities gave it the go-ahead to travel at a speed of 65 mph across the Los Angeles Basin. The train was even more remarkable because it carried more than 600 double-stacked shipping containers.
Road passengers had to wait between 3 to 5 minutes at grade crossings for the train to pass. The trains weighed approximately 14,059 tons due to not carrying raw materials, instead testing to see how many containers they could transport successfully.
Here's a video that shows how long this train really is:
---
6. BNSF Railway Freight Train – 2.43 miles (3.91 km)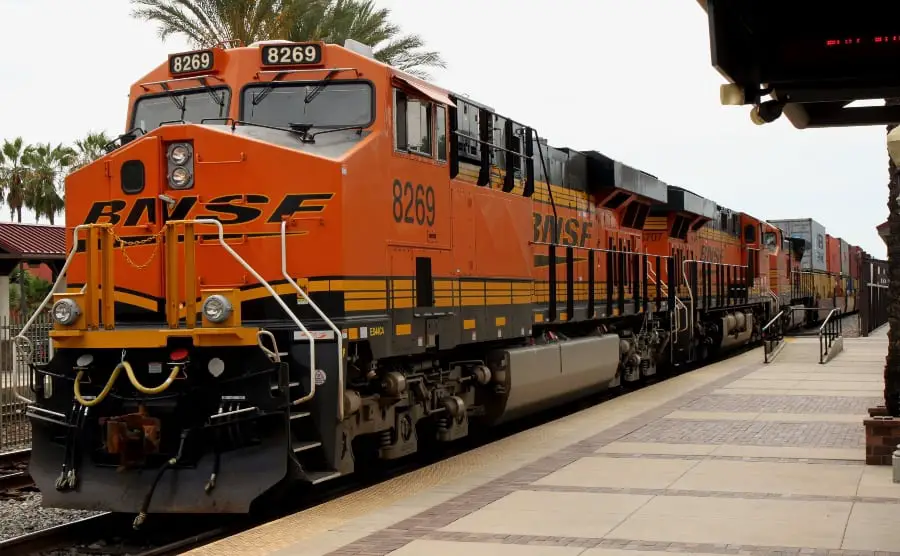 BNSF Railway has a rich history of innovative engineering, from building transcontinental railroads through the Rocky Mountains to building bridges across Diablo Canyon. So, when most railway companies started to test longer trains, BNSF joined with a test study of their own.
What followed was a massive BNSF Railway Freight Train measuring 2.430-miles (3,910 m) fitted with 458 wagons, powered by 7 locomotives strategically spread throughout the train, built-in 2010. The train transported containers from Los Angeles to Clovis in New Mexico.
The previous BNSF Railway record for their longest train measured slightly over 1.86-miles (3,000 m) and was fitted with 435 wagons.
Here's a video showing how long this train really is:
---
7. Super Vasuki – 2.2 miles (3.5 km)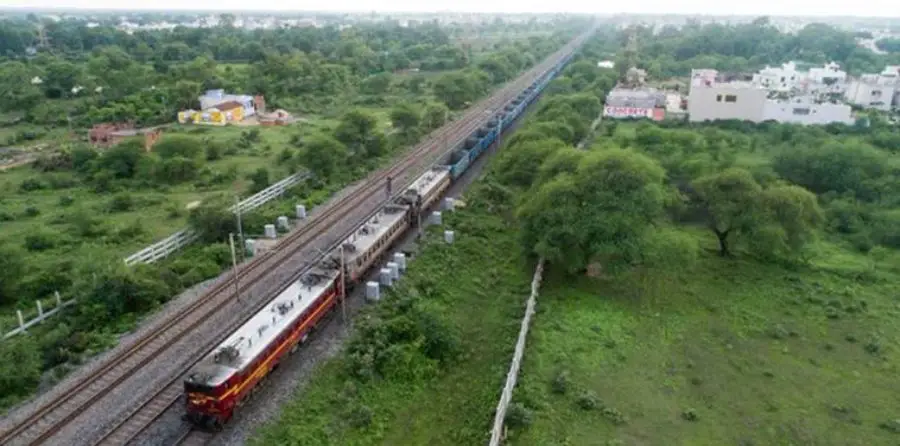 The longest and heaviest freight train in India is a 2.2-mile (3,500 m) coal train called Super Vasuki, which was tested for the first time on August 15, 2022.
The Indian Railways, more specifically the South East Central Railway, loaded the train's 295 wagons with over 25,000 tons of coal before sending it on a 166-mile (267 km) journey from Korba (Chhattisgarh) to Nagpur (Rajnandgao), which took the train almost 11 ½ hours to complete.
Super Vasuki is fitted with 6 locomotives and transports 3 times the coal that an average freight train with 100 wagons can transport. In light of severe power shortages due to a lack of coal, the longest train in India does an outstanding job of helping to keep India's lights on.
The longest train in India takes 4 minutes to pass a crossing, according to Railways Minister Ashwini Vaishnaw.
Here's a video showing how long the Vasuki Train really is:
---
8. Rhaetian Railway Swiss Locomotive – 1.2 miles (1.93 km)
Embed from Getty Images
Not only are the Swiss renowned for making delicious chocolate and for producing legendary tennis players, but they are also the proud world record holders for producing the longest passenger train in the world.
In celebrating the 175th anniversary of the first-ever railway in Switzerland, the Rhaetian Railway company built a 1.2 mile (1.93 km) Swiss Locomotive consisting of 25 electric trains (pulling 4 carriages each), resulting in a total of 100 interconnected carriages.
With an overall weight of 2,990 tons, the record-breaking Swiss Locomotive set out on its journey on the famous and visually stunning Albula Line (Unesco World Heritage protected site since 2008), making its way through the Swiss Alps on October 29, 2022. 
The train line includes 22 tunnels, and 48 bridges, while the steep gradients and tight turns on this picturesque route make it a bucket list experience for many travelers.
Here's a video that shows how long this train really is: