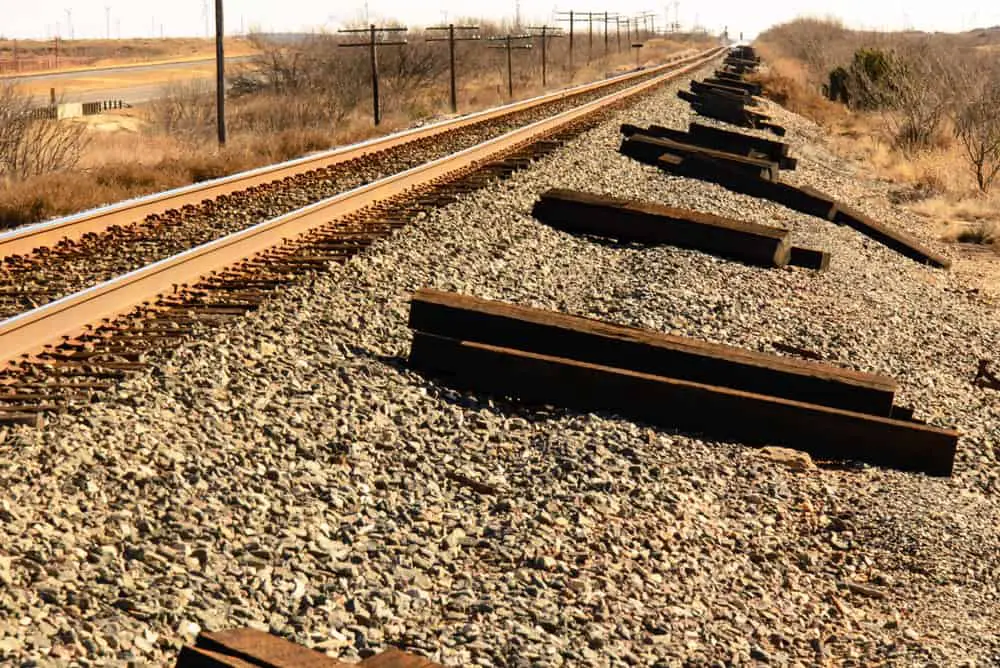 Railroad ties, also called sleepers or crossties, were traditionally utilized as railroads' main lateral support structure.
A railroad tie, commonly produced from wood, forms the base railway line enabling trains to seamlessly pass over them. However, in recent years, people have been using railroad ties to create various contemporary landscaping designs. 
The easiest way to get a free railroad tie is to ask your local railway company for any of their abandoned ones. Other options include searching through Facebook Marketplace, OfferUp, local newspapers, or Craigslist listings. There are many ways you can obtain railroad ties without paying for them.
Over the past decade, people have used wooden railroad ties for landscaping, gardening, and other decorative purposes. Railroad ties have become increasingly useful and versatile for various household uses.
However, they are not easy to locate and are generally expensive to purchase. Nonetheless, if you are persistent and creative, you can often get them for free.
How To Get Railroad Ties For Free
Few people know that basic wooden railroad ties have been employed by railway companies globally for centuries as the primary foundation of their extensive track lines. 
The rectangular wooden structure is placed beneath the physical railway track, allowing it to permanently maintain its critical structural integrity.
The little-known object has allowed trains to travel safely over thousands of miles for centuries by creating an even surface upon the metal railway tracks to be built upon. Predictably, the wooden support structure is still being widely utilized today. 
However, the primary functionality of traditional railway ties has exponentially expanded over the past few decades. People have started using wooden objects for various purposes, such as landscaping, gardening, and low-budget home makeovers. 
While railway ties are mainly used for outdoor and gardening purposes, their popularity outside the railway world has dramatically increased due to their size, shape, and durability.
However, obtaining a railway tie or two is not as simple as it may seem since they are manufactured, owned, maintained, and disposed of by federally endorsed railway companies. 
While taking railway ties without permission is a crime and purchasing one is near impossible, there are numerous ways to get your hands on the valuable wooden structure for free.
Here are 4 ways to get railroad ties for free.
1. Contact Local, Regional, Or National Railway Operators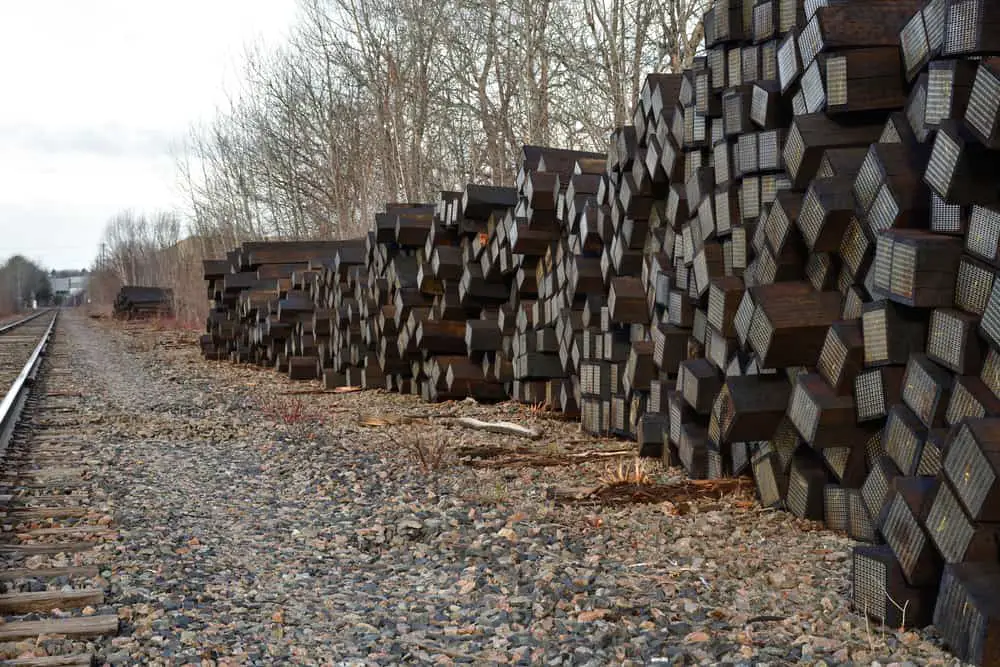 While it may be tempting, removing any railway tie from its railroad is illegal when passing through an abandoned track. 
Despite railway ties being part of transportation systems for hundreds of years, most people will not know what they are or the crucial function they serve. In addition, most people that can accurately identify a railroad tie will never find any personal benefit from the hardened wooden object.
Millions of railway ties are disposed of by railway companies each year for various purposes. Despite most unwanted or outdated railway ties being directly sold to electrical companies, who burn them to produce power, a few always remain behind.
If you ask your local railway operator for any unwanted or spare railway ties, the likelihood of you obtaining a few for free is relatively high. 
Even if you spot an old and abandoned railway tie, never remove it without the correct permission from your local railway company, as this could easily result in unnecessary jail time. Most local railway companies are willing to offer you some of their disregarded railway ties for free.
It is worthwhile noting that you should never demand free railway ties from your local railroad operator, with experts recommending offering the company a small sum of money in exchange for some of their valuable merchandise.
By following this method, you will leave with a few free railway ties, ready to be utilized in any way you desire. 
2. Search Facebook Marketplace's Free Listing Section
Facebook Marketplace has millions of listed items for sale, with many people giving obscure objects they no longer desire for free. 
If you search hard enough with the appropriate direction and purpose, you will likely stumble across a free railway tie Facebook Marketplace.
While previously it may have seemed unlikely to locate a person giving away a free railway tie on Facebook Marketplace, their recent and substantial rise in popularity has made this an incredibly viable option. 
Furthermore, during your first few attempts, you are unlikely to locate the perfect free railway tie on Facebook Marketplace.
However, with diligence, determination, and good luck, you will stumble across an individual or company giving away perfectly suitable railway ties at no cost. 
3. Scour Through Craigslist's Free Listing Section
Similarly to Facebook Marketplace, Craigslist has an enormous free listing section. People searching for free railway ties frequently locate them on Craigslist, making this an additional viable option. 
Moreover, Craigslist has a wider selection of furniture, gardening, and landscaping offerings compared to Facebook Marketplace. To locate a free railway tie on Craigslist will require you to log onto the site before clicking on the section labeled "Free." 
Previously, it would have been nearly impossible to obtain a free railway tie on Craigslist. However, the recent rise in the basic wooden objects' prevalence, especially in gardening, furniture, and landscaping applications, has resulted in thousands of appropriate listings currently being available on the online classified giant's "Free" page. 
4. Offerup, Local Newspaper Listings, And Online Advertisements
If you have exhausted all the railway tie listings available on Facebook Marketplace, Craigslist, or your local railroad company without success, there is no reason to despair. 
Companies such as OfferUp offer similar classified and online advertisement services compared to their industry-dominating competitors.
However, local newspaper advertisements, physical flyers, and OfferUp often offer rarer items, meaning there is a high probability of identifying a fully functioning free railway tie. 
However, locating free items, especially rarer ones such as railway ties, is more challenging on smaller local services such as OfferUp or the local newspaper's classifieds.
Being diligent and savvy allows you to filter the search results from the lowest to the highest price. This simple process should enable you to identify and get a railway tie from someone who no longer finds any value in it. 
Classified newspaper advertisements offer the lowest probability of obtaining a free railway tie. However, if you have time and patience, scour the physical listings each day.
After a few days, you will likely stumble across a hidden gem consisting of a cluster of unused, high-quality, and free railway ties. 
Conclusion
The recent rise in their popularity among private citizens is due to their incredible practicality in landscaping projects, furniture, home makeovers, and gardening.
While expensive railway ties are exclusively produced, owned, and maintained by nationally endorsed railroad companies, with enough diligence, savvy, and knowledge, anyone can get them for free.