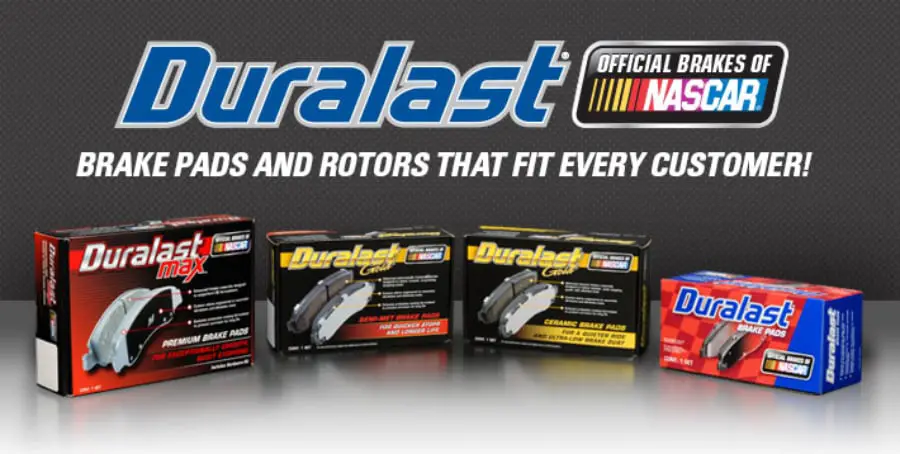 When it comes to brake pads, Duralast is one of the names that stand out. These highly reliable brake pads are known for their superior quality and seamless performance, making them a popular choice among car owners. As such, you may wonder who are the brains behind these amazing brake pads.
AutoZone is the company that makes Duralast brake pads. Their entire Duralast product line for brake pads includes the original Duralast, Duralast Gold which follows OEM design, Duralast Elite which is copper-free, and the Duralast GT Street. 
This article will talk about AutoZone's history and the products they have manufactured over the years. I will also guide you on their brake pad line and discuss what works best for your auto. Let's dive right in!
Duralast Brake Pads Are Manufactured by AutoZone
If you see any product in the automobile store carrying the name Duralast, they are most definitely manufactured by AutoZone.
They have been in the automobile business since 1979, but they didn't start out featuring their own products. 
AutoZone Was Then-Called AutoShack
The company started out humbly in Arkansas and went by its then-name AutoShack. They were such a small store that on the first day, they apparently only made $300.
To set itself apart from the competition, AutoShack ensured its parts went through strict quality control. They also opened an Express Parts Service Center in Memphis for parts you cannot easily find in their store. 
They began experiencing steady growth throughout the early to mid-1980s. To maintain this growth, AutoShack also implemented strategies to improve employee performance, such as giving Extra Miler Awards to AutoShack employees who go above and beyond their roles. 
AutoShack Began Selling Their Own Products in 1986
By 1986, AutoShack had started selling its own products. Under the Duralast brand name, they began retailing starters and alternators. The following year, they changed their name to AutoZone and have kept it since. 
AutoZone then entered the Internet ten years later. In 1996, it acquired ALLDATA, which is the largest manufacturer of OEM equipment. 
Duralast Line of Products Continued To Grow
They continued introducing and developing the Duralast line into the market, and they explored developing their own line of batteries, tools, and even the brake pads that you see today. 
As of today, AutoZone is the largest aftermarket retailer of auto parts and accessories in the United States. 
Ranking the Duralast Brake Pads From Best to Worst
Although Duralast has established itself as one of the most trusted names in the auto industry, we cannot deny that some of its brake pad products are better than others. 
Here is my personal ranking of the Duralast brake pads from best to worst so that you may be guided on what to get for your car.
1. Duralast Gold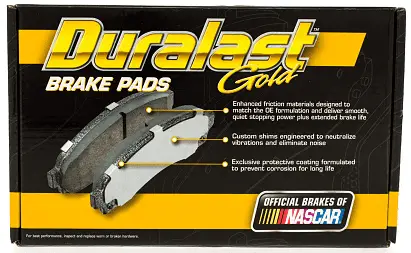 If you can shell out a little extra money against the original variant, go for Duralast Gold. The Gold is similar to the quality of the original equipment manufacturer, and AutoZone has added several features to make the braking experience identical to the OE.
Duralast Gold has three shims, which fit perfectly between the brake and the caliper, leading to minimal noise. 
Here's why I think Duralast Gold is the best choice:
It's much quieter and places less stress on the rotors.
It features a powder-coated backing plate. This makes it extra resistant to wear and tear and even corrosion. 
The shape is versatile, and you can easily fit Duralast Gold in almost any situation and application.
The only problem with Duralast Gold, however, is that it produces a very audible squeal when you first use it, and it may not be the best fit for heavy braking. Generally, it also produces the same dust amount as the OE. 
2. Duralast Ceramic and Semi-Metallic

Much like Gold, these two varieties were created using OE-like manufacturing processes. These products are actually catered to those who want the same experience as the original brake pads at a lesser price. The low price is considered the primary selling point of Duralast Ceramic and Semi-Metallic brake pads.
Like the Gold, Duralast Ceramic and Semi-Metallic brake pads are also powder-coated, which makes them resistant to rusting.
Where they differ from the Gold, however, is that their shim is only 2-layer. As such, they may not offer the same levels of noise reduction. 
But you may be pleased to know that Duralast Ceramic and Semi-Metallic were made using original equipment (OE) direct molding pressing processes, so you can expect them to fit correctly. 
Still, these variants lack stopping power which may tick off some drivers. Additionally, the hardware is incomplete, which is where the Gold edges it out. 
3. Duralast Max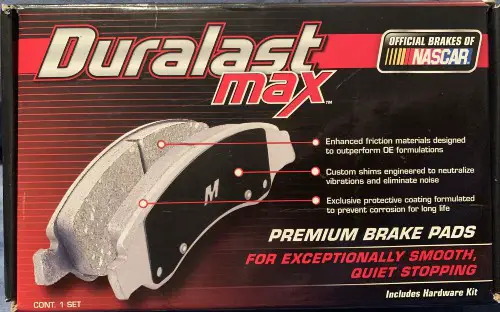 I consider Duralast Max among the most versatile of the Duralast brake pad line. I say this because it was made for everyday drivers and can also handle heavy-duty applications. 
What I find really impressive about Duralast Max is its customizability. There are a lot of materials for you to choose from, and each material carries its own set of advantages. 
Regardless of the material type you choose, you can definitely say Duralast Max is a premium brake pad. In dust production alone, this variant is top-notch. It also comes with a 4-layer shim for that extra layer of noise reduction. 
Stainless steel hardware and a lubricant are also provided in the complete package. For rust protection, Duralast Max comes with a custom backing plate. 
One standout feature of Duralast Max is its friction designation rating of FF, which means that it maintains its friction even in very hot and very cold temperatures. 
For all these features, I still rank this relatively low, for it's pretty inaccessible. AutoZone does not make it for a lot of models. It's also more expensive than the Duralast Gold, which makes it lose some points. 
4. Duralast Elite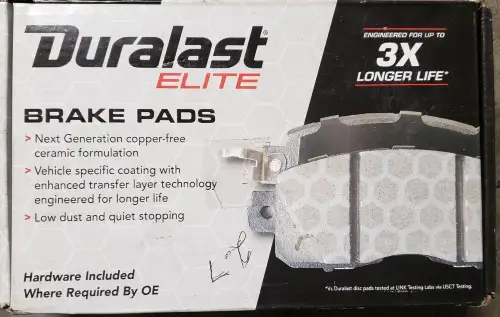 Duralast Elite has an impressive copper-free formulation which totally amps up your driving experience. The Elite also operates extremely quietly and can fit a plethora of driving conditions. 
It also has a much higher stopping power than its OE counterparts. It's made with multi-layer shims for maximum noise reduction. The braking is also undoubtedly among the smoothest in the Duralast line. 
The cherry on top is the included stainless steel hardware, lubricant, and custom backplate coating for maximum rust protection. 
But, much like the Duralast Max, the Elite loses many points for not being as available as the other three variants. Another issue I have with it is that its price may not be justifiable by what it offers. In fact, it is the most expensive out of all the products featured here. 
5. Duralast GT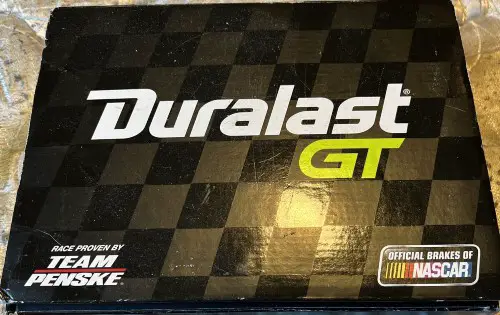 Although I ranked it last, I still think Duralast GT is pretty well-rounded. The Duralast GT was made resistant to corrosion and produced very low amounts of dust. Under wet terrain, this performs much better than conventional brake pads. 
Its shim pattern is actually different from all other Duralast variants. Still, it's sadly not as effective in noise reduction as the other four. It is very durable, however, since it's made from carbon friction material. 
If you're an everyday driver, Duralast GT may not be for you, as it was made for ultra-high-performance driving conditions. You also won't be likely getting this as it was only made for specific vehicles. 
What You Need To Know About Duralast Brake Pads
When it comes to brake pads, each material type has implications for the brake's durability and performance.
This is the reason why the Duralast brake pad line exists. It is the driver's way of upgrading their vehicle's brake performance while ensuring it can still match the original equipment. 
The good thing is, regardless of what brake pad variety you think would work best for your car, you can expect top-tier performance, proper noise reduction, and durability in all Duralast products. 
The brake as a whole is extremely important for all drivers. Most high-end cars have red brakes as a marker of their high quality and performance. These high-end brakes are also durable, which means infrequent brake replacements for the driver.
How Often Do You Need To Change Brake Pads?
Most brake pads in the market can last from 30,000 to 70,000 miles (48,000 to 113,000 kilometers.
While some lower-quality pads already need replacement at a mere 25,000 miles (40,000 kilometers), the best-quality pads like Duralast can last you well beyond 70,000 miles (113,000 kilometers). 
The actual frequency of brake pad changes depends on, first and foremost, your driving habits. Drivers who tend to stop all the time and traverse busy roads can wear their brakes out early.
Conclusion
AutoZone has made the Duralast brake pad line to supplement your car's brake performance. It features various formulations designed to meet or exceed OE friction levels, providing drivers with an even higher level of braking performance. 
From the regular Duralast brake pad to the Duralast Elite, each variety carries specific characteristics that fit a wide range of driving styles and conditions.