Some vehicles are streets ahead of the rest in the world of people carriers. While some SUVs can carry five or even seven passengers, some start at ten and get up to as many as fifteen!
Let's take a look at the seven cars with the most seats.
1. GMC Savanna – 15 Seater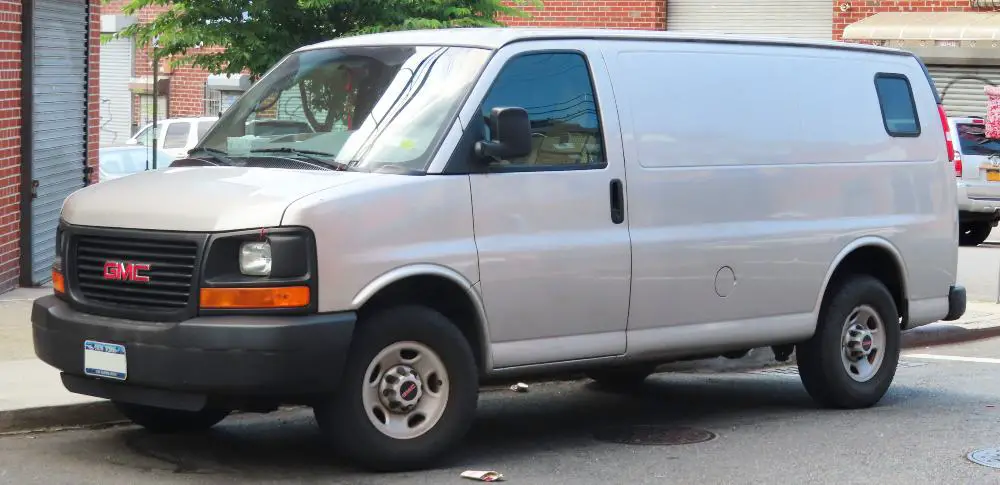 The Savanna shares much in common with the Chevrolet Express, and while this is one of the most affordable vehicles on this list, there are some features that it doesn't offer as standard.
Keyless entry, remote start capability, a USB port, cruise control, and a tilt steering wheel are optional. Still, it does come with power steering, air conditioning, power door locks, and radio are standard. The base version seats 12, but the extended one raises that to 15.
With its standard V6 engine, the Savanna produces around 276Hp and has a large towing capacity of 9600lbs; the Savanna is also available in diesel, with a 181HP turbodiesel engine.
If you prefer something more powerful, you can opt for the V8 version, which brings more than 400HP to the table.
If you are using this vehicle for school runs and sporting events, it may be worth upgrading and adding additional safety features such as forward collision and lane departure warnings, rear parking sensors, and blind-spot monitors.
The average mileage on the GMC Savana is around 11 mpg in the city and 16 mpg on the open road, averaging around the 13mpg mark.
2. Ford Transit – 15 Seats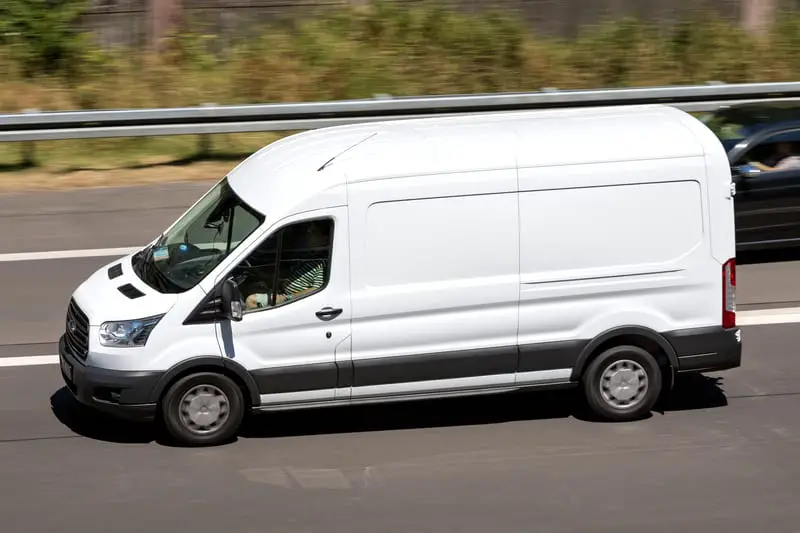 Unlike the GMC Savanna, the Ford Transit has some extra extras included in the price as standard. Rearview camera, lane keep assist, forward collision warning, automatic emergency air-braking, and rain-sensing windscreen wipers.
Rear parking sensors, adaptive cruise control, and blind spot monitoring are optional extras, and the Ford Transit is available in 8,10, 12, and 15-seater versions.
Like the Savanna, it features a V6 engine putting out 275 HP or a turbo V6 with 310 HP and comes with a 10-speed automatic transmission. However, the towing capacity on this vehicle is lower than the Savanna at only 6800 lbs capacity.
This may not be the ideal vehicle if towing heavy trailers is required. From an economic perspective, the Transit is on par with high-capacity passenger vehicles averaging around 14 mpg.
Considering the price is only $4000 more than the Savanna, and it comes with better features, the Ford Transit is a good option for a 15-seater vehicle.
3. Mercedes Benz Sprinter – 15 Seater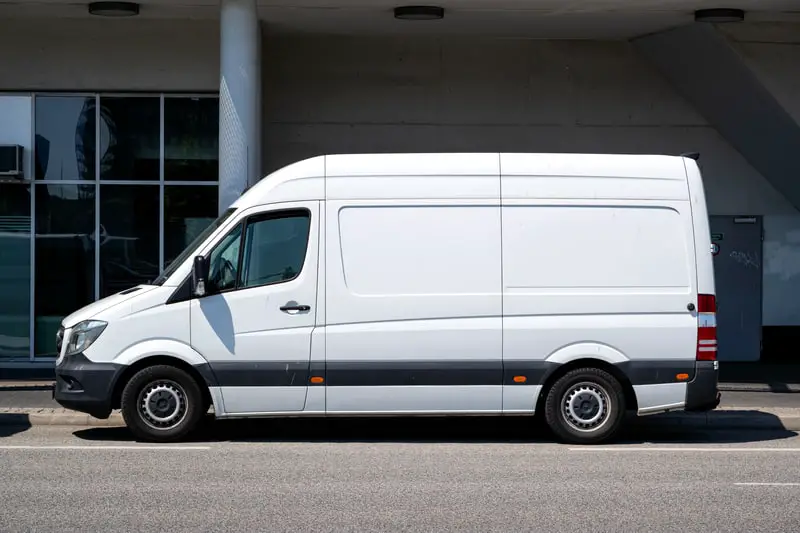 The Mercedes Sprinter is one of the classiest 15-seaters available and well worth consideration if you are in the market for a high-capacity passenger vehicle. The extended version offers 15 seats, while the standard is 12-seater.
Seats are synthetic with leather options, but more impressive are the standard tech features that are usually only offered as add-ons with most other vehicles. Since this transporter comes from Mercedes Benz, it should be no surprise that the features on the Sprinter are top-end.
Let's start with the surround-view parking camera, forward collision warning, driver attention monitor, adaptive cruise control, blind spot monitor, lane keep assist, and automatic emergency braking.
The Sprinter also offers three engine choices. A turbo-four diesel that cranks 161HP, a V6 turbodiesel with 188HP, and a turbo-four gas engine with 188HP. As towing capacity goes, the Sprinter can handle 7500 lb, and while this isn't the highest capacity, it certainly isn't the lowest either.
For a vehicle this size, the Sprinter averages around 14-17mpg, which is impressive and certainly will not require a second mortgage to operate daily.
At just over $43k, the Mercedes Benz Sprinter is not the cheapest, but considering the standard features, you would pay extra for other high-capacity vehicles; there is a good argument for the Sprinter!
4. Chevrolet Express – 15 Seater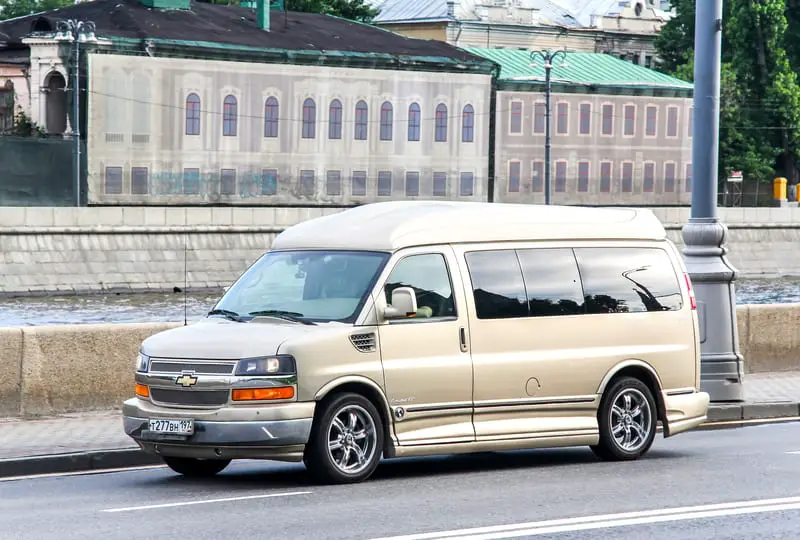 The Chev Express and GMC Savanna could be twins, and while the Express is slightly cheaper, it has a lot of features and specs in common with the GMC. This is a standard 12-seater but can be extended to 15 seats with the four-row version.
This vehicle has been on the market in one model or another for over two decades, and the standard features aren't bad at this MSRP. The Rearview camera, WIFI hotspot, air conditioning, power windows, and door locks are all standard.
Add-ons are keyless entry, remote start, tilt steering wheel, USB port, and cruise control. Driver assistance has features like forward collision, lane departure warning, and blind spot monitoring , but these are only available as extras.
It has an impressive towing capacity, though, which could be the deal breaker for people who must carry people and luggage.
At 9600lbs, the Express has the same towing capacity as the Savanna, and it delivers around 11mpg in the city and 16mpg on the highway, averaging around 13mpg, so this won't kill your fuel costs either.
The Chevy Express is a tried and tested workhorse if you need a good-quality, reliable vehicle with a large seating capacity and don't need additional extras.
5. Nissan NV – 12 Seater
This vehicle can only carry a maximum of 12 people, even with the fourth row of seats, but it's a rugged transporter than comes standard with some excellent features.
Bluetooth and a USB port are included, cruise control, a radio with six speakers, keyless entry, and dual-zone climate control. Other options for The NV include leather seats, a power-adjustable driver's seat, and heated front seats.
While the rearview camera comes standard, you'd pay for front and rear parking sensors, navigation, and the Nissan infotainment system.
The NV has two engine options available. The standard V6 has a 261 HP, five-speed engine, and you can also opt for the monster 7-speed V8 cranking out 375HP! That's some serious power for a passenger wagon.
Considering this vehicle is not available in diesel, it has an excellent towing capacity of 8700 lbs. Fuel economy is comparable to the other cars, with 11mpg in the city and 15mpg on the open road averaging around 12mpg.
At under $40k and in the same price range as the Savanna, the Nissan NV ticks many boxes regarding price, fuel efficiency, and towing capacity and has a few solid standard features.
6. Ford Expedition EL- 10 Seater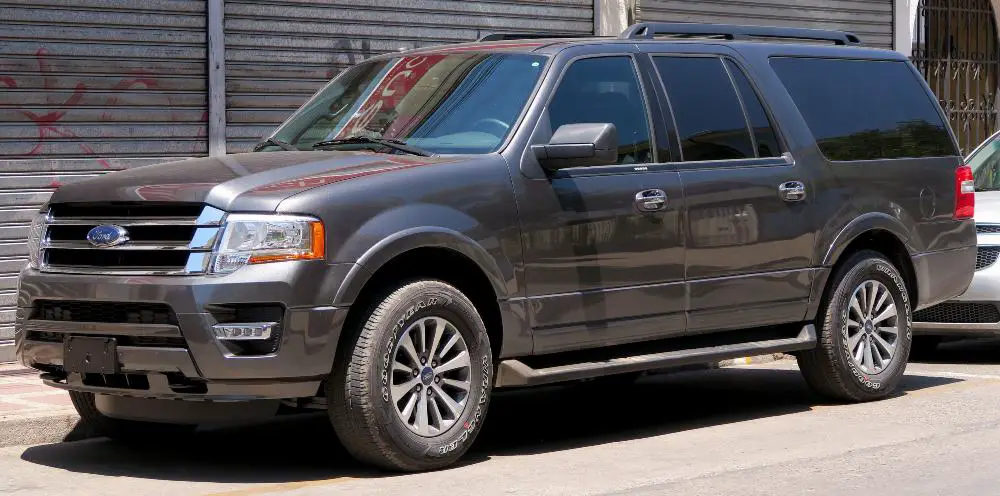 This is a ten-seater vehicle with additional cargo spaces available. A consideration for this vehicle is the price, as we are now getting into the +$45k range for high-capacity transports.
The Expedition is more of an SUV-type vehicle than the van-type models of the Sprinter, Savanna, Transit, and Express, and this is an option for people that still want to be able to move a lot of people, but in more comfort and style than a van-type car.
The Expedition comes standard with a V6 with 290HP, and it also has a more powerful V8 option available as well. With a towing capacity of 9200 lbs, this powerful SUV certainly packs a punch on the power side.
On the fuel economy side, the 3.5-liter V6 engine will do about 17mpg in the city and around 23mpg on the highway, which puts it at the top end of the consumption for a large-capacity vehicle.
Standard driver-assist features include forward collision warning , adaptive cruise control, automated emergency braking, lane-keep assist, and lane departure warning.
7. GMC Ram Promaster – 12 Seater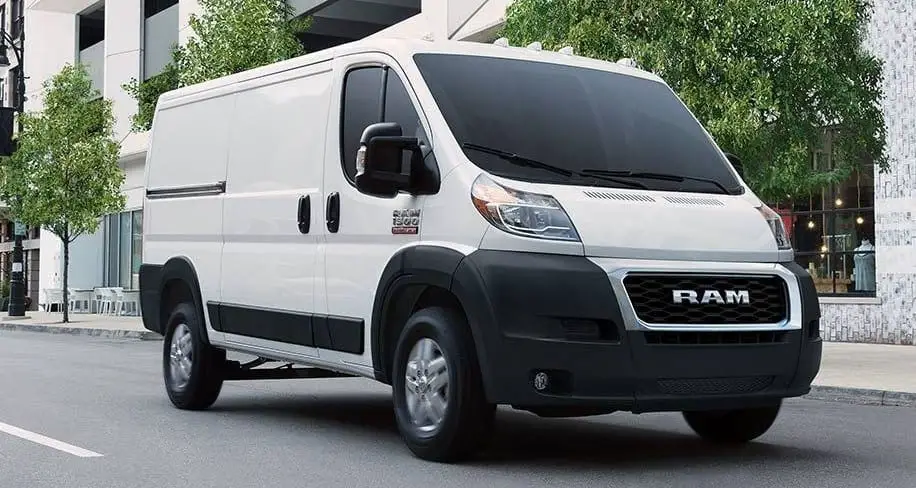 The Ram Promaster has a superb host of features but has the lowest towing capacity of all the vehicles on this list. With just over 6900 lbs capacity, this car is not ideally suited if you require a larger towing capacity.
Another point against the Ram is the road noise. For some reason, Ram's interior noise insulation isn't as good as the others, but besides those considerations, the Ram Promaster offers some excellent standard features and good fuel economy.
The Promaster comes with a V6 276HP engine and nine-speed automatic transmission and will get around 14 mpg on average between city and highway driving.
Driver-assist features include adaptive cruise control with stop-and-go technology, a 360-degree camera system, forward collision warning, emergency braking assist, blind-spot monitoring with rear cross-traffic alert, lane-keep assist, front parking sensors, and automatic high-beams.
You have air conditioning, a 7″ touchscreen infotainment system, Bluetooth connectivity, a telescopic adjustable steering column, and a plethora of charging ports.
At around the same price as the Ford Transit, with a lower towing and seating capacity but with more standard driver assist and interior technology features, the Dodge Ram Promaster is a good all-around choice if you don't need to carry more than 12 people.
What To Look For When Choosing A High-Capacity Vehicle
Before looking at the cars with the most seats, you need to consider what you want to use the vehicle for before you put money down.
For starters, the towing capacity may or may not be a realistic consideration. If you are moving sports teams or other activity groups around that have gear, you may want to add a trailer, so a good towing capacity is essential.
On the other hand, if your groups have relatively little gear, you can look for a vehicle that can accommodate 10,12, or even fifteen people and still have some space for the luggage.
From a mileage perspective, diesel is traditionally more fuel efficient than gasoline, and a lower average mpg rating would be important.
Standard features can be another important element. If you want the driver assist features included, you may need to up your budget a little, and if the tech elements like Bluetooth and USB ports are necessary, then consider which vehicles offer them as standard than add-ons.
Finally, the driver assist features also count for or against a vehicle, depending on your need. Again, it would be better to get one with most of the safety assist features included as standard.