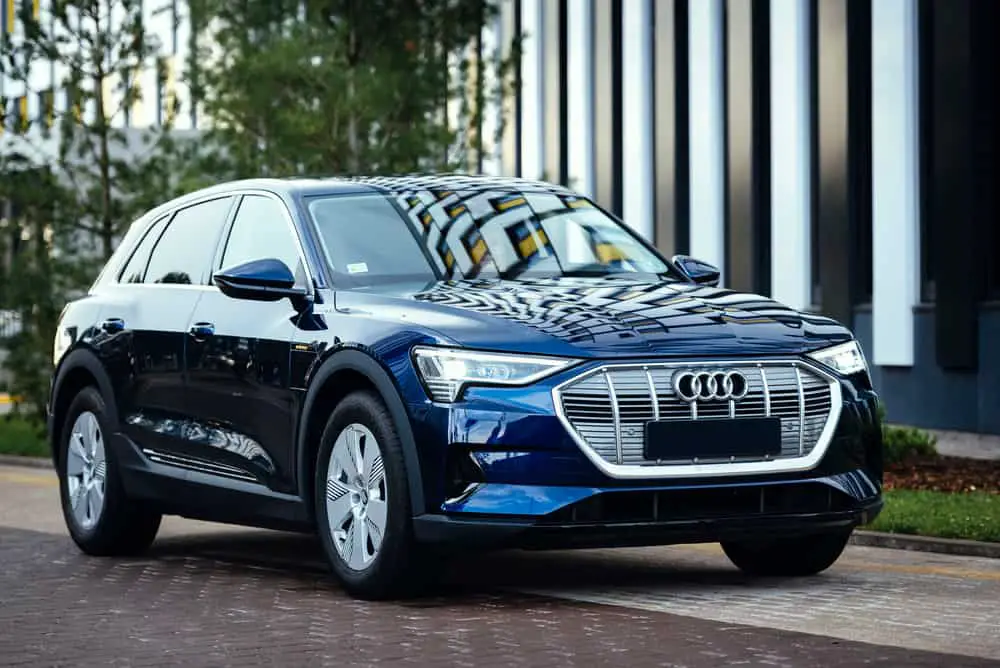 The four-ring Audi logo has become one of the best-known in the automobile industry and symbolizes excellence, innovation, and quality.
"Vorsprung Durch Technik," meaning being ahead or leading through technology, is the famous company slogan and is reflected in their luxury cars.
We have selected their seven biggest to showcase from their wide range of cars and SUVs.
Listed from longest to shortest, here are Audi's seven biggest models:   
| Audi Model | Curb Weight | Length/Width/Height (in) |
| --- | --- | --- |
| 1. Audi A8 L | 4,773 lbs | 209.5 / 76.6 / 58.6 |
| 2. Audi Q7 | 4,817 lbs | 199.3 / 77.6 / 68.5 |
| 3. Audi Q8 | 4,960 lbs | 199.6 / 78.5 / 67.2 |
| 4. Audi E-Tron GT | 5,060 lbs | 196.4 / 77.3 / 55.8 |
| 5. Audi A7 Sportback | 4,343 lbs | 195.6 / 75.1 / 56 |
| 6. Audi A6 Allroad | 4,982 lbs | 194.9 / 74.9 / 58.9 |
| 7. Audi A6 | 4,101 lbs | 194.4 / 74.3 / 57.4 |
Here are the biggest Audi models in more detail.
1. Audi A8 L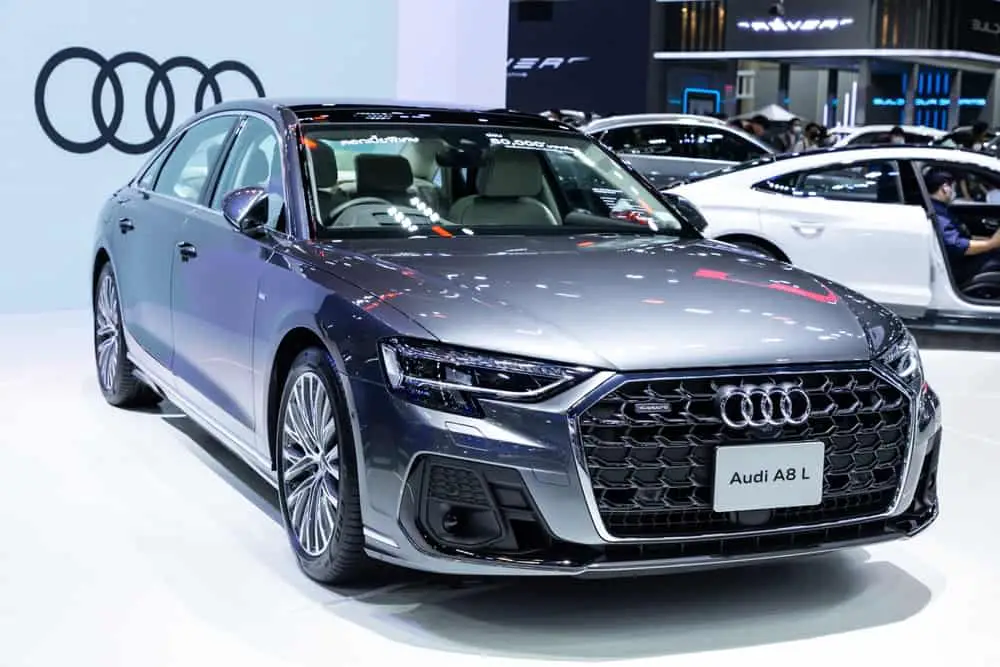 Weight: 4.773 lbs
Length: 209.5 in
Width: 76.6 in
Height: 58.6 in
Audi's top-of-the-range luxury sedan, the A8L, is powered by the 3-liter V6 producing 335 hp, with twin turbochargers, and Quattro all-wheel drive providing a 0-60mph time of 5.6 seconds. There is a short-wheelbase model in the A8 range, but it is not available from dealers in the USA.
The A8L is superbly spacious, with limo-like legroom of 44.3 inches in the rear. Standard features include:
Adaptive air suspension
22-way adjustable seats
Heated front and rear seats, rear with heated armrests
Head-up display
Upgraded interactive infotainment system
Park-assist with the Executive package
Pros
Excellent handling, exceptionally comfortable seats, understated elegance, very quiet ride, superior build quality.
Cons
Becoming dated compared to BMW and Mercedes, the infotainment system is challenging to work, and the trunk is small for the size of the car. Some reviewers feel that the A8 lacks the personality of BMW and Mercedes equivalents and feels like a big Audi but not a special one.
2. Audi Q7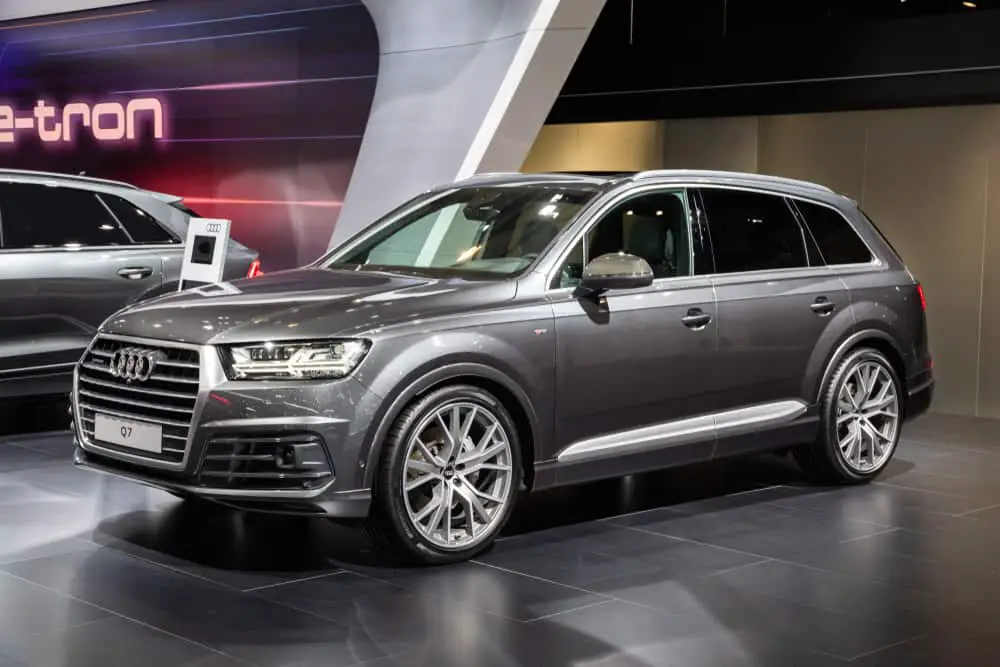 Weight: 4.817 lbs
Length: 199.3 in
Width: 77.6 in
Height: 68.5 in
Audi offers a wide range of luxury SUVs but only one with a third row of seats – the Q7. As such, it rates very high compared to rivals such as Acura, BMW, and Mercedes.
The Q7 scores highly in terms of ride comfort, interior build quality, and the 3.0-liter V6 gives this SUV class-leading performance. It is also available in a 2.0-liter four-cylinder form that is adequate for most drivers.
However, it's quite a bit slower than the V6-powered version, which has a 0-60mph time of 5.6 seconds.
Standard features include:
Safety belts on all three rows of seats
Quattro 4-wheel drive
Several driver-assist systems, including front and rear sensors, lane departure warning and side assist with rear cross-traffic assist, emergency braking, and forward collision warning
3-zone climate control
Interactive infotainment system
Double 10.1″ and 8.6″ central screen display, the smaller one for climate and vehicle settings control
Head-up display for speed, incoming calls, and route-mapping
Pros
The only 7-seater available in the Audi range, exceptional quality finishes, high comfort levels, and excellent performance statistics for a big SUV (the biggest in the Audi range)
Cons
The third-row seats are suitable only for children – not as comfortable as the other seats, and access is difficult.   
3. Audi Q8
Weight: 4.960 lbs
Length: 196.6 inches
Width: 78.5 in
Height: 67.2 in
Shorter, wider, and lower than the Q7 on which it's based, the Q8 is less practical but more stylish.
As a five-seater, it has less passenger capacity, less headroom, and less luggage space and shares the same power train as the Q7. However, it's less expensive than its A8 luxury sedan counterpart, so it may be a good choice.
The Q8 shares a platform with the Bentley Bentayga and the Porsche Cayenne and provides sure-footed handling, a well-balanced ride, and responsive steering – all in all, It's a pleasure to drive.
The 3.0 liter V6 pushes this relatively heavy vehicle to a 0-60 time of 5.6 seconds, a similar time to the Q7.
Pros
Exceptional comfort levels, outstanding handling and ride, elegant styling for an SUV, and a great blend of practicality and performance.
Cons
Limited headroom for rear seat passengers, not as practical as the Q7.
4. E-Tron GT
Weight: 5.060 lbs
Length: 196.4 inches
Width: 77.3 in
Height: 55.8 in
One of the heaviest Audi models available, the E-Tron GT isn't necessarily cheap, but it's an incredible car.
Powered by two electric motors that provide the equivalent of Audi's Quattro 4-wheel drive system, the E-Tron GT is a pioneer in Audi's electric car range.
Showcased originally at the Los Angeles Motor Show in 2018, the E-Tron GT is described as a four-door grand tourer and shares the same platform as the Porsche Taycan.
With a range of 236 miles on a charge, the E-Tron GT has a 93 kWh lithium-ion battery powering an 800-volt system that allows for reduced charging times.
While the range is considerably below that of a Tesla, the fact that the E-Tron GT it can be charged up to 80% in just over 20 minutes on the supplied fast charger is a significant advantage.
Standard features include:
Matrix-design LED headlights
Integrated navigation system
12.3′ HD screen and 10.1″ center touchscreen
B&O sound system
Adaptive air suspension
Heated front seats
Panoramic glass roof
Three-zone climate control
Driver aids including forward collision warning, blind-spot warning, lane departure warning
Front and rear parking sensors
Traffic sign recognition
Pros
Beautiful exterior and interior styling, high-quality finishes, excellent handling, and eye-popping acceleration, high comfort levels –  a pleasure to drive.
Cons
Limited range compared to the competition; low roofline makes accessing the rear seats difficult.
5. A7 Sportback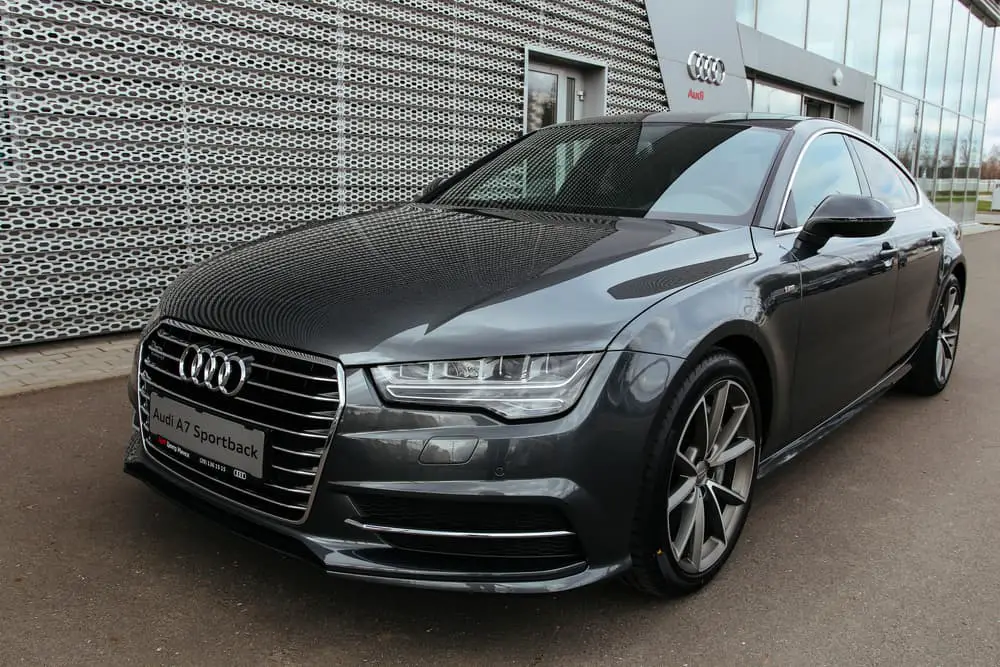 Weight: 4.343 lbs
Length: 195.6 in
Width: 75.1 in
Weight: 56 in
The A7 has been part of the Audi range since 2010. The 2023 version retains the elegant 4-door coupe-shaped body with the steeply sloped rear window integrated into the boot lid.  
The Audi A7 is essentially the Sportback version of the A6 sedan. However, it is much more practical in many respects, with a massive hatchback load area and luxurious 5-seater comfort.
With the renowned 335hp 3.0-liter V6 to power the Quattro system, it's a class-leading combination of space for passengers and luggage and exceptional performance for a car of this size. Sporty acceleration will take the A7 from 0 to 60 mph in 5.2 seconds, and steering is crisp and predictable.
Standard features of the A7 Sportback include:
Heated front seats
Leather upholstery
Power-operated hatchback
Ambient interior lighting
3-zone climate control
Pros
impeccable build quality, supple suspension, ample power, responsive steering, agile performance, and enormous load capacity. High safety rating.
Cons
Sloping roof limits headroom for rear seat passengers
6. A6 Allroad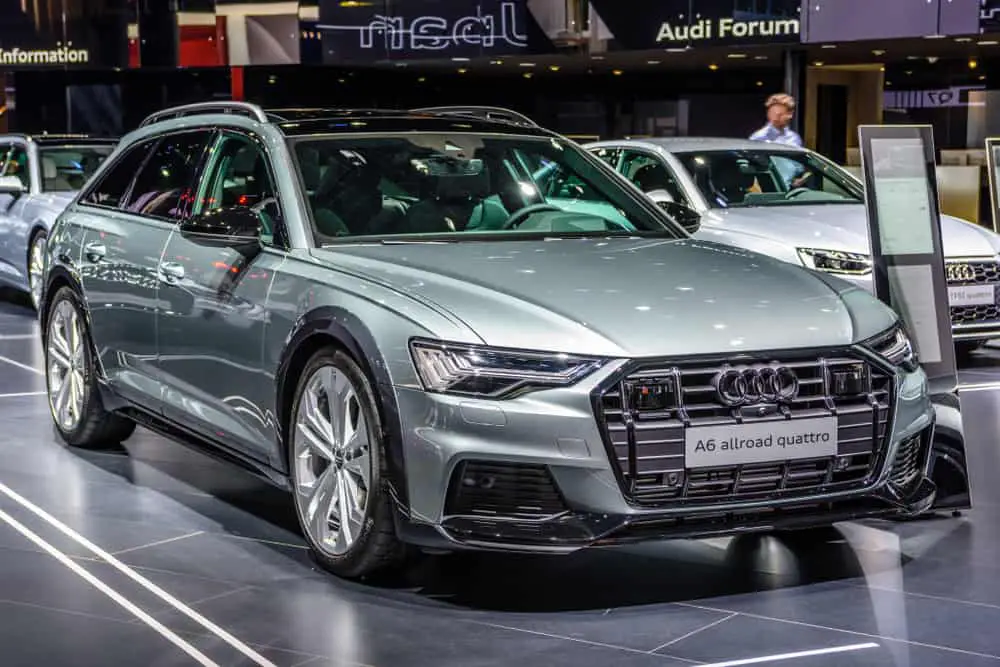 Weight: 4.982 lbs
Length: 194.9 in
Width: 74.9 in
Height: 58.9 in
Based on the A6 sedan, but given extra road clearance, more rugged exterior finishes, and the Avant station wagon body, the A6 Allroad is the perfect vehicle for those who need the space of an SUV but prefer the style and size of a sedan.
Given the additional ride height, the Quattro all-wheel drive, and the smoothly powerful 3.0-liter V6, the A6 Allroad is capable of handling rough terrain far better than the standard A6.
While by no means designed for off-road driving, there is a setting on the adjustable suspension that allows an additional 1.2-inch height adjustment for just this purpose.
Being slightly heavier than the standard A6 means the Allroad is marginally slower but still achieves a 0-60mph time of 5.2 seconds. In addition, on the open road, it is remarkably economical, returning a figure of 34 mpg.    
Standard features on the basic A6 Allroad include:
Adjustable air suspension
Virtual cockpit with digital instrument cluster
Additional center display for infotainment and car settings
Audi sound system
3-zone climate control
Panoramic sunroof
Leather seats
Heated front seats
Driver-assist safety features, including emergency braking and lane change assist
Pros
Exceptional ride quality, eye-catching styling, less bulky than an SUV, able to handle rough terrain, high safety rating, more spacious than the sedan.        
Cons
Station wagons are becoming less popular, so resale value is limited. Because of this, and it's more expensive than the A6 sedan, it's not the best value.   
7. Audi A6
Weight: 4.101 lbs
Length: 194.4 in
Width: 74.3 in
Height: 57.4 in
The shortest of the seven biggest Audis, but by no means a small car, the A6 comes with the choice of two power units – the 261hp turbocharged 4-cylinder engine or the 335 hp turbocharged V6.
Both can provide sufficient power to move the A6 pretty quickly, but because the smaller motor works harder, the highway consumption figure of 32 mpg is the same for both.
For that reason, our choice would be the V6 version of this mid-sized luxury sedan, which has as standard the Quattro all-wheel drive and a 7-speed automatic transmission. While not recognized as a performance vehicle, the A8 in this version reaches 60mph from zero in a creditable 4.8 seconds.
Standard features are as per the A6 Allroad, which we've listed above.
Pros 
High comfort levels and superior quality finishes as with all Audis, smooth V6 power, innovative technology as standard, high safety rating
Cons
Rather uninspiring, dated appearance, which remains unchanged from the previous model, and a comfortable rather than exciting drive.
I listed the smallest Audi models in this post.