There are many different types of riders in the professional peloton, each with their own characteristics that allow them to shine on different parcours.
Some riders though, have a collection of all of the attributes that riders need to win races overall rather than just stages alone, these riders are the leaders of their teams. 
The term that cycling fans and pundits use to refer to these kinds of riders are General Classification riders (GC), with them targeting overall victory at a series of races throughout the course of the season.
Most notably of all, these riders aim for success at the three Grand Tours (Giro, Tour, Vuelta) and are most well known for their exploits in these races. 
Today we will be running down through our top 7 best GC riders of all time, who do you think will take the top spot? 
7. Tadej Pogačar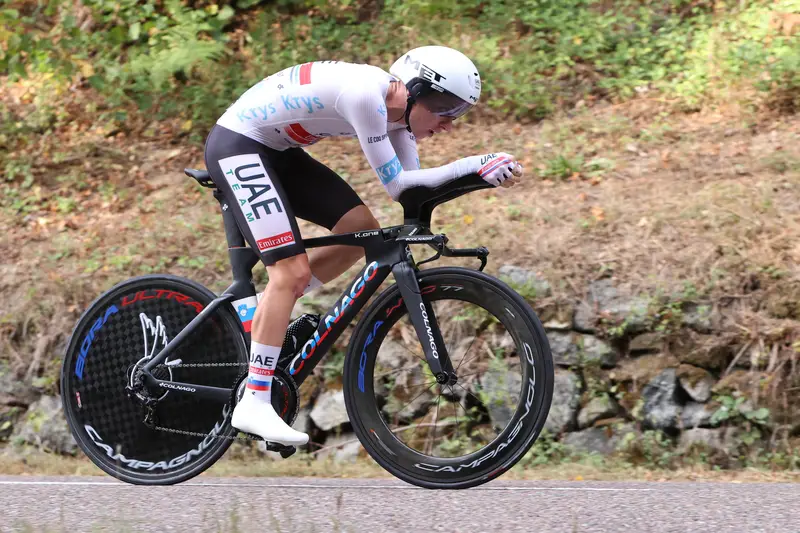 Slovenian wonderkid Tadej Pogačar is the first rider to feature on our list as he represents the latest generation of GC riders that have taken the world of cycling by storm.
At just the age of 21, Pogačar already has three Grand Tour titles to his name (2 Tours and 1 Vuelta) and finished in 2nd place in the 2022 Tour de France behind Jonas Vingegaard. 
For some time, GC riders in the 21st century had been accused of hiding behind great teams and not showing the true extent of their abilities, Pogačar ripped up this script and decided to use his talent to attack almost every race that he enters. 
Whilst he may not have as many successes to his name than some of the riders that may be missing from this list (Alberto Contador and Alfredo Binda etc.), his talent is clear for all to see and despite missing out this time around we can all be sure that Pogačar will add to his two yellow jerseys in the future. 
6. Chris Froome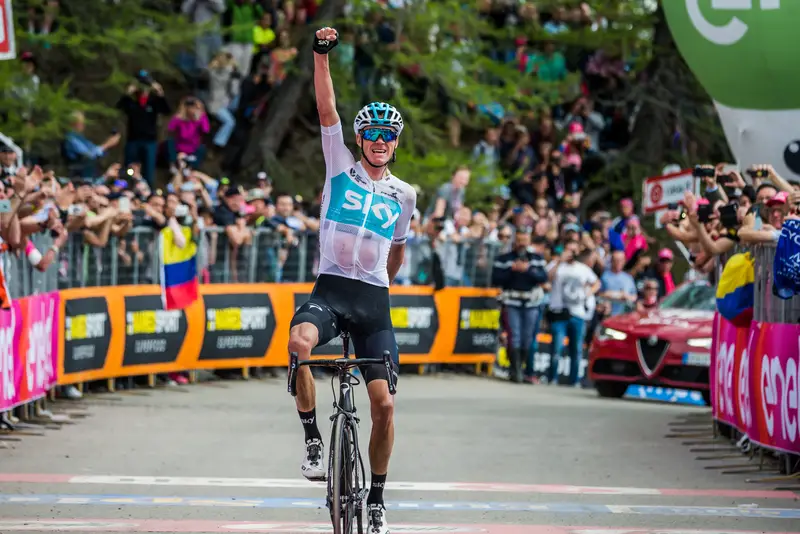 In an era stacked full of great climbing talent (riders such as Vincenzo Nibali and Nairo Quintana), one man stood head and shoulders above the rest.
British climber Chris Froome may be in the twilight of his stellar career these days, but in the past, he was arguably the finest rider of his generation. 
Alongside his generationally impressive Team Sky outfit, Froome rode his way to 4 Tour de France titles alongside 1 Vuelta a España and 1 Giro d'Italia.
Froome is known for his rather peculiar style of climbing that proved to be incredibly effective for him at times, Froome climbs almost completely seated and with his arms pointing outwards, looking as if he is struggling constantly. 
It looked as though Froome would go onto dominate for many more years when he was in his prime, but disaster struck the Brit whilst out training in 2019 ahead of the Dauphine.
It was widely seen as a miracle that Froome ever got back to the Tour de France, so it is no wonder that his days as a contender for the win are long gone.
5. Miguel Indurain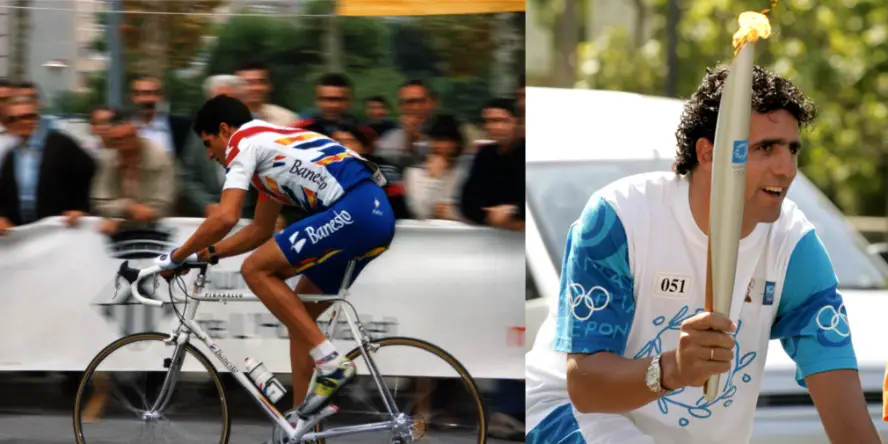 One of the best climbers to have ever graced the sport, Spaniard Miguel Indurain ruled the Tour de France for many years prior to the era of disgraced champion Lance Armstrong.
Indurain remains the only rider to have ever won 5 consecutive yellow jerseys at the Tour de France, and despite claims that he never really faced a worthy challenger is seen as a true legend of the sport. 
The Spaniard was also an excellent time triallist and this is widely seen as the main reason for his Grand Tour dominance in the 1990's, with him being a much better rider against the clock than all of his rivals. 
These days, youth is seemingly the key to success with the last few winners of the Tour de France all being under 25 years of age.
In the era of Indurain though, experience was worth far more than youthful exuberance, with the Spaniard not winning his first Grand Tour until 6 years after he first started one. 
4. Fausto Coppi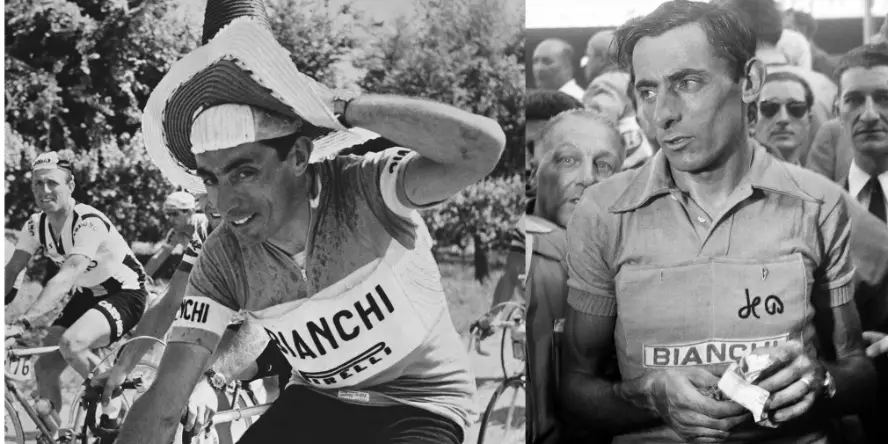 We have to go back to what some believe were the greatest days in the history of cycling to meet the 4th placed rider on our list, the greatest Italian rider of all time, Fausto Coppi.
Coppi raced in an era that revolutionised the sport, and alongside Gino Bartali formed part of the most famous rivalry in the history of the sport. 
Whilst many on this list enjoyed most of their success at the Tour de France, Coppi was far more successful at his native Giro d'Italia, in a time when many riders believed the Corsa Rosa was a more prestigious race than the Tour (partially due to prize money).
Coppi would take 5 Giro titles during his career and is forever immortalised by the 'Cima Coppi' prize awarded at every edition of the Giro for the first rider to cross the highest peak of the race. 
Despite not prioritising the Tour de France, Coppi still took 2 yellow jerseys in 1949 and 1952, making him one of the most popular riders from the post war era. 
He's widely regarded as the greatest climber in cycling history.
3. Jacques Anquetil 
It really is difficult to separate the riders in 2nd and 3rd on our list, but the first podium place goes to Frenchman Jacques Anquetil.
The man from Mont – Saint – Aignan won 5 Tour de France titles in the late 1950's and 60's is one of the best climbers to come out of the country that hosts the biggest race in the world. He was also the first rider to achieve the feat of taking 5 yellow jerseys. 
Similar to Indurain, it was his time trialling ability that made Anquetil stand out from the crowd, so much so that the locals dubbed their hero 'Monsieur Chrono' (Mister Time).
His career was not without controversy though, with some suggesting that Anquetil had doped throughout his time at the top. 
The reason that Anquetil was so well loved by the French was his charisma and appetite for a good time. It was once said that Anquetil prepared for a race with women and champagne, not the way you would expect a great champion to prepare these days!
2. Bernard Hinault
Another Frenchmen, and the best the country have ever produced, the man known as 'The Badger' takes 2nd place today.
Bernard Hinault is another rider that achieved the iconic feat of 5 Tour de France victories, having been at the top of his game in the 1970's and 80's. 
Hinault was a rider full of panache and was never shy of showing his strength in the mountains and could win most races at almost half of his very best level.
Towards the end of his career, the challengers became much stronger than he had previously faced and for me this is what made Hinault stand out so much. The Frenchman won when it mattered, which makes a great GC rider in my opinion. 
It took the emergence of American Greg LeMond to stop the badgers reign over the Tour de France. 
1. Eddy Merckx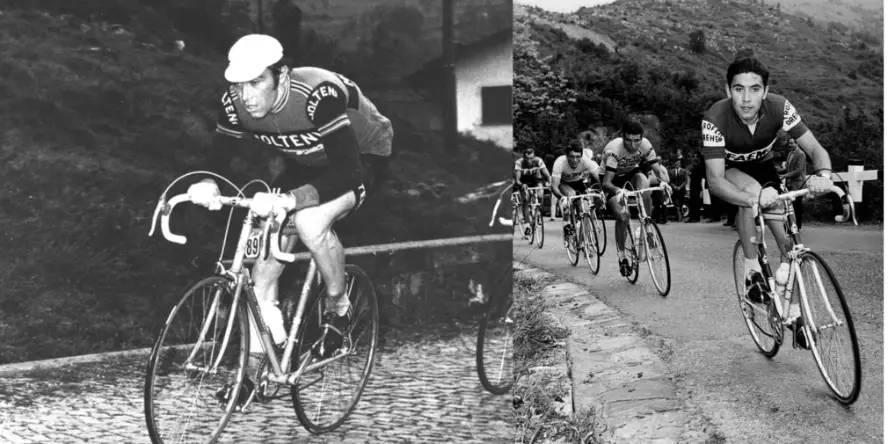 Undisputed these days, the greatest GC rider of all time is undoubtedly 'The Cannibal' Eddy Merckx.
More than just a GC rider, the Belgian was an all-conquering cycling machine that could win almost any race that was put before him and still holds most of the records for races around the world, including the Tour de France. 
Merckx won a total of 11 Grand Tours during his illustrious career and never really looked like being beaten when he started a race. There has been no rider before or after Merckx that can claim to have the ability or sheer dominance over the sport like he did. 
Merckx also holds the record for the most Tour de France stage wins alongside Manx sprinter Mark Cavendish, with 34 each. Could this be one record that may fall in 2023? 
A mention does go to Lance Armstrong who previously held the record for the most Tour de France wins but was stripped of them all after his famous doping scandal was unearthed in 2012.