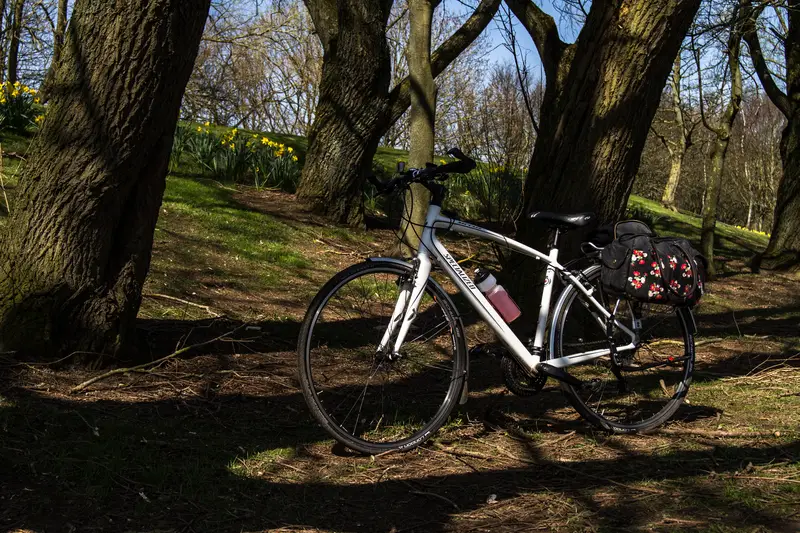 As bike brands go, there are hundreds of them, and they all claim to be high-end or innovative. Many of them cannot actually claim these titles, but specialized bikes can, the company was founded in 1976 by Mike Sinyard from the United States.
The company began life selling components before moving into bike production and were the first to manufacture a mass-produced mountain bike on the open market.
Fast forward to now and Specialized are arguably the biggest and best bike manufacturers in the world, as well as one of the most expensive.
Today, we'll be looking at 7 reasons why Specialized bikes are so expensive. 
1. A Recognized Brand
The first point to make about Specialized bikes are that they are made by a recognizable brand name from the United States.
Us Americans love to buy American made, and whilst many of the frames that Specialized make are built outside of the US nowadays, their origins will always be in the country, and this makes them a trusted brand. 
Companies don't become trusted in this country for no reason either, they have to earn it and Specialized certainly have. Their bottom-up approach to building their brand and stature in the cycling world is a great American success story, which is something that should be celebrated more in our opinion. 
It is an almost innate thing to trust certain companies these days, and Specialized are certainly one of those companies. This allows them to charge a premium on their products as they know that they can be marketed as reliable and high quality. 
2. Used By Many Pro Teams
This relates to the previous point but is more in relation to the coverage that Specialized bikes get on the world stage.
A number of UCI WorldTour teams riders use Specialized technology in their everyday lives, and this makes us consumers want to buy exactly what the professionals are using. 
Some of the most notable teams to ride on Specialized bikes are Bora – Hansgrohe and Quickstep – Alpha Vinyl, the latter of which are arguably the best team in the world right now.
The Belgian outfit is home to legends such as Mark Cavendish and Julian Alaphilippe as well as the current road World Champion Remco Evenepoel.  
This all matters because of the coverage that the bikes get on television and at the roadside. At the end of the day, bikes that are seen to be ridden by winners are more likely to be expensive and this allows the company to market their bikes as those used by winners. 
3. Built With The Best Components
Part of what makes certain bikes so expensive are what actually goes into making them and Specialized bikes are made out of the highest quality components on the market.
For example, the company work with Giant to build bespoke frames made out of the lightest carbon fiber materials they can source, making the bikes lighter and therefore faster than many of their competitors. 
Secondly, Specialized bikes are all fitted with Shimano gearsets as standard. Shimano are the market leader in these kind of components and have been for many years now, buying a Shimano gear and braking system by itself can cost hundreds of dollars and this is before a frame is in the question. 
It is basic economics to assume that if a bike has more expensive production costs and components, it is going to be more expensive to purchase. 
4. Known For Innovation
Ever since the company first launched in 1976, Specialized have been renowned for their research and development department.
This has slowly become one of the main aspects of the company's business model and has led to them unearthing and manufacturing revolutionary bikes and components. 
Working alongside professional teams has allowed Specialized to analyze what pro cyclists want from their bikes, as well as what they need to produce game changing aerodynamic frames and models.
The company even have a new slogan to go with their revolutionary gravel range: 'Innovate or die'. 
This is more of a marketing ploy than a true statement, but the sentiment rings true and by innovating and creating new things that consumers haven't yet tried out the company can raise prices. This is especially true if none of their competitors have managed to replicate the innovation as they would hold a monopoly over the new technology. 
5. Lower Production Numbers Than Their Rivals
This point relates to the relatively low production numbers that Specialized have when compared to many of their competitors.
The reason this is something that is of importance is that by having less of a mass-producing style sales model, Specialized have been able to market their models as high-end and bespoke, with some even made to order. 
Made to order bikes are incredibly expensive as they usually feature the exact specifications of the customer, and these can range from a new coat of paint all the way to diamond encrusted handlebars if you were to pay enough for them.
In this sense, bikes can be seen as statement pieces from the wealthy in the same way that cars are. 
Many of the components that go into Specialized bikes are hand-made which again increases the cost for consumers as you have to factor in the time and labor that had gone into producing the bike. 
6. The S-Works Range
As we have touched upon throughout this piece, the cost of components is one of the biggest reasons that Specialized bikes are so pricey and that is even more the case when it comes to their S-Works range.
Many people confuse S-Works with being a separate company to Specialized, in reality though they are just the even higher specification models that the company produce. 
These are the bikes used by the professionals and will set you back thousands of dollars to purchase. They have even better components that are at the level of what potential Tour de France winners want on their bike, no surprise that they are very expensive then! 
7. Consumers Want More!
The final point to make today is a more general one that makes all kinds of products more expensive and that is that consumers always want more from companies, especially when it comes to entertainment.
Bikes have been around for centuries now and there is only so much that can be done to improve them, yet consumers and teams alike demand innovative changes to the latest models in order for them to keep buying them.
Whilst Specialized have an amazing research and development program (as we discussed earlier), this costs a lot of money to maintain and improve each year. Partner that with the rising costs of near enough everything in recent times and that is a recipe for expensive bikes. 
It isn't wrong to demand innovation, but it is necessary to understand that it will drive prices up. 
There we have it, just 7 reasons why specialized bikes are so expensive. Will you be going out and buying one, or will you go for a slightly cheaper brand for your next bike?
Learn more about why bikes are so expensive in this post.