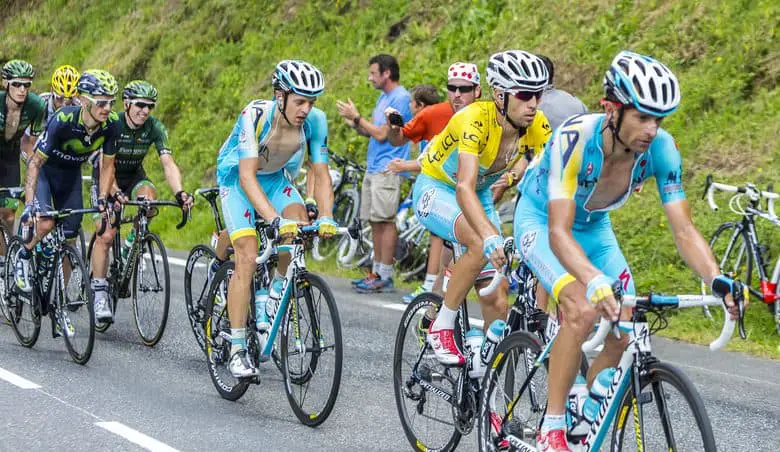 Unlike many top-class sports, cycling is often considered to have been dominated by relatively small people throughout its history and for the most part, this is true.
Despite this, there is still a place for tall riders in cycling as they bring completely different attributes to the table when compared to their smaller teammates. Tall riders usually excel at power-related specialties such as sprinting, time-trialing, and the classics. 
In this piece, we will be taking a closer look at the 10 tallest pro cyclists of all time, as well as what they specialize in and what they achieved during their respective careers.
Let's get straight to it! It must also be noted that the data for this piece was hard to come by, so if you know of anyone taller than those listed here, please let me know. 
10. Max Walscheid – 1.97m / 6 ft 6 in
We begin today's list with German rider Max Walscheid. As a rider, Walscheid has had a peculiar career that has seen him specialise in two different parts of the sport at various times in his life.
The German began his career as a sprinter and enjoyed some success in this role whilst racing for teams such as Giant – Alpecin and Sunweb. 
As a sprinter Walscheid didn't take many major victories though, with his biggest achievements to date being wins at the Tour of Hainan, Sparkassen Munsterland Giro, and 2nd place at the famous Scheldeprijs sprinters classic.
Walscheid is from the generation of sprinters that favor brute force over agility and as such his power levels also made him a solid time trialist. 
His best days as a sprinter are somewhat behind him now, despite occasional good results in smaller races.
He is though still a strong time trial specialist and has taken a number of good results in this discipline including top 25 finishes in both the national and European championships in 2022 alone. 
9. Johan Vansummeren – 1.97m / 6 ft 6 in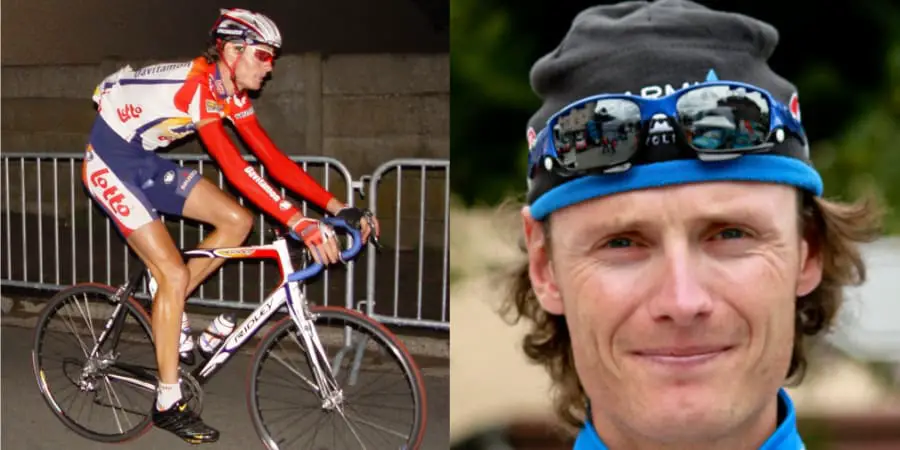 In a tie for 9th place in our list is another rider that comes in at 1.97m, Belgian classics specialist and rouleur Johan Vansummeren.
The Belgian was for a long while one of the tallest current professionals on the scene and could often be seen trying to break free of the peloton in grand tours and monuments alike. 
Vansummeren spent most of his career working for others as a domestique, and as such does not have the glittering palmares that many other classics specialists perhaps do.
Despite this, he did take a variety of wins across his career including the fabled Paris – Roubaix which in all honesty makes most other wins for this kind of rider irrelevant in comparison. 
The Belgian was actually a pretty strong climber for somebody that preferred life on the cobbles, he showed this back in 2007 when he took both a stage and the overall standings at the Tour of Poland which is one of the biggest events to take place after the Tour de France. 
8. Marcel Sieberg – 1.98m / 6 ft 6 in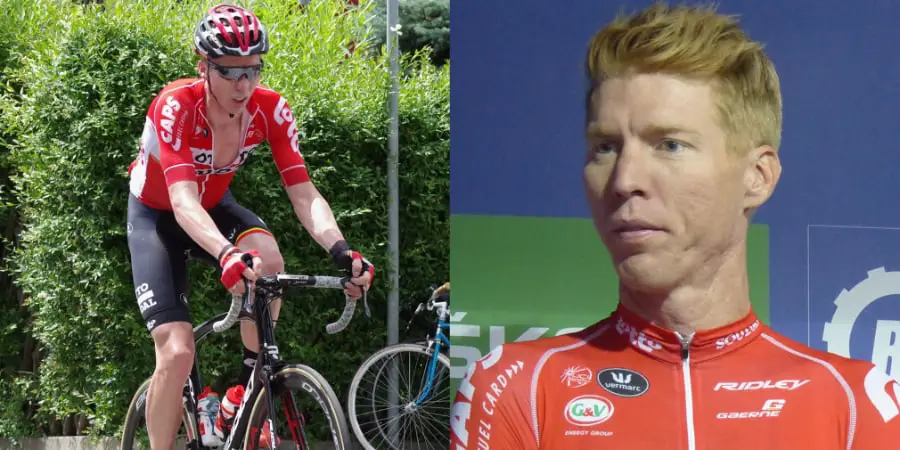 In 8th place today is another German rider that spent the majority of his career working as part of the lead-out train of a number of sprinters, marking himself as one of the best in the world at this role during his career.
Marcel Sieberg was not known for racing for himself and as such has very limited personal palmares. 
When taking a brief look at what the German achieved, it could be presumed that he did really enjoy a successful career as Sieberg only took 2 wins across the entirety of his racing life.
Taking a more broad look opens up a whole host of triumphs though, and whilst they may have been achieved in service of other riders they are equally as important to lead-out men like Sieberg. 
Sieberg retired in 2021 after having spent his final years with Bahrain – Victorious, he is now a sporting director at WorldTour level team DSM. This guy has plenty of time left in this sport. 
7. Mathias Norsgaard – 1.98m / 6 ft 6 in
Currently the tallest rider in the professional peloton, Mathias Norsgaard is also one of the hottest prospects on the Movistar roster. The Danish rider is the brother of another Movistar talent, Emma Norsgaard and together they are hoping to take the peloton by storm over the coming seasons. 
Despite this talent, Mathias has somewhat stalled when compared to his sister as it had been hoped for some time that he would progress into the next great stage racer for the Spanish outfit.
In reality, though, his size makes him less suited to this role than others in the team and Norsgaard is on the path to becoming a top-level time triallist in the future. 
The Dane has already enjoyed a good amount of success in his relatively short career, taking stage wins at races such as the Benelux Tour and the Chrono – Des – Nations.
The 2022 season also saw Norsgaard become the national champion of Denmark in the time trial, with him set to wear that jersey throughout the 2023 season.   
6. Roesems Bert – 1.98m / 6 ft 6 in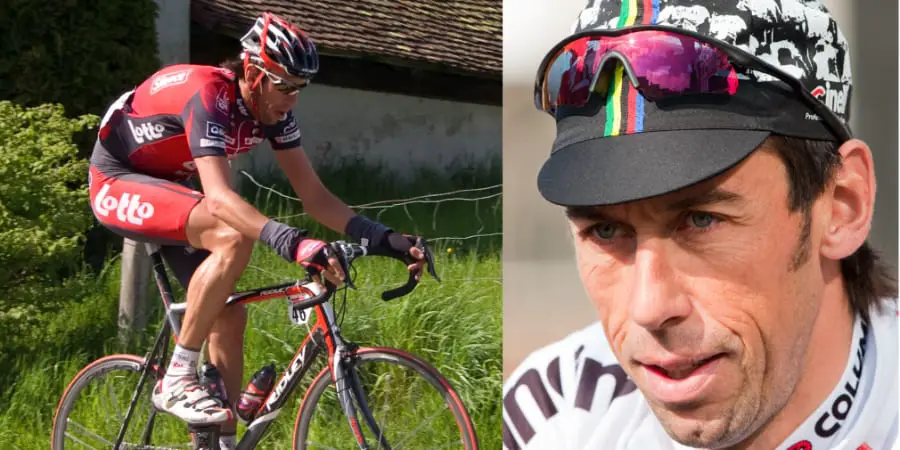 Yet another rider that is tied for 6th place in this list, Roesems Bert raced in the late 1990s and throughout the majority of the 2000s.
The Belgian rider spent most of his time in the lower ranks of the professional racing scene and never really managed to break into the top brass at any point. 
Given that his career was spent out of the WorldTour for the most part, Bert did manage to sweep up a healthy number of victories at Pro Continental level and below.
These successes included races such as Nokere Koerse, Tour of Belgium, and Brussels – Ingooigem, though perhaps his best result came at Paris – Roubaix where he took a creditable 8th place in 2006. 
Like many on this list, Bert was primarily a time trialist but also enjoyed racing hard on the cobbles. He is not a rider many will be familiar with, even those that know the sport inside out, so perhaps one to look into further if that sort of thing interests you.
5. Andrew Levitt – 1.99m / 6 ft 6 in
Onto another centimeter taller, the next man on our list is American rider, Andrew Levitt. Not much is known about this newcomer to the sport except that he is 24 years old and is beginning to show himself at the elite level in the national championships. 
Levitt is a strong time triallist that has long been plying his trade in the youth ranks across the United States, with him competing in the under-23 nationals back in 2017 where he only managed a 35th place finish. Fast forward to now and Levitt has clearly progressed to the point where he can race at an elite level and managed to take a creditable 31st place in the recent national time trial. 
Outside of the time trial, not much is known about Levitt's ability. He has been spotted at a number of one-day races in the US but has never been towards the business end of proceedings. Levitt finished outside of the top 50 in the national championship road race in 2022.  
4. Dion Beukeboom – 1.99m / 6 ft 6 in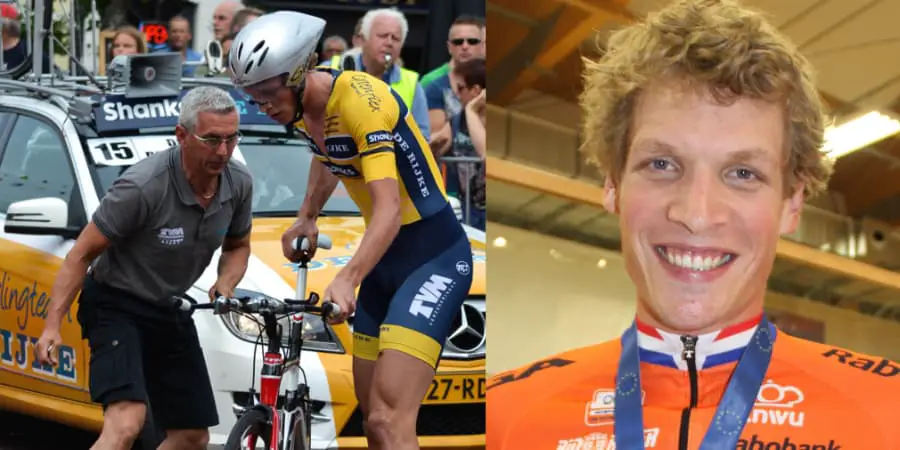 In 4th place today is the only Dutchman to make the cut, Dion Beukeboom is another rider that spent the majority of his career outside of the WorldTour and tried to make a living by sweeping up results at the lower levels before retiring in 2019. 
The Dutchman was a similar rider to Max Walscheid whom we discussed earlier as he could also sprint and time trial to a pretty strong standard. Beukeboom only raced for 8 years and did not take many wins over this time, though he did win stages at the Tour of Normandy and Olympia's 3M Tour over the years. 
For me, these kinds of riders are among the most fascinating in the bunch as the rationale for continuing on a path that has not delivered much success can only be attributed to a pure love for the sport and that is truly admirable. 
3. Stijn Vandenbergh – 1.99m / 6 ft 6 in
Moving onto the podium of today's piece, we have Belgian classics specialist Stijn Vandenbergh in 3rd place this time around. Vandenbergh is another rider that promised so much in the classics yet failed to deliver on this promise for the majority of his career.
As part of a number of top classics teams such as Omega Pharma – Quickstep and Team Katusha it was long hoped that Vandenbergh would become the next great classics star, and whilst he never managed to take a win at any of the major classics he did often find himself towards the pointy end of the action. 
Vandenbergh took a podium finish at races such as Omloop Het Nieuwsblad and Grote Prijs Jef Scherens as well as a handful of 4th place finishes at other top one-day events.
The Belgian did manage to win a small number of races during his career, including the GC at the Tour of Ireland in 2007 with this being the biggest individual win of his career. 
2. Conor Dunne – 2.03m / 6 ft 8 in
Racer turned presenter Connor Dunne was for a long time the tallest rider in the professional ranks, with him also being one of the tallest to have ever taken on a Grand Tour. The Irishman was not known for much more than being a reliable worker for his team and would often empty himself in the service of others. 
Dunne was a decent sprinter during his racing days, and despite some claiming he failed to take enough wins in his time he did taste victory at the national championships and the Rutland – Melton Classic over the years. Though it can be noted that the latter is a very minor win in the world of cycling. 
The Irishman did take part in a number of Grand Tours during his short career, with his best display coming at the Giro d'Italia in 2019 where he took a top 20 in a stage. 
Since retirement, Dunne has moved into the media and is now working with GCN on their YouTube channel as a presenter. 
1. Guillermo Brunetta – 2.04m / 6 ft 8 in
Finally, the man believed to be the tallest professional bike racer of all time is Argentinian rider Guillermo Brunetta.
Very little is actually known about this rider as he spent the majority of his time in his native Argentina with the wider cycling world only really getting to see him at the annual Vuelta a San Juan that takes place at the start of the season. 
Brunetta was a prolific time triallist that dominated the south American part of the sport for many years, he is a 4-time national champion as well as a 3-time Pan-American champion is the time trial.
Alongside these wins on the TT bike, Brunetta was also the champion on the road for Argentina on one occasion, taking the win back in 2001. 
It is somewhat of a shame that we never got to see Brunetta take on European competitors at any point in his career as I think he really could have tasted some good success at WorldTour level.