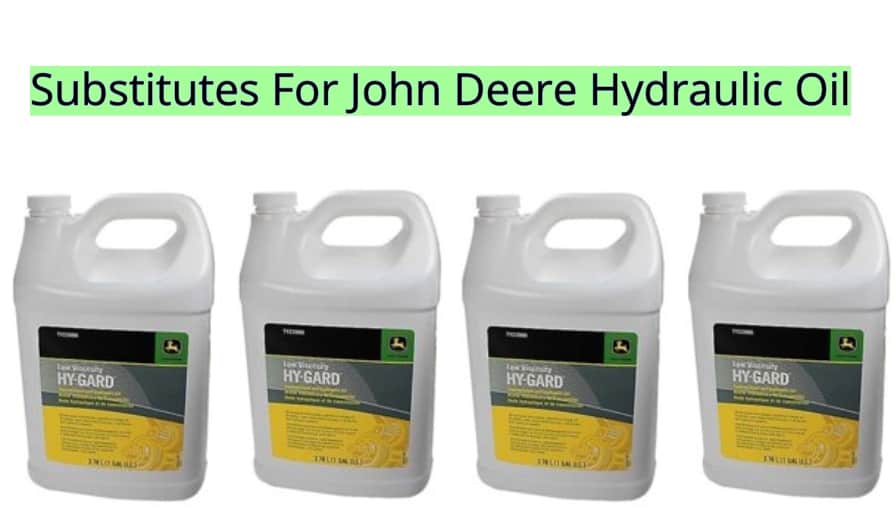 Deere & Company manufactures agricultural equipment, diesel engines, forest machinery, and other industrial products.
For use in its hydraulic machinery, the company manufactures its own hydraulic oil, called Hy-Gard, which maintains a good reputation for transferring power and keeping moving parts lubricated.
That said, do owners of John Deere hydraulic systems have to use Hy-Gard?
Hy-Gard hydraulic oil grades (low and high viscosity) are developed by John Deere for its products. However, other hydraulic oils on the market match these grades for John Deere transmissions, wet brakes, gearboxes, and differential units.
Finding a John Deere hydraulic oil substitute is as easy as visiting your local auto parts store. Just make sure it meets the John Deere specs, which are mainly J20C (high viscosity) and J20D (low viscosity).
This article will discuss the best substitutes for John Deere hydraulic oil. 
J20C High Viscosity Alternatives
Oil and hydraulic fluids with the J20C grade are for use during hot months. This grade is a thicker lubricant that, as it loses viscosity due to extreme heat, maintains enough consistency to be effective. 
Below is a list of J20C alternatives to John Deere hydraulic oil: 
1. Starfire Premium Tractor Hydraulic & Transmission Fluid
Starfire Lubricants is owned by Coolants Plus in Hamilton, Ohio. The premium version of their hydraulic and transmission fluid, Starfire Premium Tractor Hydraulic & Transmission Fluid claims 5,000 hours of operation time. It also works as a rust deterrent and seal strengthener. 
The company's tractor hydraulic and transmission fluid meets J20C specifications for high viscosity.
Check the price on Amazon here.
2. Mobil Fluid 424 High-Performance Tractor Hydraulic Fluid
Mobil's Fluid 424 High-Performance Tractor Hydraulic Fluid advertises as a low-viscosity hydraulic fluid, but the label states that it works well as a J20C alternative, too.
Like Starfire Premium, it's designed to improve the performance of agricultural equipment, mainly by reducing wet brake and power take-off chatter and reducing leakage by acting as a gasket sealant.
Equipment that requires API GL-4 or SAE 80W grade lubricants is compatible with Mobil Fluid 424 Tractor Hydraulic Fluid. This includes the following: 
Farm machinery 
Heavy-duty transmissions 
Hydraulic systems Hydrostatic drives
Check the price on Amazon here.
3. Triax Premium HLP Hydraulic Oil
Triax Premium HLP Hydraulic Oil advertises itself as a substitute for CAT Hydo 10 fluids but is perfectly suitable as a Hy-Gard substitute. 
You get the whole package here: 
Foam resistance 
Oxidation resistance 
Rust protection 
High heat performance
Triax is formerly known as Triax Lubricants LLC. They made products solely for commercial and military purposes until 2015 when they decided to breach the general consumer market and become Triax.
You can buy this product in 4-gallon (15 liters) jugs.
Check the price on Amazon here.
4. Stens 770-730 Universal Tractor Fluid
This is one of those products that are pretty easy to find and meets all the requirements for John Deere hydraulic machinery. With just a few clicks, it can be on its way to your front door.
Stens 770-730 Universal Tractor Fluid will cover all your needs for hydraulic and transmission fluid very neatly. All the specs it meets are described on the back of the 1-gallon drum (4 liters) and can be used for the following: 
Tractors
Off-highway equipment
Industrial equipment
Agricultural equipment
Check the price on Amazon here.
5. Shell Rotella HD
The J20C version of Shell Rotella HD lubricant is an excellent quality product that you can use for various applications: 
Hydraulic systems
Tractors
Transmissions
Off-road vehicles
Oil-immersed brakes
Ancilliary systems 
On the back label, you'll find it's a suitable replacement for John Deere J20C.
It makes a solid alternative for John Deere Hy-Gard fluid and can be used for the following: 
Hy-Gard 
JD 303 
J20A 
J20C 
J14B&C
You can use this product in: 
Transmissions 
Hydraulic systems 
Final drives (end of transmission systems) 
Wet brake sumps
Check the price on Amazon here.
J20D Low Viscosity Alternatives
You can use oil and hydraulic fluids with the J20D grade during the winter months. The lubricant is leaner than J20C to counteract an oil's tendency to thicken in cool temperatures, impeding a machine's moving parts. 
Below is a list of J20D alternatives to John Deere hydraulic oil:
1. Hapco Premium Hydraulic Oil
This is one of those "all-rounder" hydraulic oils that claims compatibility with all standard fluids. This hydraulic oil has anti-rust and corrosion properties, and you can use it with similar fluids.
One caveat:  This product is not recommended for hydraulic brake systems or automatic transmissions. Still, it's worth considering for its low price tag of $59.99 per gallon (4 liters).
Check the price on Amazon here.
2. Kubota Super UDT 2
Kubota is based in Osaka, Japan, but that doesn't mean you can't buy it in the USA. The company distributes various automotive lubricants and fluids, including an alternative for John Deere's Hy-Gard.
Kubota Super UDT 2 fits the bill for heavy-duty for the following: 
Transmissions 
Differentials 
Hydraulic systems
Wet brakes 
Hydrostatic drives
Although it's a pricier option than other fluids mentioned on this list and doesn't come with a pouring spout, Kubota is a highly-respected brand, and this fluid is testament to it. 
Check the price on Amazon here.
3. Mag 1 Universal Tractor Hydraulic Fluid
Mag 1 is owned by Warren Distribution. It was founded in 1922 and has since cast its net of products all over the globe.
Like Hapco's Premium brand, Mag 1's low-viscosity hydraulic fluid is one of those all-around universal alternatives.
It offers various impressive properties, such as its ability to protect against oxidation, residue, and thermal degradation. It's also a high-performance fluid and can be used at a wide range of temperatures.  
Mag 1 Universal Tractor Hydraulic Fluid is readily available in 5-gallon drums (19 liters). 
Check the price on Amazon here.
How To Choose the Correct Hydraulic Oil
Hydraulic oil plays more than one role in protecting a hydraulic system. In choosing the perfect brand for a system, we must remember that the oil has various functions:
Lubricant
Power transfer fluid 
Gasket sealer 
Heat transfer fluid
Then, we have the fluid's base or chemical makeup. It could be:
Water-based
Petroleum-based
Synthetic
Each has its pros and cons, and you'll need to choose depending on your specific system and the conditions under which it operates.
For instance, synthetic fluids are man-made to provide high lubrication under extreme heat. Water-based fluids are often used under flammable circumstances (hence the need for extra water).
Petroleum-based fluids work well without a hefty price tag but frequently need additives or inhibitors to achieve maximum performance.
Choosing the incorrect hydraulic fluid for your system will not necessarily result in sudden, catastrophic failure. Rather, the damage will occur over time.
When choosing an alternative to John Deere's Hy-Gard, the product labels and the hydraulic system's manufacturer requirements are good places to start.
Viscosity Needs for Hydraulic Pumps
Another place to help determine what kind of fluid you should use is the hydraulic pump.
The 3 main kinds of pumps are: 
Each has different viscosity needs based on centistokes. And what exactly is a centistoke?
A centistoke (CST) is a unit of measurement for the viscosity of a fluid. The CST unit is commonly used to measure the viscosity of oils, especially lubricating oils like the kind found above.
An oil's viscosity is important because it affects how well the oil can lubricate the moving parts of an engine or machinery, and an oil with the wrong viscosity can cause wear and damage.
Putting it in layman's terms, it is a way to measure how thick or thin an oil is. The lower the CST number, the thinner the oil; the higher the CST number, the thicker the oil.
Now let's look at some different kinds of pumps and the types of viscosity fluids they need:
Gear Pumps
Gear pumps are the most common kind and can be found in agricultural equipment, over-the-road trucks, and hydraulic brake systems.
They pressurize fluid by trapping air between meshing gear teeth and the wall of the pump. A gear pump produces operating pressures of about 3200 psi.
Gear pumps are best suited for high-viscosity fluids.
Piston Pumps
Piston pumps produce much higher pressure than gear pumps—up to 6000psi. They contain a cylinder block with pistons that move in and out, which draws lubricant through the unit and into the hydraulic system.
For piston pumps, choose a hydraulic fluid with a viscosity of 10-160 centistokes.
Vane Pumps
Vane pumps provide a consistent lubricant flow through rotors mounted to a spinning shaft. Their viscosity requirements are similar to piston pumps—about 14-160 centistokes.
Vane pumps tend to require more maintenance due to the constant contact of the vanes with the inner wall of the shaft. This contact tends to wear down the vanes over time.
Bent Axis Pumps
This type of pump uses a rotating cylinder with pistons arranged in a "bent" or angled pattern to move fluid. They are often used in mobile and industrial equipment, so I feel the need to include them here.
The viscosity requirements of bent-axis pumps can vary depending on the specific design and application (here, we refer to agricultural hydraulic pumps).
Bent axis pumps are designed to handle lubricating oils with viscosities ranging from around 10 CST to around 600 CST.
This is by no means set in stone, however, as some designs may be able to handle higher or lower viscosities.