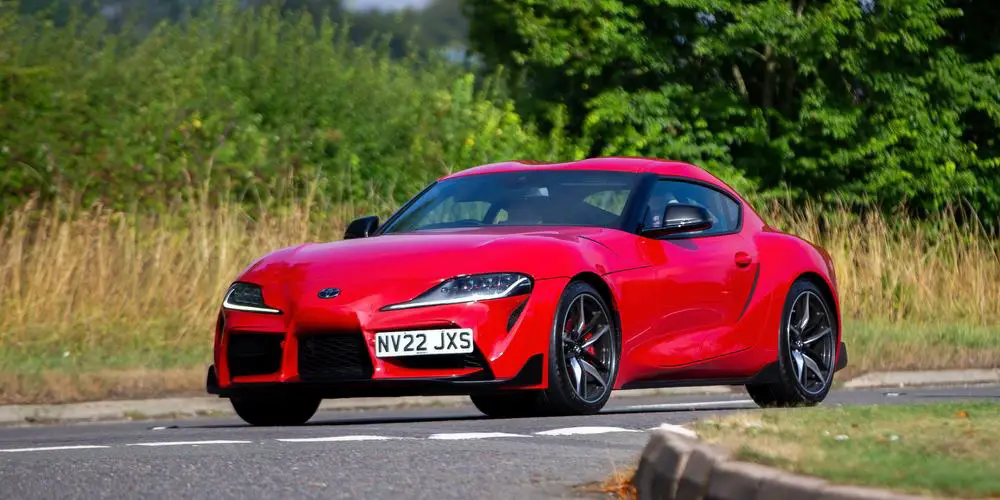 In 1937, Kiichiro Toyoda (1894 – 1952) founded Toyota, and they have been producing popular and reliable cars ever since.
Toyotas are expensive these days and a lot of that comes down to its excellent resale value. They are known for its diverse lineup, ranging from big SUVs to sleek sedans. But which models claim the title of the smallest in the Toyota family?
Here are the 7 smallest Toyota cars ever produced:
1. Toyota Publica P10 (1961-1966)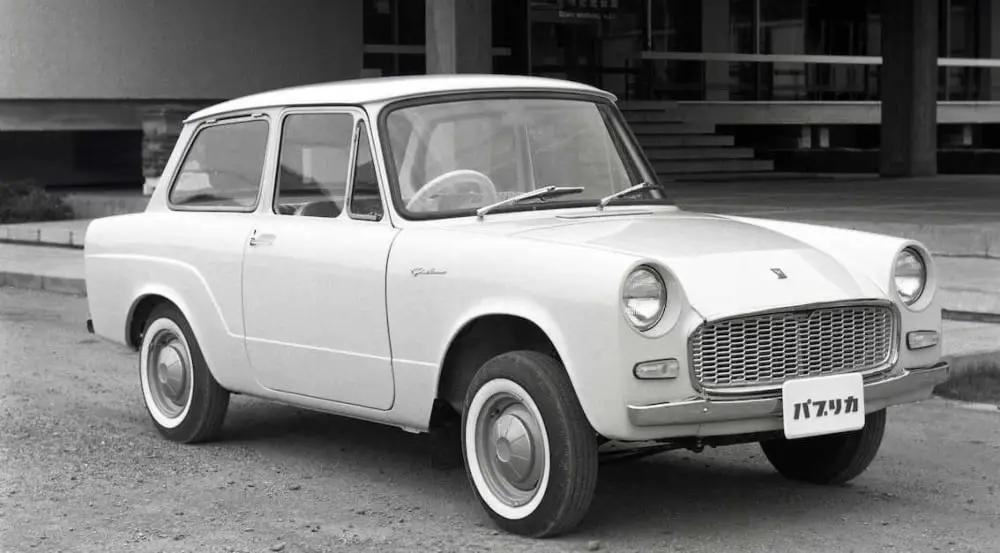 Height: 54.3 inches
Width: 55.7 inches
Length: 138.6 inches
Weight: 1,279 lbs
Engine size: 697 cc
The Publica P10 was introduced to the world in the early '60s. It doesn't look like it, but this two-door Toyota does have four seats.
Designed as a family car, they say. Although the squeeze would be sardine-in-a-can-like because it is also the narrowest car on the list at a mere 55.7 inches.
To remedy this or at least the feeling of claustrophobia, Central Motors started producing a convertible version of the Publica P10 in 1963.
With a maximum speed of 68 mph managed by a 4-speed manual gearbox, the Publica P10 might seem decent enough. That is, until you get inside and realize you have no radio or heat source. Unfortunately, you get what you pay for.
2. Toyota Starlet P60 (1978-1984)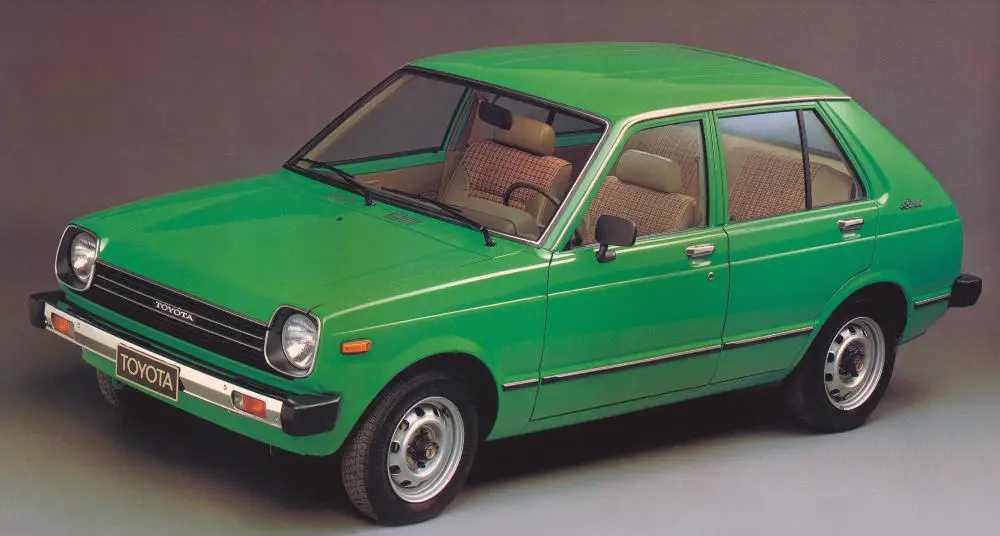 Height: 53.9 inches
Width: 60 inches
Length: 144.9 inches
Weight: 1,620 lbs
Engine size: 993 cc
First produced in 1973, the Starlet P40 was the replacement for the Publica P10, P20, and P30 series. It later became the first Japanese subcompact car to have high-performance variants.
In 1978, the production of the Starlet P60 hatchback started. It was the first Starlet ever sold outside of Japan and was well-received by the rest of the world. It also utilized the rack-and-pinion steering, the first Toyota with this feature.
The Starlet P60 has become quite a collector's item partly because of its scarcity and difficulty finding one in good condition.
3. Toyota Corolla (1966-1970)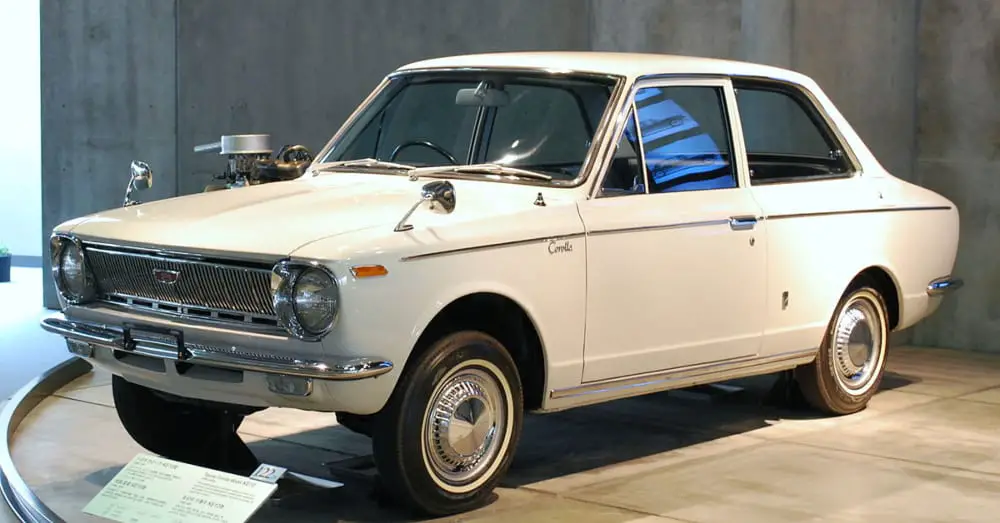 Height: 54.3 inches
Width: 58.5 inches
Length: 151.4 inches
Weight: 1,587 lbs
Engine size: 1100 cc
The first model that comes to mind after hearing 'Toyota' is the Corolla. The Corolla variants are the best-known model of the Toyota brand and are proving to withstand the test of time.
With more than 50 million units, Toyota surpassed the industry-famous Beetle in numbers sold globally, making Corolla the best-selling vehicle.
Twelve generations of Corollas have been steadily making a name since its first model was manufactured in 1966 with 65hp, a 4-speed manual transmission, and a top speed of 87 mph.
After more than 50 years, the Corolla still boasts reliability and excellent resale value. The Corolla from 2020 was praised globally for its new look. It was also anxiously awaited by many who were excited to own a Corolla again.
The Corolla has many upsides, like being faster than its predecessors and rivals in its class at the time and having a sporty design. It also had bold interiors and was one of the first cars with a gear shift on the floor.
4. Toyota Aygo (2005-)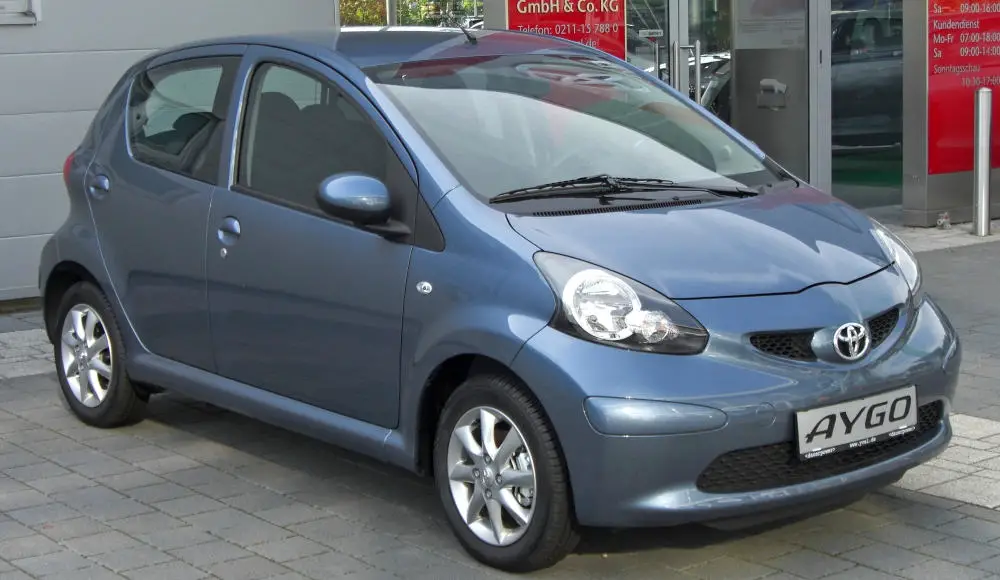 Height: 57.68 inches
Width: 63.58 inches
Length: 134.06 inches
Weight: 1,962 lbs
Engine size: 1000/1400 cc
The Aygo (a play on the word 'I go') is the shortest car on this list. It has an uncomfortably similar power output to the '67 Corolla. Still, almost 40 years later, you'll at least have access to a maximum speed of 95.69 mph if you feel adventurous.
The Aygo is a mix of the concepts for the Citroën C1 and Peugeot 107. The Aygo project was known as B-Zero after the presidents of Toyota and PSA Peugeot Citroën agreed to produce the car in 2001.
Production started in 2005, and in 2009, the Aygo received its first facelift with changes to the front bumper and rear lights. Some automatic models were reported to have sticky accelerator pedals between these years.
Despite the bump in the road, the Aygo bounced back and got prized by the German Automotive Club in 2010 for being reliable and ahead of all other sub-small cars.
It also received compliments for its maneuverability during an episode of British Top Gear, where the hosts were playing football using the vehicles to move a giant ball around a pitch.
5. Toyota Agya/Wigo (2012-)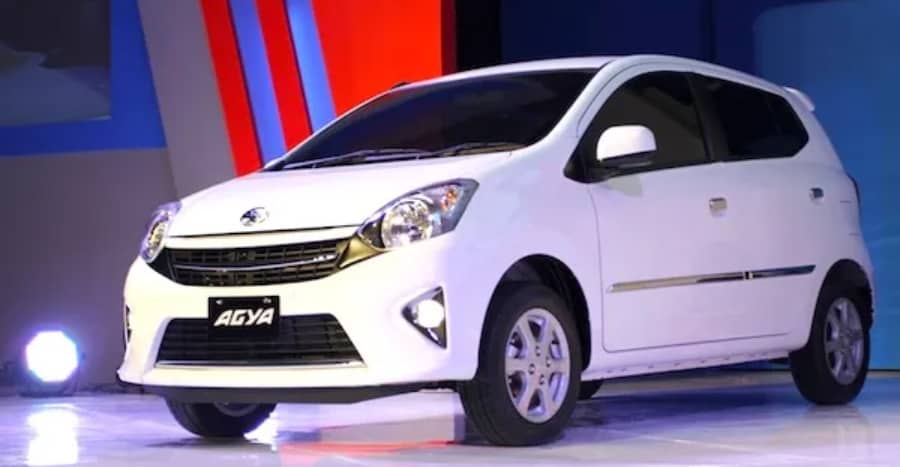 Height: 59.8 inches
Width: 62.99 inches
Length: 144.09 inches
Weight: 1,884 lbs
Engine size: 1000 cc
Ideal for first-time car owners, the Agya has an optional manual and automatic transmission, affordable service plans, and excellent fuel economy. 
The name is often (mistakenly) used interchangeably with Aygo. People who are slightly more car-wise know that the Agya is lengthier and broader and has a different look from the Aygo. The Agya also has an improved boot space of about 50% more than the Aygo.
There are four Ayga models to choose from, the difference being combinations of two different audio systems and transmission types. Something to note is that the Ayga is called Wigo in some South-East Asian countries.
6. Toyota Yaris (1999-2005)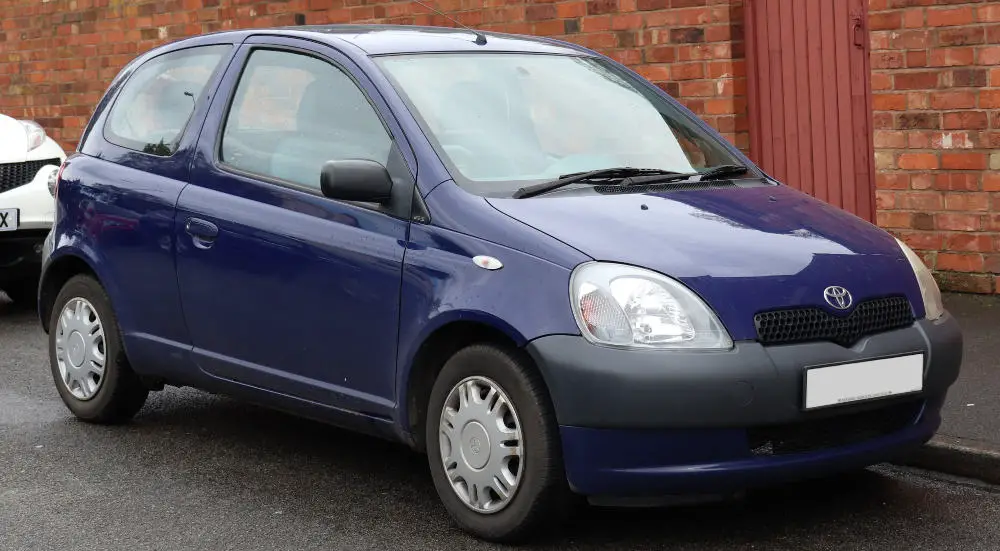 Height: 57.48 inches
Width: 66.53 inches
Length: 147.64 inches
Weight: 1,829 lbs
Engine size: 1000 cc
Relatively well-known for its odd speedometer placement, the Yaris was an excellent choice for anyone looking for their first car. The Yaris has good handling and won awards and hearts around the world.
Sadly, an array of complications with the airbags and brakes deflated this esteem and stopped its sales from reaching the potential the Yaris was steering toward.
Otherwise, Carsguide.com from Australia rated it 7.8 out of 10, noting its reliability, safety, and low insurance cost – boosted by good parts availability – and great value for money.
The three, four, and five-door options all feature a four-cylinder, 1.5L, 106-hp engine. It competes with the Nissan Versa, Fort Fiesta, and Honda Fit. Still, it loses the race regarding power, torque, and dimensions while having the lowest price.
A Yaris is a good purchase if you want an economical car with a reasonable price tag, good handling, and spaciousness for its class. 
7. Toyota TS050 (2016-)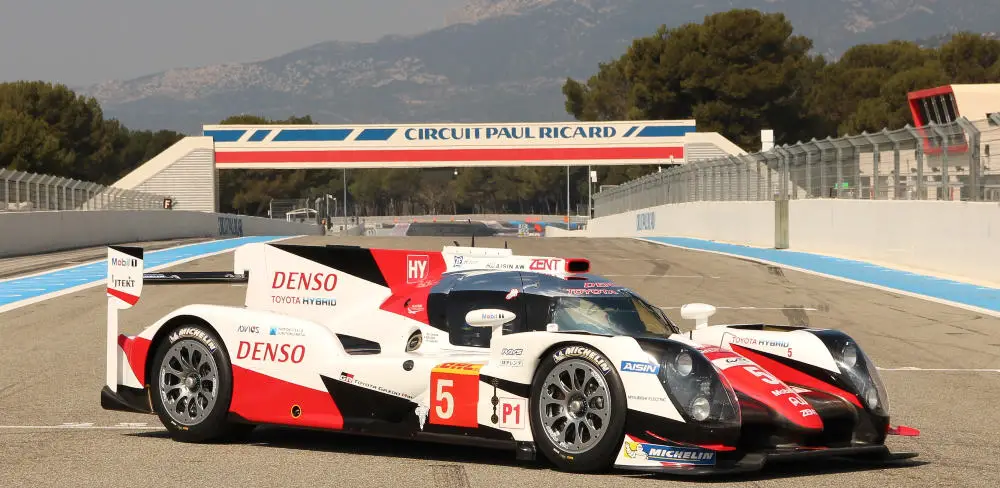 Height: 41.38 inches
Width: 74.8 inches
Length: 183.07 inches
Weight: 1929 lbs
Engine size: 2.4 L
The lowest Toyota at a height of only 41.30 inches is the TS050. This car deserves to sneak onto the list as a pleasant surprise.
The TS050 model bearing the Toyota badge is a discontinued sports prototype car that many motorsport enthusiasts remember fondly. The TS050 carried Japan to multiple top finishes in the Le Man's Prototype competitions and has a unique, iconic design.
As a direct successor to the TS040, the TS050 featured a 2.4L twin-turbocharged petrol V6 engine and an 8-megajoule hybrid system with lithium-ion batteries instead of the V8 engine previously used.
The baton was later passed on to the GR010 Hybrid, not far behind in size nor achievement, earning the fourth consecutive 24 Hours of Le Man's podium, which the TS050 started in 2018.