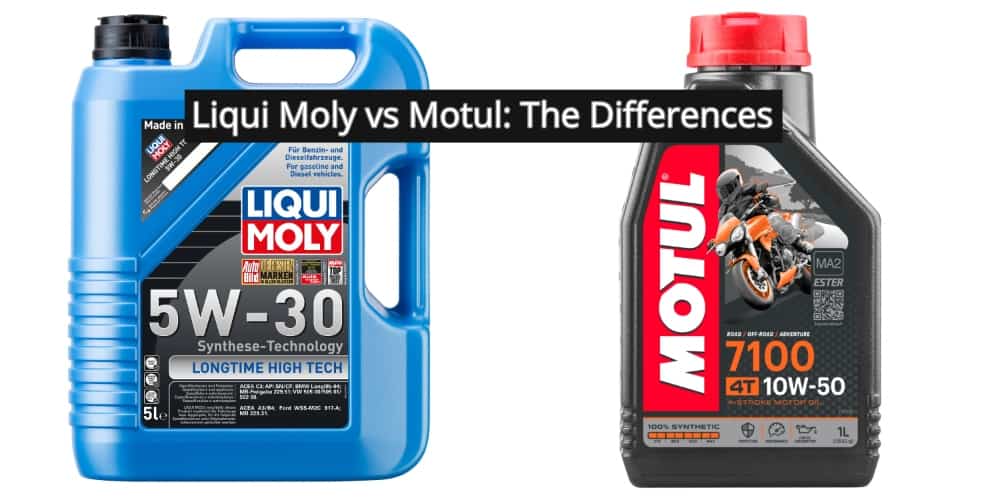 Liqui Moly and Motul both have their advantages and disadvantages, and as a vehicle owner, you naturally want the motor oil that precisely targets your engine requirements.
You also want to miss out on the disadvantages and max out on the advantages. So, which of the two is for you?
Liqui Moly is better for riders who expect consistently good fuel performance. On the other hand, Motul is better for riders who value engine protection and versatility. Both fuel brands, however, are top-level in the market and offer the best value. 
This article will discuss the similarities between the two before discussing what sets each other apart. I know you want the best for your engine, so I'm here to guide you on what you should have in your cart the next time you go shopping for fuel.
Let's get started!
Liqui Moly Vs. Motul: Basic Similarities
One of the primary similarities between the two is the amount of regulation. Since these are some of the most well-known motor oils out there, they have to abide by strict chemical standards such as those of the American Petroleum Institute.
Mechanics usually advise going for trusted names because the lack of regulation with off-brand oils makes them susceptible to chemical tampering. Fillers may be infused into the fuel, which may harm your engine.
Another similarity is their emphasis on power, performance, and protection. Both try to satisfy all aspects of a good motor and not solely focus on one. Still, it cannot be denied that there are some areas that obviously stand out as the priority and others that are compromised.
Of course, we cannot really compare the entire motor oil catalog of Liqui Moly and Motul in this article. Instead, we will compare selected Liqui Moly products against their Motul counterparts to determine what works best for you. 
This way, you can see what areas each brand prioritizes.
Fuel For Everyday Use: Liqui Moly Street Vs. Motul 7100
Our first comparison will highlight the fuel products touted for general use by the two companies. If you aren't using your motorcycle for anything in particular, this is the comparison you must take note of. 
For the first comparison, we will make use of the 10W-40 variants. Taking note of the fuel's grade is important when assessing fuel quality. I even wrote about how you cannot just interchange fuel of different viscosities in this article. 
With that said, let's see how the two products compare:
Liqui Moly Street 10W-40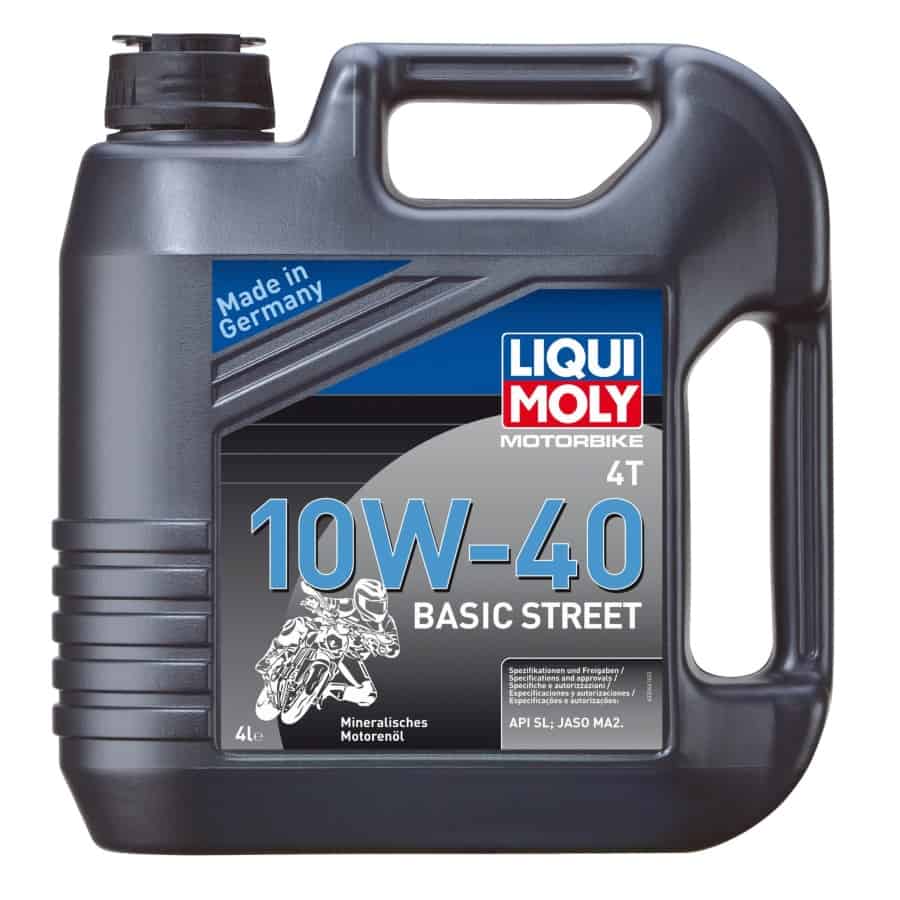 This product meets the JASO-MA2 standards, which means it's compatible with bikes with catalytic converters in their exhaust systems. 
It also takes around 3,000-5,000 kilometers (1864.11-3,106.86 miles) for your Liqui Moly Street to be exhausted and require change.
This is why Liqui Moly tends to be more expensive than other motor oil, which can only run optimally without change at around 2,000 kilometers (1242.74 miles). 
So really, you do save more under this product. 
While the Liqui Moly Street is advertised as highly resistant to viscous changes, some riders advise changing even just at 2,000 kilometers (1242.74 miles) for convenience. 
The way the Liqui Moly Street is packaged is also a noteworthy benefit. You won't need a funnel, for it comes with a filter below the cap.
Expect a very light ride when you take your motorcycle out for a spin under this fuel. After all, Liqui Moly is known for its exceptional fuel performance. It runs smoothly even at high speeds, making it the ideal choice for anyone who's sensitive to vibration. 
It achieves this due to the level of lubrication it provides your engine components. In fact, it's advertised as being extremely suitable for wet clutches. The Liquid Moly is also packed with detergents that make your engine clean.
Here's a table summarizing its pros and cons.
Liqui Moly Street 10W-40
Pros
Cons
Meets JASO-MA2 Standards
More expensive than competitors

Can travel 5,000 kilometers (3,106.86 miles) before changing
Efficient packaging
Keeps the engine clean through the efficient use of detergents.
Motul 7100 10W-40 4T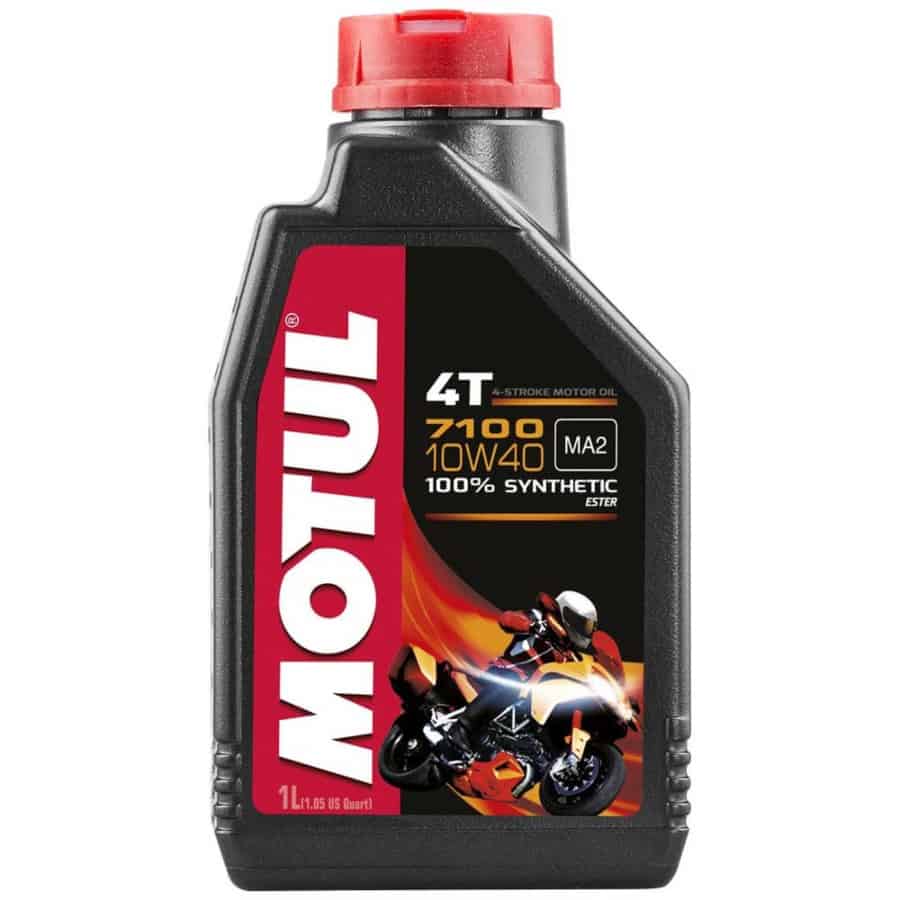 One of the most striking features of the Motul 7100 is its use of Ester Core technology. This is heavily marketed by Motul as a fuel feature that gives your car more power, protection, and resistance from wear. 
Ester Core is an exclusively selected set of high-performance synthetic base oils fused together with additives to provide your car with top-level lubrication. What sets this technology apart is its clinginess to metal.
This is how Motul promises protection to your engine. Since the cling of the Ester-based fuel is firm, there will be constant lubrication and very minimal friction. It is friction, after all, that wears components out. 
Even when the temperature and pressure are super high, the Ester-based 7100 won't break down, and lubrication is nearly guaranteed in your engine.
True enough, 7100 does indeed last very long. However, it must be noted that many motorists report a drop in performance after 2,000 kilometers (1242.74 miles).
This may be due to a drop in the viscosity of the fuel. While this occurs with nearly all motor oils, Motul, in particular, exhibits a very drastic drop. 
The 7100 excels, however, in the integrity of its additives. Alkaline additives are often added to motor oil to neutralize the highly acidic environment in the engine. The more acidic the environment, the more likely the engine will wear.
The 7100 maintains a good alkaline amount even after 5,000 kilometers  (3,106.86 miles) of use. Much like the Liqui Moly Street, this product abides by the JASO-MA2 standards. 
Here are its pros and cons at a glance.
Motul 7100 4T 10W-40
Pros
Cons
Meets JASO-MA2 Standards
Sharp drop in viscosity and performance quality at around 2,000 kilometers (1242.74 miles)
Is equipped with Ester Core technology which protects the engine.
Has good alkaline additive stability.
Relatively cheap.
Flagship Fuel: Liqui Moly Street Race Vs. Motul 300 V
These flagship fuel products are the most representative of these two companies' specialties. Both are designed for heavy-duty motorcycle usage. 
Let's see how they compare:
Liqui Moly Street Race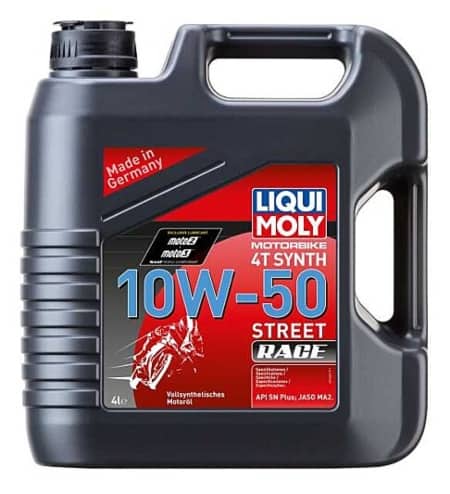 As expected from Liqui Moly, the Street Race is specially designed for top-level engine performance. Many users tend to switch to Liqui Moly after using it for this reason. Even old oil generates good viscosity indexes, which only highlights the Street Race's reliability.
The highway performance of the Street Race is also highly commendable but do expect it to underperform in city driving. 
The problem with the Street Race is that it tends to have a short lifespan. You will have to keep changing the oil, but it's worth noting that this is pretty common with heavy-duty motor oils used for racing.
Here's a summary of the pros and cons.
Liqui Moly Street Race
Pros
Cons
Top-level engine performance
Expensive
Exceptional highway performance
May not be the best for city driving performance due to the frequent gear shifts.
Oil is highly reliable; it retains viscosity well
Short lifespan
Keeps the engine clean.
Motul 300V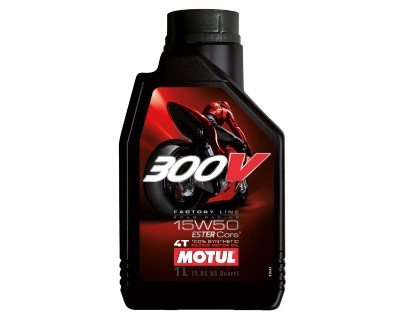 The 300 V is a phenomenal fuel when it comes to gear shifting. The transition tends to be smooth with this fuel. So if you're driving in unpredictable terrain with varying conditions, the 300 V may be a better choice. 
It cannot be denied that the 300 V is among the best synthetic oils in the market. Sadly, it just cannot match up to the Street Race when it comes to engine performance. 
What it can match up to, however, is lifespan. Both the Street Race and the 300V tend to burn out quickly.
Still, it can reach around 3,000 kilometers (1864.11 miles) when used in optimal conditions. Another problem with the 300V is that it's also more expensive than its competitors. 
Here's a quick rundown of the pros and cons.
Motul 300 V
Pros
Cons
Exceptional highway performance
Expensive
Versatile fuel perfect for city driving
Short lifespan
Protects the engine from corrosion
Good performance but not the best in the market
Good highway performance
What Are Liqui Moly's and Motul's Strengths?
Liqui Moly has a reputation for being a leader in engine performance. It places less emphasis on the base oil and focuses on the additives to set itself apart from all other motor oils.
Expect clean engines and long-lasting fuel under Liqui Moly, as proven by good viscosity indices under old oil.
It achieves this through the smart use of additives. For example, in the Liqui Moly MoS2, they used molybdenum disulfide as an additive that actively helps reduce soot buildup in the engine. 
This is why vibrations under Liqui Moly fuel are minimal because of the lack of foreign material traveling through the engine. 
Motul, on the other hand, excels in innovation. It has been in the game for over 100 years. It has remained relevant by continuing to introduce newer and newer forms of technology in its fuel. Ester Core is just one of the best examples. 
Motul also prides itself on producing only synthetic oils. The molecules in synthetic oils are chemically engineered. As such, they resist breakdowns better than conventional oil despite the extreme temperature and pressure inside combustion chambers. 
Motul oils also greatly reduce the noise in your engine and emphasize protecting the walls of your cylinders. The lubrication is generally thin enough not to wear the engine out.  
Conclusion
Over the years, Liqui Moly and Motul have proven themselves to be a notch above the many motor oil brands in the market.
While each has its own niche, you really cannot lose when you pick either of the two. It just boils down to your engine and what you prioritize as a vehicle owner.