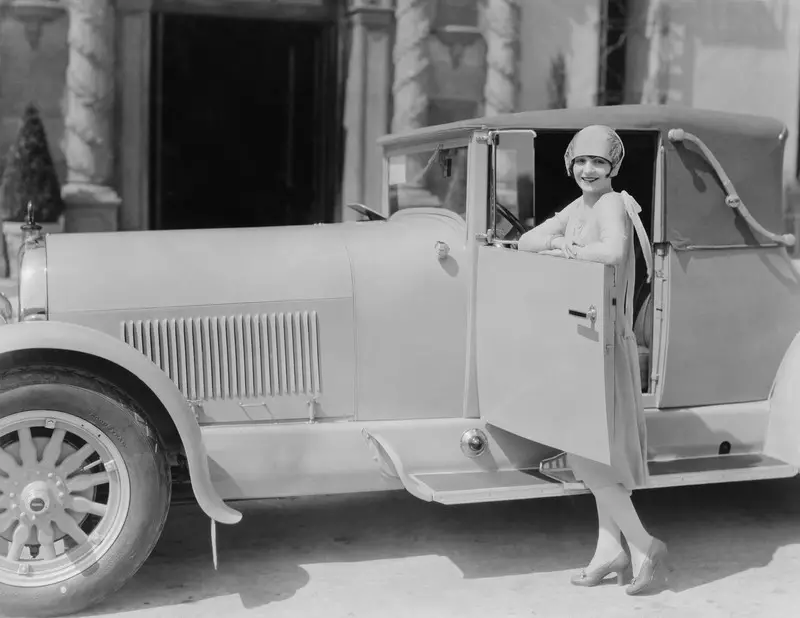 Cars manufactured with only one door are a thing of the past, and we hardly get to marvel at these historic automobile innovations.
Microcar production boomed during the 50s and 60s, and seeing a car with only one door was nothing out of the ordinary in some countries. Luckily, these special cars are cemented in our automobile history.
Let's take a stroll down memory lane and examine 4 cars with only one door:
1. 1963 Heinkel Trojan 200 Type 601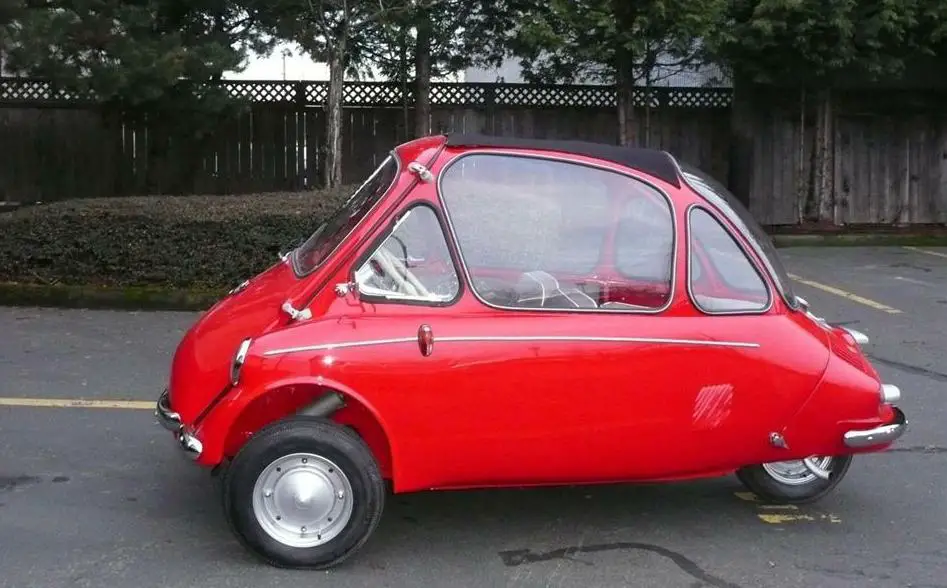 After WWII, the materials required to manufacture large family vehicles and aircraft were no longer accessible.
However, people still needed to travel, so in 1952, Heinkel Flugzeugwerke, a German aviation firm founded by Ernst Heinkel, produced a three-wheel microcar (motorized scooter). The 3-wheeler's empty weight was only 639 Lbs. (290kg).
He equipped the vehicle with a single-cylinder, 175cc, 4-stroke engine that could propel it at speeds of up to 56 miles per hour (90Km per hour); quite an accomplishment for such a compact and lightweight one-door car fitted with only three wheels.
During production from 1956 to 1958, the 3-wheeled bubble microcar was modified to a 4-wheeled model in 1957, and they replaced its engine with a more powerful 198cc, 4-stroke Heinkel engine.
Eventually, Ernst Heinkel licensed his design to an Irish business, Dunhulk Engineering Company, in 1958; however, the license to manufacture was revoked due to inadequate quality control shortly after that.
Finally, in 1961, a British company, Trojan Cars LTD, acquired the license under the Trojan name, and the production of the 1963 Heinkel Trojan 200 (also known as the Heinkel Kabine) continued until 1966.
Car Features & Specifications
The 1963 Heinkel Trojan 200 is a quaint little car with tons of character and several interesting features, as mentioned in the table below;
| Feature | Specification |
| --- | --- |
| Length | 105″ (266 cm) |
| Width | 54″ (137 cm) |
| Horsepower | 10 |
| Gearbox | 4 + Reverse |
| Starter | Dynastart |
| Body Type | Coupé |
| Ignition | Coil |
| Body | Monocoque |
| Brakes | Hydraulic |
Facts About The Car:
Features only one door mounted in the front
Steering wheel swipes to the side for spacious seating
The microcar's revival was due to the Suez crisis
2. BMW Isetta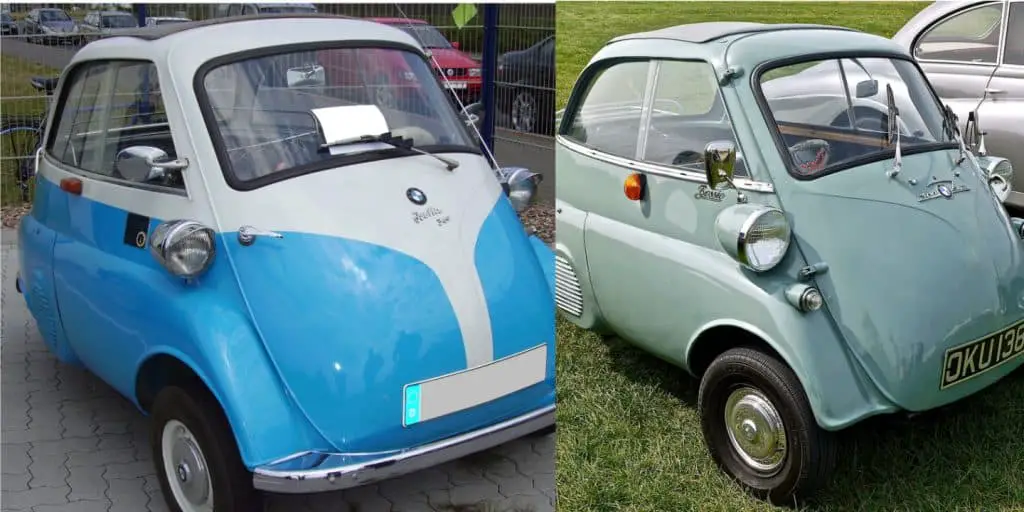 From 1955 until 1962, BMW (Bayerische Motoren Werke) licensed production of the Isetta, a small automobile characterized by its rear-mounted single-cylinder, four-stroke engine, and a single front-hinged door.
The Isetta is a bubble car (often referred to as a Moto coupé) inspired by a design from the Italian company Iso Rivolta.
The tale of how this little car came to be is fascinating because it demonstrates that need is, in fact, the best inspiration and motivation for creativity. The Munich-made BMW Isetta is a historical symbol seen throughout the streets of post-war Germany and elsewhere.
Despite its compact size, the Isetta was widely regarded as a complete vehicle in its day. Micro mobility vehicles like the BMW Isetta are much sought after nowadays as their age and history make their novelty all the more profound.
The Italian company initially produced the Isetta (Italian for "small Iso"); however, BMW created its own version with several improvements under license.
BMW customized the Isetta in various ways, including its engine, which is based on a BMW 4-stroke motorcycle engine with a single cylinder.
Car Features & Specifications
Let's look at the fascinating BMW Isetta's special features in the table below:
| Feature | Specification |
| --- | --- |
| Length | 88.58″ (225 cm) |
| Width | 52.76″ (134 cm) |
| Horsepower | 12 |
| Gearbox | 4-Speed (Manual) |
| Curb Weight | 778 Lbs. (353 Kg) |
| Body Type | Moto Coupé |
| Front Suspension | Coil Springs |
| Brakes | Front & Rear Brake Drums |
| Fuel Type | Petrol |
| Fuel Tank Capacity | 2.6 Gallons (10 Liters) |
Facts About The Car:
They are a historic symbol of post-war germany
Can reach a top speed of 53 mph (85km/h)
Their decision to produce the isetta saved bmw from bankruptcy
3. PEEL P50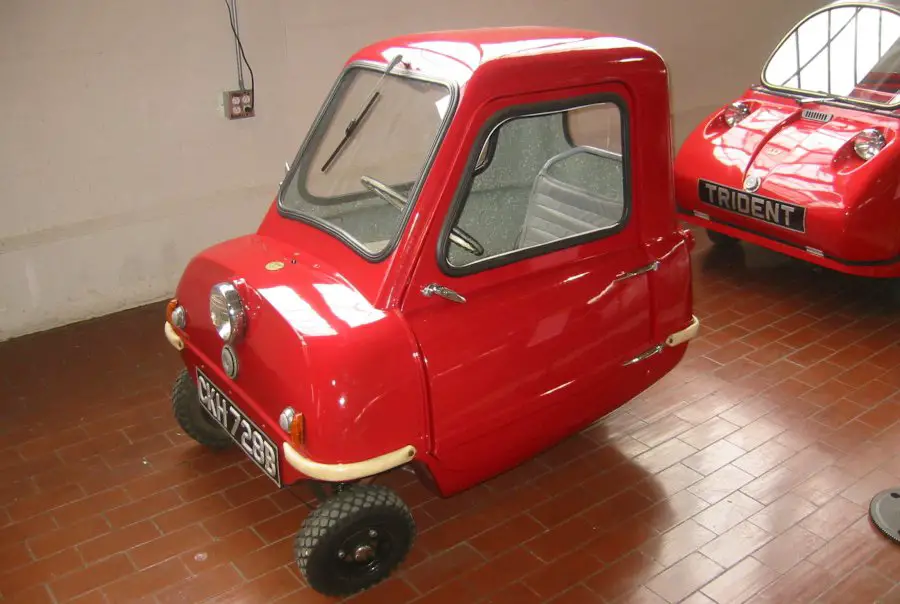 When you see it, it's easy to understand why the PEEL P50 was dubbed the "World's Smallest Production Car." Furthermore, people used to say that driving a PEEL P50 was "cheaper than walking" as it could run for 100 miles on a single gallon!
The PEEL P50 was produced in the Isle of Man from 1962 to 1964. It is a very simple vehicle, featuring only one headlight, one door, and no reverse gear.
A handle is located at the back of the ultralight vehicle, allowing the driver to manually reverse the car when necessary.
If you want to reverse out of a parking space, you would get out of your PEEL P50, walk around to the back, grab the handle, and pull the car out of the parking spot. Then you get back into your car and back onto the road.
Since 1962, the PEEL P50 continues to uphold the title of "World's Smallest Production Car" in The Guinness Book of World Records.
Car Features & Specifications
The special features and specifications of the exceptionally compact PEEL P50 are laid out in the table below:
| Feature | Specification |
| --- | --- |
| Length | 54″ (137 cm) |
| Width | 41″ (104 cm) |
| Horsepower | 9 |
| Gearbox | 3-Speed |
| Curb Weight | 130 Lbs. (59 Kg) |
| Engine Type | 2-Stroke, Single Cylinder |
| Layout | Front Engine, Rear Wheel Drive |
| Brakes | 38 Mph (61 Kph) |
Facts About The Car:
They don't have a reverse gear
It holds the record for world's smallest car since 1962
A PEEL P50 sold for £111,000 in an auction 2022
4. 1955 MESSERSCHMITT KR 200
Also called the Kabinenroller (which translates to "small scooter"), Karo, the 1955 MESSERCHMITT KR 200 is in a class of its own. While it has only one door, it has a longer body, unlike the bubble-shaped microcar, which is much rounder and features a canopy door that opens to the side, not in the front.
As with the other micro cars, the 1955 MESSERCHMITT KR 200 was built post-war due to a shortage of available materials to build aircraft and larger, family-sized cars.
Fritz Fend, an aircraft engineer and designer of the Fend Flitzer approached MESSERCHMITT in 1952 and introduced the small micro vehicle design, which stemmed from his invalid carriage design.
The KR 200 was such an instant hit that the company produced 21,000 in its first year. The car features a 2-stroke, 191cc Fitchel & Sachs, single-cylinder engine that the driver can operate in both directions of crankshaft rotation.
MESSERCHMITT upgraded the Messerschmitt KR175  with the KR200 in 1955, which featured a bigger engine, improved engine mounting, larger tires, improved suspension (shock absorption), enhanced controls, and a mechanism for reversing the vehicle.
Reversing was achieved not by having a reverse gear in the transmission but by reversing the engine's spin.
Unfortunately, like most microcars, the production only took place from 1955–1964, and its novelty slowly started to fade when materials became available to manufacture larger vehicles and aircraft.
In total, the company manufactured approximately 41,190 MESSERCHMITT KR 200 cars. Nowadays, antique car collectors will pay a pretty penny to add one of these little cars to their collection.
Car Features & Specifications
The MESSERCHMITT KR 200 microcar has so much character and charm, and although very small, it has some pretty impressive features and specifications shown in the table below:
| Feature | Specification |
| --- | --- |
| Length | 111″ (281.9 Cm) |
| Width | 48″ (121.9 Cm) |
| Horsepower | 10 |
| Gearbox | 4-Speeds |
| Curb Weight | 507 Lbs. (230Kg) |
| Layout | Rear Mid-Engine Rear-Wheel-Drive |
| Body | 1-Door Coupé/Convertible/Roadster |
Facts About The Car:
They open from the side and upward like an aircraft cabin
Features a reverse mechanism