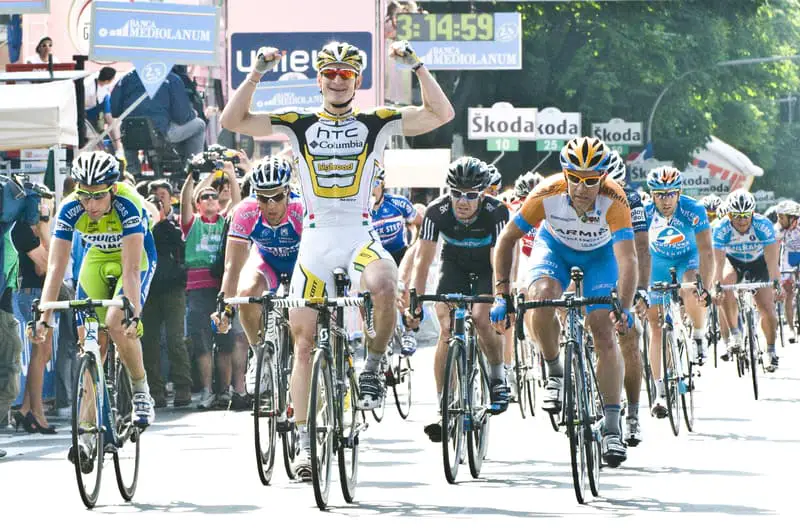 There are many kinds of riders in the world of men's professional cycling, each with their own special set of skills that allow them to take victories in ways that other riders can only dream of.
Nowhere is this gulf in talent clearer than when the road opens up for a bunch sprint, arguably the most exciting of stage finishes in the road season, these days are for the fastest riders who can beat anyone on their day. 
Today, we will be taking a closer look at some of the fastest men to have ever raced on two wheels and tell you who the 10 best sprinters of all time are. 
10. André Greipel
We start our list with one of the most brutish sprinters of recent times, the big German André Greipel.
Starting his career as the number two man to Mark Cavendish at the famous HTC High Road team, Greipel had to bide his time in becoming the legend he eventually would. 
Upon leaving HTC, the German moved to Omega Pharma – Lotto and soon became the leader of the famous Belgian team.
After already impressing in Grand Tours earlier in his career, Greipel went onto become one of the most feared sprinters in the peloton and one of the main challengers to the dominance of his former teammate Cavendish.  
Known for being a strong sprinter that relied on his brute force to take victories (he held the nickname 'The Gorilla'), Greipel acted as the antithesis to Cavendish who was a much smaller build than the German.
In the end Greipel would go onto take 11 Tour de France stage wins and 7 at the Giro d'Italia before retiring at the end of the 2021 season. 
9. Freddy Maertens
We must travel much further back in time for the 9th placed man on our list, the Belgian Freddy Maertens was a prolific winner in the 1970's, with him even taking 56 victories in in season back in 1976.
The Belgian competed in a particularly strong era of cycling and is often left out of debates regarding the best from that time, but perhaps he should be much higher regarded by some less familiar with his exploits. 
Maertens currently holds the joint record for the most Tour de France stage wins in one edition of the race, with him taking 8 during the course of the 1976 edition of La Grande Boucle.
Competing against the great Eddy Merckx can't have been easy for Maertens, as he would have quite easily been the best of his era had his compatriot not been around. 
Despite this, Maertens became a two-time road world champion alongside a Grand Tour winner in 1977 (which is nowadays impossible for sprinters) thanks to a quite staggering 13 stage victories. 
8. Robbie McEwan
In an era when lead-out trains were slowly becoming the norm for sprinters, Robbie McEwan represented one of the last pure sprinters that relied primarily on his own ability to stay out of the wind and protect himself.
This gave the Australian a level of race craft and tactical knowledge that most of his rivals could only dream of. 
McEwan would often be found in the middle of the pack when a bunch sprint came around, with him preferring to stay out of the chaos that would ensue at the front of the race. This allowed him to weigh up his options before powering to the front in time to take the win. 
Unlike many on this list, McEwan never truly dominated the discipline as he competed in a particularly tough time for sprinters.
This being said, he did win the green jersey three time during his career and backed this up with a impressive 12 stage wins at both the Tour de France and Giro d'Italia. 
7. Alessandro Petacchi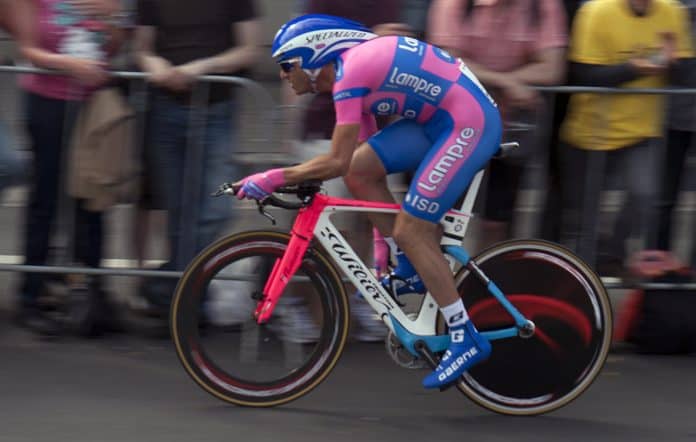 Unlike some others in our list, Italian sprinter Alessandro Petacchi did not enjoy a lengthy stay at the top tree of professional cycling, but when he was at his best, he was almost impossible to beat.
Between the 2003 and 2005 seasons, Petacchi performed like few sprinters since have been able to manage. 
The Italian performed best at his home Grand Tour and took a brilliant 22 stage wins during the course of his career, alongside the points classification in 2004. Petacchi's best season came in 2003 though, as he took 24 individual wins over the course of the year (15 of which came in Grand Tours). 
Petacchi was also a solid classics rider and took the coveted win at Milan – San Remo in 2005, further adding to an already impressive palmares of wins. 
It must be noted that Petacchi twice faced allegations of doping during his career and was found guilty of blood doping in 2019, being handed a two-year ban from the sport as a result. 
6. Sean Kelly
Widely regarded as the greatest Irish cyclist of all time, Sean Kelly was far more than a pure sprinter yet still excelled in the discipline along with many other things.
The Irishman was one of the last fast men to compete for overall honours at a Grand Tour, with him taking the red jersey in 1988. 
As a sprinter, Kelly would take home 4 points classification victories at the Vuelta (a race he himself loved) as well as the same number of green jerseys at the Tour de France, putting him third in the all-time list of winners in that competition.
Kelly would also take 16 Grand Tour stage wins in the process of all this success. 
It is his exploits at Paris – Nice that Kelly is most well remembered for though, with him taking a sensational 7 consecutive overall wins at the race. 
5. Marcel Kittel
For me, a rider that could have done so much more before he retired from the sport in 2019 after just a 6-year professional career (he did so to protect his physical and mental wellbeing, however which is admirable). 
In his relatively short racing career, Kittel became regarded as one of the fiercest and fastest sprinters in the peloton and raced in one of the most competitive eras of sprinting ever. The German became a major advisory of riders such as André Greipel, Mark Cavendish, and Peter Sagan for many years. 
Kittel was a similar kind of sprinter to his countryman Greipel in the sense that he preferred to use his power as an advantage over anything else, some suggest this era of sprinting is ending nowadays. 
In just 6 short seasons, Kittel managed to take home 14 stage wins at the Tour de France alongside 4 more at the Giro d'Italia and 1 at the Vuelta a Espana. A coveted trio for any professional. 
4. Peter Sagan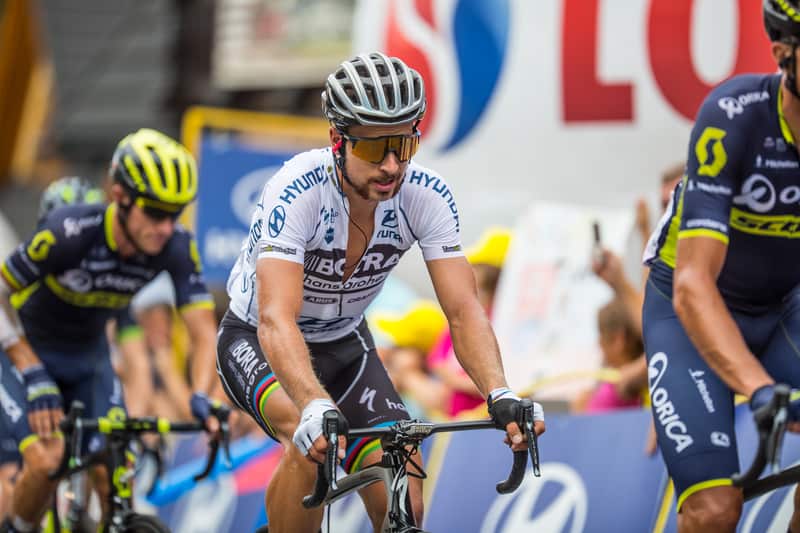 It would be unfair to pigeonhole Peter Sagan into being just a mere sprinter because the Slovakian was far more than that for many years despite his recent decline at Total Energies.
Sagan is a once in a generation kind of athlete that had charisma, talent, and speed in bucket loads during the prime years of his career. 
At his best, Sagan was better than almost every rider in the world, with him taking three consecutive rainbow jerseys as world champion between 2015 and 2017.
The Slovakian is also the record holder for the most green jerseys at the Tour de France, having won the competition a quite miraculous 7 times (including 5 in a row at one point). 
Alongside these triumphs, the punchy sprinter has also taken 12 stages of the Tour de France, 4 at the Vuelta a Espana, and 2 at the Giro d'Italia. Sagan is still racing today, yet his powers seem to be dwindling rather quickly. 
3. Erik Zabel
Before there was Sagan, there was Erik Zabel. The German sprinter took home 6 green jerseys in a row between 1996 and 2001, making him the undisputed king of the competition for some time. 
Whilst these wins are certainly the highlight of his career, Zabel was also a brilliant one-day race and took home the title at Milan – San Remo 4 times during his career.
This long Italian classic is an aim for almost any sprinter, as it is known to be the only 'monument' that these kinds of riders can realistically target. 
Zabel also won 20 Grand Tour stages but did not manage to complete the set having never lifted his arms in glory at the Giro d'Italia. 
2. Mario Cipollini 
The less said about this controversial rider the better in my opinion, as the fiery Italian is currently facing a three-year prison sentence for domestic abuse charges in his native Italy.
Mario Cipollini was always known as a man with a short temper, but never was it publicly known that he was an abusive partner until he retired from racing. 
During his career, Cipollini was a dominant sprinter that raced with his heart on his sleeve. The Italian had a long career that spanned three decades and took a total of 170 individual wins during this period, including 42 at his home Grand Tour (the Giro d'Italia). 
Cipollini was also road world champion in 2002 and took 12 stage victories at the Tour de France. 
1. Mark Cavendish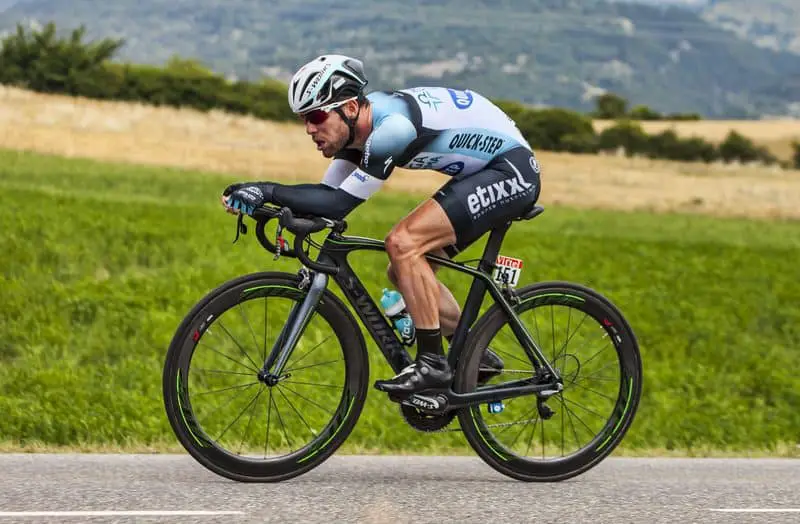 Quite simply the best sprinter of all time, the man known as the 'Manx Missile' thanks to his revolutionary style of sprinting has won countless races during his illustrious racing career and is still on course for more as looks set to continue into the 2023 season. 
Mark Cavendish first burst onto the scene as a loud-mouthed youngster with HTC – High Road after impressing on the track for Team GB.
Upon appearing at just his second Tour de France in 2008 it was clear that the Manxman meant business, he went onto win 4 stages that season and never looked back. 
What followed was a serious love affair with the Tour, that has spanned the entirety of Cavendish' career, it has seen him match and age-old record set by the great Eddy Merckx of 34 stage wins at the Tour de France. 
Many have called Cavendish the greatest sprinter of all time, and I am just another to award him this accolade. As a massive fan of the Manx Missile, I am really hoping that 2023 will be the season that we see him deservedly take that 35th stage win at the Tour de France.